(This post has been updated with new developments. See below.)
Serbian immigrant Marko Pantelic drove across town to the Leighton Criminal Court Building on Sept. 6 to support a wrongfully accused friend and "to see how justice works in America." He should have stayed home.
Pantelic, 26, took a seat in the third row of courtroom 506 next to his friend, Bratislav Kovacevic, who figured prosecutors would drop battery charges against him. This was not unrealistic considering that the victim, Marija Nikolska, admitted she had misidentified him as the mope who broke her nose.
The victim's advocate, Spomenka Luedi, M.D. and DDS., sat directly behind the men, pleased that Nikolska was in court to rectify her mistake. Glancing at the judge, Luedi thought it odd that she kept zipping and unzipping her robe, but this judge had some weird mannerisms. The zipping and unzipping intensified. Then the judge fixed her gaze on Pantelic, and the zipping stopped.
"Mr. Pantelic leaned over to his friend and whispered something during a recess," Luedi said in an interview. "At this point, the judge went berserk."
"You in the beige T-shirt!" the judge bellowed, pointing at Pantelic. "Do you have a case before me?"
Pantelic stood and, understanding little English, turned to his friend, who shook his head.
"No," Pantelic said, taking the cue.
The judge's jaw tightened. "Then get out of here!" she screamed.
Still not comprehending, but realizing he was unwelcome, Pantelic bolted from the courtroom. But when he reached the elevators, he froze. He had forgotten his car keys.
So, Pantelic slipped back into the courtroom. Seeing that court was still in recess, he tiptoed to his friend's side to retrieve the keys. Unfortunately, he failed to notice the judge standing near the bench. She, however, spotted him.
"Get over here!" the judge shrieked. Trembling, Pantelic approached the bench, his hands folded in front of him. "Bailiff, take this man into custody," she ordered. The bailiff hesitated, looking back and forth between the judge and Pantelic, seemingly unsure whether he feared her more than he pitied him.
"What's your name?" she demanded. Pantelic shrugged, looking around for help.
The judge finally realized that Pantelic needed a translator and, even more urgently, a lawyer for what was about to happen. A public defender was summoned -- just in time for the judge to dispense justice.
"You are going to jail for three weeks. No bond," she ordered. The bailiff led Panelic away. A man with no criminal record, he has not been seen since, except by allegedly violent suspects in the Cook County jail.
The judge? The Hon. Diane Gordon Cannon.
Readers may recognize the name from previous articles in The Huffington Post. Judge Cannon infamously blasted lawyers from Sidley Austin in a wrongful conviction case involving Anthony McKinney. Prosecutors had subpoenaed the grades, emails and notes of Northwestern University students who had brought the injustice to light. Cannon enforced the controversial subpoena and allowed repeated delays in the proceedings, which came to a tragic end when McKinney died last month of unknown causes, alone in his prison cell.
Cannon also sentenced exonerated death row inmate Anthony Porter -- who once had come within 50 hours of execution -- to a year behind bars. Porter's crime: shoplifting four bars of deodorant. Cannon's questionable verdict in a case involving a hate crime against a gay man prompted LGBT activists to circulate a petition demanding her resignation.
Elected to the bench in 1996, Cannon previously had never worked a day in her professional career outside the Cook County prosecutor's office. She came up through the ranks with current State's Attorney Anita Alvarez. The Chicago Bar Association, where Alvarez was an officer for six years, rated Cannon "qualified" -- short of "well qualified or "highly qualified." Voters will decide whether to retain her in next year's election.
Meanwhile, back to the Serbians. After Pantelic was dispatched to the County Jail, Cannon resumed the hearing in the case involving his friend, Bratislav Kovacevic. The assault victim, Marija Nikolska, took the stand to declare that Kovacevic was innocent. The victim said that when she saw him in court, the color of his eyes and skin tone were clearly different than her assailant's. She could not sleep knowing that she had identified the wrong man, she said, and just wanted to return to her job -- taking care of an autistic boy who lived with Dr. Luedi, her advocate.
After Cannon inexplicably asked whether Nikolska brushed the boy's teeth for him, the judge resumed her bullying. She threatened Nikolska with perjury if she changed her story and cautioned her to consult with an attorney, according to Luedi.
The case is up again tomorrow, when Pantelic is expected to be released from jail -- if he apologizes to Cannon and says he has learned his lesson. Trying to be helpful, assistant state's attorney James Murphy counseled defense lawyer Michael Maksimovich to do whatever Cannon says.
"Your client is doomed if you make her mad," the prosecutor said.
Early this afternoon, Marko Pentalic, in a prison jump suit and handcuffs, was hauled before Judge Cannon. Figuring she had been too lenient in slamming him with 21 days without bond in the Cook County jail, the judge really let him have it this time: 120 days in jail for criminal contempt of court. Cannon recited a list of his alleged offenses: talking loudly while court was in session, ignoring warnings not to talk, and uttering a racial slur to her African-American bailiff.
The judge did not allow Pentalic to reply, even though an interpreter was present. But courtroom observers vehemently denied Cannon's allegations. Victim's rights advocate Dr. Luedi, and Michael Maksimovic, Pentalic's attorney, insisted he had whispered briefly to his friend while court was in recess and hadn't been warned to be silent. They also noted that the bailiff had made no such complaint to the judge when he returned from escorting Pentalic from the courtroom, nor did the bailiff testify or provide an affidavit about the alleged slur. Maksimovic has ordered a transcript of the proceedings and will appeal his client's sentence.
"There is no justice in front of Judge Cannon," Maksimovic told me. "Justice is whatever she wants to do and whenever she wants to do it."
Earlier this morning, Cook County prosecutors dropped the battery charges against Pentelic's friend, Bratislav Kovacevic, after the complaining witness swore she had misidentified him. Pentalic had accompanied Kovacevic to court last month as a gesture of friendship and to learn about the American justice system. It turned out to be a lesson in justice, Chicago-style.
Kovacevic waited around after his exoneration, expecting to accompany Pentalic home. Instead, Pentalic -- a man with no criminal record -- was transported back to the County jail. That is where he will spend the Christmas holidays unless the appellate court intervenes.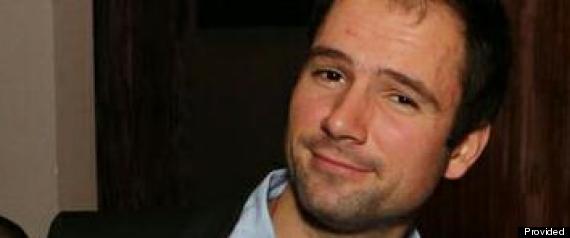 Marko Pentelic.
Christmas came early for Marko Pentelic.
Just hours after Judge Diane Cannon sentenced the Serbian immigrant to four months behind bars for contempt of court, he was released from the Cook County jail. The judge had ordered Pantelic jailed until January for allegedly disrupting her courtroom and making a racial slur, but courtroom observers called these claims baseless. Cannon's version of events was "a total fabrication," said Dr. Spomenka Luedi, a victim's rights advocate who was present throughout the proceedings.

Pantelic was freed shortly after midnight and hitched a ride to the home of his friends, Bratislav Kovacevic and his wife. Bratislav was cleared yesterday of battery charges when the victim swore she had mistakenly identified him. Pantelic left the jail carrying an armful of belongings from his three-week stay after Cannon first held him in contempt when he returned to her courtroom to get his car keys.
Cannon's additional four-month contempt sentence was overturned by a high-ranking judge who read about Pantelic's plight in The Huffington Post, according to a source close to the judge. At least one other top judge and several public defenders met to discuss Cannon's temperament in handling this case and others, according to sources familiar with the meeting.
Dr. Leudi announced that she will file a complaint against Cannon with the Judicial Inquiry Board, which investigates misconduct by judges. Michael Maksimovic, Pantelic's lawyer, has ordered court transcripts that he said will prove his client did not act improperly.
As for Pantelic, he told supporters that he will live with the Kovacevics for a while and resume his job in the trucking business. Since no bond was set for his release, Pantelic's unique experience with Cook County justice is presumably over.
It was a surprising victory for sanity.
Pamela Cytrynbaum contributed to this article.
Related
Popular in the Community