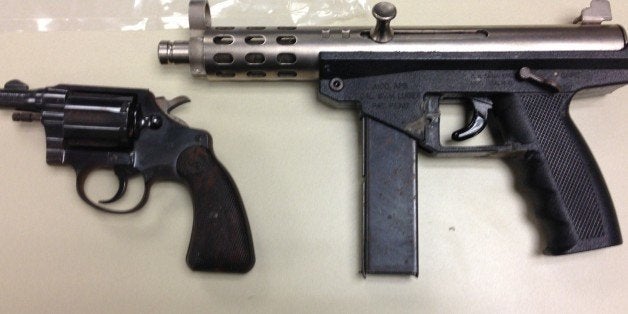 The Cook County Sheriff's Office announced Tuesday they have confiscated their 200th illegally-owned firearm this year as part of a pilot program targeting gun owners who have had their Firearm Owners Identification (FOID) cards revoked but have failed to relinquish their weapons.
According to a statement from the sheriff's office, officers seized an AA Arms AP Tec-9 near 155th Street and Western Avenue in suburban Harvey Friday afternoon. A Colt .38 Special was also recovered from the scene.
The weapons mark the 199th and 200th guns recovered as part of the program which launched this February. The initiative entails a small team working to seize firearms from those individuals who have lost their gun privileges for a variety of reasons -- including mental illness, a restraining order or violent crime charges or convictions.
Cook County Sheriff Tom Dart said in a statement the number of guns confiscated by the team this year "speaks to the pervasiveness of the problem in Cook County and the brokenness of the FOID system in general." The team reportedly seized 35 guns from one man who had his FOID card revoked due to mental health concerns.
"Some of these people are sitting on arsenals, and the old way of nicely asking for nothing more than their cards has proven to be ineffectual," Dart continued. "It is critical to get these weapons out of their hands before they do harm to themselves or others."
Other critics claim such programs could strip gun owners of their weapons for reasons unrelated to firearms, such as convictions for nonviolent offenses like tax evasion, the Wall Street Journal reported.
Popular in the Community