Last August, when Hillary Clinton visited the Cook Islands on official state business, its population of 11,000 islanders got a good chuckle at the bullet-proof car flown in to drive her around Rarotonga, the biggest of the Cooks' 15 tropical isles.

Truth be told, Madame Secretary, there are but two potential hazards on a drive around Rarotonga, a 45-minute undertaking that would take only 30 minutes if it weren't for the motor scooters driving 20 miles per hour: chickens that run loose and smoke that belches from one of two buses that circumvent the island. There's the clockwise bus and the anti-clockwise bus, the latter named because the 16 letters in counterclockwise didn't quite fit on the front.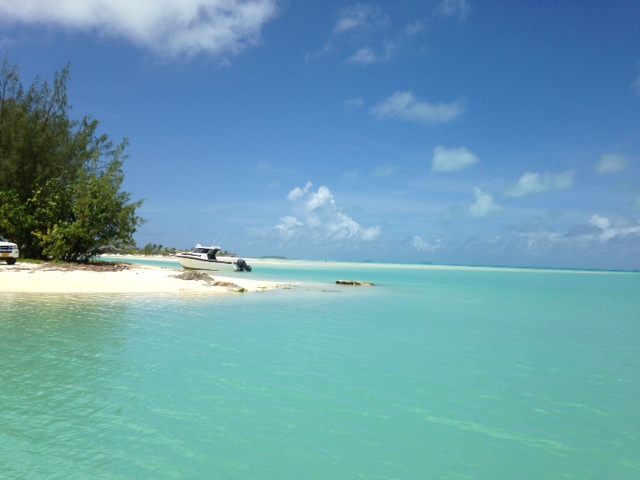 Our former Secretary of State may have been more prudent to seek protection from curse-spouting tribesmen who have managed (knock on wood) to keep out corporate hotel chains. It's a long and involved story, but when the Sheraton tried to build a hotel a dozen or so ago, a curse was allegedly placed on the land. The skeleton for that project, abandoned before it was ever opened, still sits off to the side of the beach road near Vaiimaanga like a seventh grade boy at his first dance. Hilton bought it a few years ago, made another valiant attempt, and well, just saying, nothing has became of that either.
Which is one of the Cooks great appeals. All the hotels, shops and restaurants are locally-owned. That's not to say they're not upscale or savvy to the needs of Westerners. Quite contrary. The Little Polynesian, where Hillary was GOING to stay (except her people didn't give the boutique hotel enough notice and all 14 bungalows were booked for a wedding) is exquisite with local woods and accents of wild hibiscus. Pacific Resort in Aitutaki, the other island I visited, is a member of the Small Luxury Hotels of the World, not to mention that manager Jason Strickland offers to eat a table if visitors in July through October don't see humpback whales migrating through the lagoon outside their luxury suites.
It's just that Cook Island's five-star hotels don't have "Ritz" or "Marriott" on their welcome signs. I loved the unpretentious luxury and found it refreshing to visit a place that still refers to low season as "cyclone season." Most savvy tourist destinations have banned such inconvenient realities from their marketing vocabulary.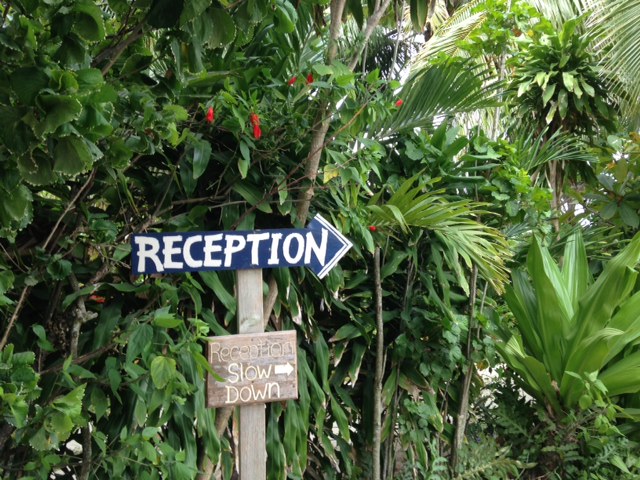 The cuisine that replaced headhunting of yore (I'm relieved to report that once-practiced ritual was abandoned decades ago) is beyond spectacular. In fact, last week I wrote an article for www.thedailymeal.com nominating the Cook Islands as a top foodie destination. Seriously, the ika mata, fresh seafood, bush beer clubs and iced coffee (it comes with a dollop of ice cream) have made me contemplate relocation.
The giant smiles of the locals and their unending hospitality makes this South Pacific getaway worth putting on the "before you die" list. The Cook Islanders love to tell you "We don't live to be served. We live to serve." They even have a saying, "Kiriti maro tai." It means there's no such thing as a stranger. And once you step on Aitutaki's ceremonial black rock, everything on the island becomes yours. You're part of the family. Except in my case, the dancing gene that enables Cook Islanders to gracefully wow and win most South Pacific dance competitions is still taking root.
It goes without saying that Cook Island beaches are magnificent. They're smack dab in the South Pacific, after all, and have miles and miles of white sand, snorkeling, diving, fishing and boating. The many lagoons surrounding the islands contain every single shade of blue in a hardware store paint palette.
But I was rather partial to Rarotonga's jungle. On the second day, my compadres and I took individual ATV's into the mountainous center. We crossed more than 21 streams, plucked ginger (who knew it sudsed up) for washing our hair and got up close and personal with free range pigs, goats and farmers, who amicably waved even though we were driving right through their homesteads.
Later in the trip, after returning from a spectacular stay in Aitutaki, we took a jungle trek with Pa, a 70-something medicine man with waist-length dreads and tea leaves tied around his knees. He plucked bananas, guava and graviola from trees and regaled us with amazing stories about 64 generations of ancestors, his 12 kids, his swim from the Cooks to Tahiti and the healing powers of various herbs and stones.
So no, I didn't merit an armored vehicle while visiting the Cook Islands, but I did feel completely loved by the locals and protected by the magical stone that Pa gathered from a jungle stream, instructing me to take it home and place it in the left-hand corner of my living room, where it remains to this day along with all my memories of this unique Pacific paradise.
Related