We eat a lot of cucumbers stateside, most often served raw and crunchy to impart a refreshing quality to a meal. Does "cool as a cucumber" ring a bell?
Hardly do we ever cook them ― but we can, and we should.
Cooked cucumbers are more common in Asian cuisines, where they work wonders in stir fries and side dishes. But they shouldn't be reserved just for that part of the world.
Cooking cucumbers first came to our attention while listening to the podcast The Splendid Table, when a caller asked host Francis Lam what to do with excess cucumbers. (It does become a problem in the summer.) When he suggested sautéing them, our interest was piqued and we got to cooking.
We came up with a simple recipe that's quick to make, and actually easy to love. So when you have too many cucumbers on hand, or just want to switch things up, give this easy recipe a try. It just might convert you.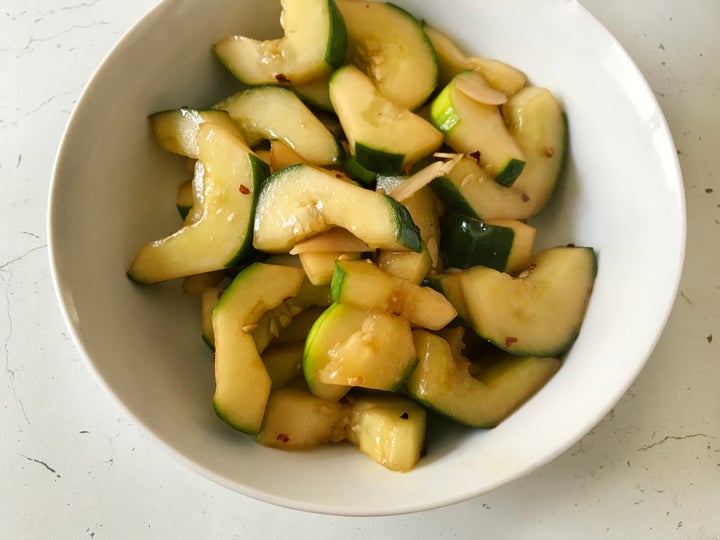 Spicy Sautéed Cucumbers
2 medium-sized cucumbers, sliced, seeded and partially peeled
1/4 teaspoon salt
1 tablespoon soy sauce
1 tablespoon canola oil
1 large garlic clove, sliced
1/4 teaspoon chili flakes
1. Place sliced cucumbers in colander, toss with salt and let sit for 30 minutes to drain out the excess water. Rinse well and pat dry.
2. In a sauté pan, add canola oil and garlic. Cook on medium-low heat for a couple of minutes, until the garlic is fragrant. Add cucumbers, soy sauce and chili flakes and cook for 3-5 more minutes, before the cucumbers become overly cooked (and mushy) and when they still have a little crunch to them. Enjoy!