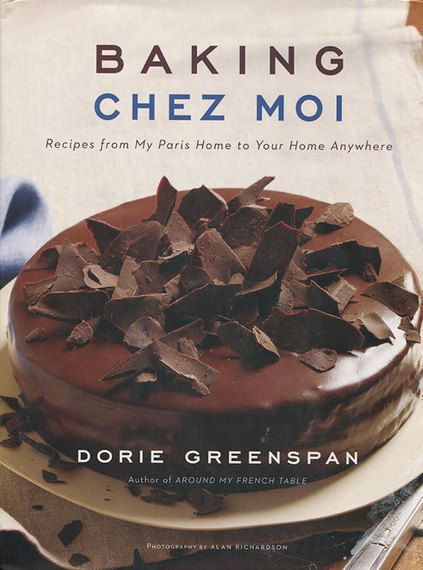 Sometimes you can't tell a book by its cover. This cover, for example. A baking book from Dorie Greenspan? A Parisian baking book? The cake on the cover here must mean that this cookbook is filled with all those wonders you see wandering the streets of Paris. Every block there seems to have a window stacked high with cream and buttercream and fifteen varieties of chocolate. You can gain 500 calories just standing outside that window.
This isn't that kind of book. It did begin that way. Five years ago, Dorie was researching a high-end dessert tome by interviewing the very top French pastry chefs. They would describe their ultimate creations, but then they'd tell Dorie about what they personally loved and baked for themselves, at home, on the weekends.
At the same time during this period, when Dorie made elegant desserts for her Paris friends, they began to ask her one question, "Why?" For themselves, they would buy these elaborate treats, but never make them. Dorie's plan for the book changed.
Those store window extravaganzas are not what the French cook at home. The French do prepare desserts but their personal delicacies have an easygoing elegance about them, exciting in flavor but far less elaborate than the patisserie creations. This book is filled with those personal private treasures that Dorie has researched by traveling throughout France and extracted from friends, neighbors and even the occasional stranger sitting next to her at a restaurant.
These are the recipes passed from one generation to another, recipes that in many cases are regional, the specialties of a district or a town. Dorie has found them, documented them, made them ready for the American kitchen, and packaged them in over 200 recipes in seven very French chapters.
Let's tour the book. Chapter One is Simple Cakes. I think that title is a bit of a canard -- a very French word. These cakes may be "simple" to prepare but the flavor and enjoyment of these cakes is exceptional:
Apple Weekend Cake from Normandy is accelerated by Dorie with the addition of rum, vanilla and cinnamon

Cornmeal and Berry Cakes are her spin on an earlier treat from Pierre Herme

Alsatian Christmas Bread is a delight that will empty your pantry: with orange or apple juice, star anise, cinnamon, cloves, ginger, cardamom, dried pears, dried apricots, dried figs, pitted prunes, dried apple rings, raising, walnuts and, oh yes, almond flour -- it is bread after all.
Chapter Two is the natural extension to merely simple cakes. In Fancy Cakes you'll find:
Gingerbread Buche de Noel where the chocolate roll is replaced by gingerbread, the filling is cream cheese, the frosting is deep vanilla dusted with pecan praline

Pithiviers, a treat from Northern France with two rounds of puff pastry sandwiching a thick cushion of almond cream

Rose Fraisier, the French version of Strawberry shortcake, with a custard-filled cake itself heavily flavored with rose syrup
Subsequent chapters in the book are equally studded with eye-popping wonders that you surely have not encountered -- unless you were lucky enough to grow up in France. There are chapters for:
Tarts and Gallettes: Brown Butter Peach Tourte, Brown Sugar Tart, Fall Market Galette
Baby Cakes and Petite Pastries: Nutella Buttons, Black-and-White Marbled Madeleines, Bubble Éclairs
Cookies and Bars: Spice Sables, Coco Rochers, Olive Oil and Wine Cookies
Fruit, Creams, Frozen Desserts and Candies: Slow-Roasted Spice Pineapple, Caramelized Coffee Bean Pots de Crème, Rum Raisin Truffles
Basics: Chocolate Tart Dough, Salted Caramel Filling, Roasted Strawberries
In the past 20 years, Dorie has written 10 books, winning 6 James Beard and IACP awards. The previous two books, Baking in 2006 and Around My French Table in 2010 were immediate classics. Around My French Table generated clubs where people cooked each dish in the book. I turn to both those books several times a year. Now, with Baking Chez Moi, I have even more temptations to salivate over, decision to make, and mouthfuls to enjoy.
Baking Chez Moi is a book any lover of desserts will find essential and eternal.
Related