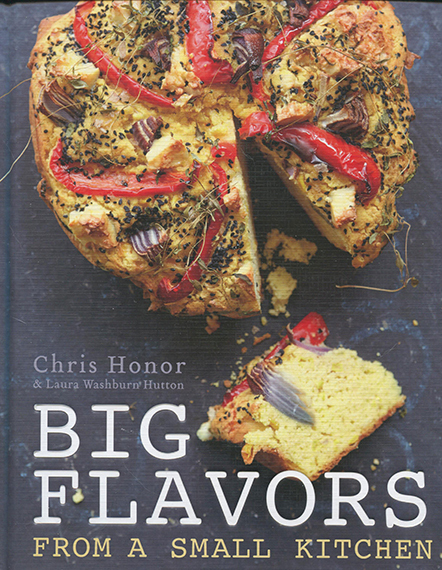 Chris Honor has worked in kitchens big and small, from his native Australia through Asia, the Middle East, and now London. Small is now his choice. His modest spot in North London provides just 18 seats. Open for breakfast and lunch because Chris wants dinner with his family. And because he is a bit over the standard insanity of the restaurant world.
So, based on his experience with this lovely Chriskitch space in North London, Chris has penned this a most interesting and really remarkable cookbook. You may have seen cookbooks based on three/four/five ingredients. Fast recipes, simple recipes that yield okay food, but not great.
Chris's vision is four ingredients which he lists as the recipe title. Yes, four things. Those are the principal flavors. The recipe itself usually has a half dozen more things, but this "title" which is really a list is meant to grab your attention.
And grab attention they will for Chris's genius is to take four things that you would not normally associate being in the same dish, and putting them together, and making that dish sound positively lovely. For example, consider these four: Carrot, Ginger Flake, Coconut, and Chili Flake. They are the basis for a thick, creamy soup perfect for a winter night.
Or consider this: Parsnip, Apple, Pecan, and Maple Syrup. In Chris's world those four are combined with the usual suspects to create a magnificent cake. This post ends with a picture of the cake. You are going to ponder that picture. Maybe you will decide not to make it in the end, but it's going to be a strain not to. And that picture is going to linger in your mind, your curiosity will tingle, you won't be able to forget it. Someday, you are going to make that cake. I am. Soon.
And so it is with all the recipes in Big Flavors. Recipes like:
Eggs with Tomato, Sausage, Cinnamon and Chile
Lamb Chops with Flaxseeds, Rosemary and Honey
Lamb Shoulder with Cardamom, Molasses, Coffee and Apple
Salad of Cauliflower, Harissa, Buckwheat, Mint and Pistachio
Soup of Dill Pickles, Potato, Smoked Sausage, and Bacon
The recipes are divided into chapters for
Salads
Brunch
Soups
Mains
Bakery
Extras [drinks like water+fennel+cucumber+mint]
The book reflects the best in contemporary packaging. The photographs are seductive. The ingredient lists are modestly long, less a dozen in most cases. The instructions come in four to six short paragraphs, often just one sentence long. The writing is simple as well as short. There is totally clarity here. There is nothing complex, but everything is delicious.

Big Flavors is an interesting, important book. Using the recipes here, you can entertain yourself, your family and your friends with abandon and elegance. It's a perfect cookbook, one parsnip at a time.