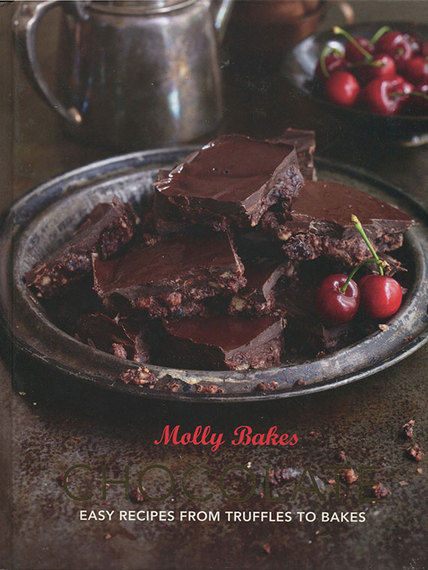 If you are 29, it's your birthday, the 2009 recession is on, and your job vanishes, what do you do next? Maria Goodman seized the opportunity and opened a bakery in London, a now established and happily famous bakery. Visit the website, and you'll be craving a visit to London.
Instead of searching for your passport, though, you could simply buy her first book Chocolate. Here are 50 of Maria's favorite chocolate delights -- delights that you may never have seen or tasted before. It can come as a shock, but even in a time of globalization there is an endlessly deep pool of local, regional recipes out there to surprise you. Even with our long British culinary heritage in America, there are British tidbits that offer tempting chocolate fantasy and probably gooey fingers.
Look at the cover of the book. What are those bars? Brownies, fudge? No, they are Tiffins, a specialty from Wales. You don't bake these treats. It's melted butter, a little sugar, a little syrup, lots of ground-up shortbread cookies, maybe some fruit or malt balls, cocoa powder, and chopped chocolate. The ingredients are added to the melted butter, you stir, your pour into a pan, you cool and you top with more chocolate. If you wait for the mixture to set, and then cut a bar out, your fingers will not be a mess, but personally I did not mind having to wash my hands.
These distinctive recipes are framed into chapters with titles you might expect to see. There is an Introduction to chocolate and a chapter on Techniques, a long chapter that it pays to read because you find excellent instruction on:
Tempering and melting chocolate
Molding chocolate candies
Dipping candies
How to pipe, color and flavor chocolate
Those techniques are all applied in the very first batch of recipes, Classic Chocolates. Do you make candy at home? Few of us do. It just can seem overwhelming and a potential kitchen disaster zone. With her explanation of techniques in place, Maria offers recipes that you can make at home and consume with joyful relish:
Salted Caramel Chocolate [of course!]
Fresh Mint Leaf Chocolates
Lemon and Basil
Rose and Lychee
Bourbon Whiskey Pralines
Pistachio Marzipan & Raspberry Diamonds
Crème Brulee Chocolates
Cinnamon Log Truffles
That's a long list but I wanted you to see the pattern. The chapter may be called Classic Chocolates but this is a very fresh batch of ideas. Those Cinnamon Log Truffles are destined to be a classic. The chapter simply overflows with treats that will have you thinking, "I want that, the book says I can make that, I will." Think of this chapter as self-help for chocoholics.
It does not stop. In the chapter Bars and Slabs the temptations expand. If you don't want the dainty individual pieces of that first chapter, then here is candy on an industrial scale:
Homemade Caramel Nougat Bars [four layers in all, all made by you]
Toffee Crisp
Chocolate Toffee Slab [topped with pistachios and macadamia nuts]
Raspberry Ripple White Chocolate Slab
Maple Bacon Chocolate Slab

These are not the recipes you find in that summertime fudge stand at the beach. And now you don't have to wait until next June for your fix.
If you are impatient, and anyone addicted to chocolate kinda is, then the No Bakes chapter is something you may memorize. Those Tiffins are there plus:
Chocolate Nougat Fingers [a matrix of hazelnuts and pistachios is syrup-and-egg-white meringue]
Chocolate & Coffee Double Decker Fudge
White Chocolate Cornflake Cakes [marshmallow fluff, cereals, nuts, coconut]
If your oven does beckon you, then Baking with Chocolate has suggestions:
Ultimate Chocolate Cake [four layer, buttercream frosting, ganache glaze draping over the sides]
Dark Brazil Nut Brownies
Marbled Chocolate Cheesecake
Chocolate Molasses Cookies
Mille Crepe Stack [pictured at the bottom]

And there is a chapter for Seasonal Treats:
Heart Shaped Chocolate Box Cake for Valentine's
Fondant-Filled Easter Eggs
Bouche de Noel with Chocolate Holly Leaves

If you are still a kitchen novice, but have that fondness for chocolate, there are many ideas here for you to tackle today. If you are more experienced, or if you are a novice with chocolate ambitions, then all of this book is accessible, doable, and delicious. I did the Tiffins, by the way, and taste-tested for response from a half dozen culinary professionals: smiles and raised eyebrows were universal. "What is this?" was the question. Nobody knew what a tiffin was, but they all do now.
That Mille Crepe Stack shown below is an example of something magnificent yet achievable. It looks awesome, but the careful instructions will have you baking away with confidence. And, you are encouraged to go even higher: 1000, 1001, ...
Chocolate by Molly Bakes is a happy book that will encourage you to march to the kitchen, find your chocolate and start melting. For the coming holiday season, it is the perfect kitchen companion. Or a great gift for your own circle of chocolate addicts. Tis the season to share.
For many more cookbook reviews and hundreds of excellent recipes, please visit Suzi's Blog at www.cookingbythebook.com. While you are there, you can learn how we use the kitchen for culinary teambuilding.