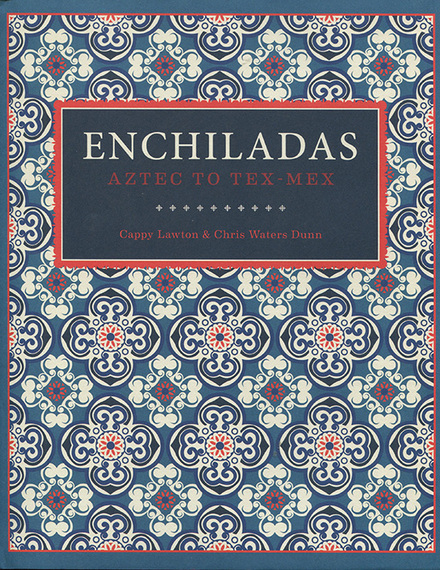 The flow of new cookbooks accelerates in the fall. The holidays are upon us, there are gifts to select, and we spend more time cooking, exploring new ideas and old traditions. In that cookbook flow there are many good volumes. And, sometimes, there appears one that is simply fabulous. Enchiladas is a fabulous book.
I was going to call Enchiladas distinguished, but that might frighten readers away. Yet Enchiladas is both fabulous and distinguished. The fabulous part is the core set of 63 enchilada recipes opening your eyes to the full spectrum of Mexican regional cuisine. The distinguished part is the meticulous research and history of Mexican cooking presented throughout the book.
Over 200 recipes were tested for Enchiladas with the top five dozen destined for print. When authors Cappy Lawton and Chris Water Dunn began to write Enchiladas three years ago, they could rightly claim that there were no cookbooks devoted to enchiladas. This book is preeminent and the leader in a new trickle of enchilada books -- at least three others this year.
There are hundreds of taco books. Why have enchiladas been overlooked?
That's a mystery that Cappy and Chris wanted to solve. For them enchiladas are simple everyday food, yet they embody thousands of years of cuisine. New ideas, like Tex-Mex ones, are only decades old. But there is evidence of early enchiladas dishes from over 3,000 years ago.
Enchiladas are an iconic food. But it's not the filling or tortilla or that melted cheese that defines these enchiladas. It's the sauce. As Cappy says, "Mexican food is all about the sauce." Enchiladas proves that in one recipe after another.
When you open the book, the first recipe has immediate appeal: Enchiladas de Aguascallients has a filling of pork and potato with a sauce of milk, ancho chiles, tomatillos, queso anejo, and crema. Two recipes in come the Enchorizada: a filling of onion and cheese with two sauces, one of chorizo, onions, garlic, arbol chiles and tomato and a second sauce of black beans and chicken stock.
This pattern radiates in every recipe. There is a lovely and sometimes modestly complicated filling. But the work, the cooking, is in the sauces. And every enchilada here comes with its own native sauce.
Enchiladas begins with 80 pages devoted to ingredients and techniques. Here you encounter the authors' devotion to authenticity. The Mexican chorizo is nothing like the Spanish. The instructions for homemade Queso Fresco, which is sure to be happier than store bought, give you options for using either vinegar or lime juice. The lime juice version, something you simply cannot buy in a store, is more delicate and will introduce true distinctiveness into your dishes.
If, like me, you tend to get your enchiladas at a Tex-Mex or upscale fast food restaurant, you are used to thinking about two or three varieties of enchiladas. But, as a universal food enjoyed across all the regions of Mexico, there is far greater variety. And the joy of Enchiladas is demonstrating that variety in chapters devoted to:
Pork
Beef
Poultry
Seafood
Dairy/Egg
Vegetable
Tex-Mex
A picture of a seafood dish, Enchiladas de Camaron, appears at the bottom of this post where shrimp are both in and on the enchilada. What is a Dairy/Egg enchilada? How about hard-boiled eggs for the simple filling with two sauces, on of pumpkins seeds and epizote and the second of tomatoes, chiles, and onion. Vegetable enchiladas include, as an example, sweet potato filling with Chipotle Sauce.
Your reaction to this phalanx of recipes is likely to be amazement and perhaps some laughter. "I would never have imagined that," is the thought I had. In truth, although Mexico sits there on our southern border, we typically know less about Mexico than, say, France. And our knowledge is spotty: Mexico City, the Aztecs, perhaps the Yucatan.
Author Cappy Lawton has had a career that naturally pointed him to Enchiladas. Educated to be an aeronautical engineer, he was not happy at the idea of a lifetime at a drafting table, and spent three months as a young man wondering what he should do. Restaurants was his decision. Over the decades, Cappy has opened twenty-nine upscale restaurants across Texas. And over the decades he kept visiting Mexico, flying to remote small towns to experience the specific regional dishes. It was a serious, chile-obsessed avocation.
When it came time to do his first Mexican restaurant twenty years ago, he bought the oldest Mexican restaurant in his hometown of San Antonio: La Fonda on Main, then already sixty-two years old and a bit faded. But La Fonda is and was a bastion of Tex-Mex. Over the past twenty years, Cappy has expanded La Fonda, not displacing the beloved Tex-Mex dishes, but extending the menu to include the real, regional foods of Mexico.
And there, on that menu, the enchiladas have appeared by the dozens. His kitchen team includes native Mexicans with high culinary skills and education, just the team who can recognize authenticity and have the tenacity to stick to it, with each and every sauce, each and every pumpkin seed. La Fonda has served as the testbed for the recipes here in Enchiladas.
For the book, the recipes have been strategically written by co-author Chris Waters Dunn. They retain each recipe's correctness but employ the utensils and techniques of a modern kitchen. Each recipe is written with the American home cook in mind: one single page provides the steps for preparing tortillas, sauce or sauce, filling, assembly, and often the garnishes rendering the enchiladas something to share on the web.
If you are a fan of Mexican food, Enchiladas will thrill you. If you just do Tex-Mex, there's a chapter for you and higher fodder suggesting you try "the real thing." If you are a food historian, then this quite distinguished book captures thousands of years of recipe evolution and offers you further years of enchilada enjoyment.
You will indeed enjoy Enchiladas, one sauce at a time.
For many more cookbook reviews and hundreds of excellent recipes, please visit Suzi's Blog at www.cookingbythebook.com. While you are there, you can learn how we use the kitchen for culinary teambuilding.