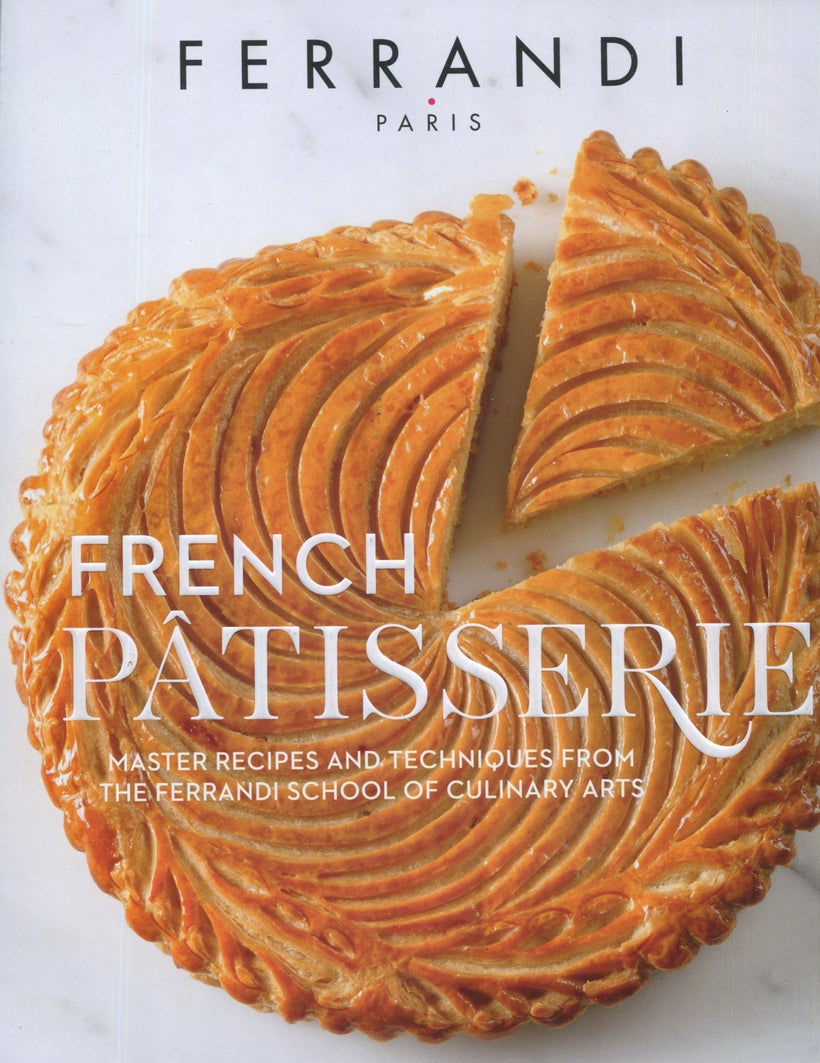 Magnificent. Utterly magnificent.
And important. This is the best pastry book of the 21st century. And that is saying something. The past few years have seen wonderful books by authors like Felder, Pfeiffer, and the Curleys. I relish those earlier books and I will surely consult them. But French Patisserie is simply supreme. If you only have kitchen space or time for one grand French pastry book, then this is book to buy now. You'll be using this book for decades to come.
This new book comes from the Parisian cooking school Ferrandi. For a century, the school has taught generations from around the world. If you scan this book, you will be thinking about flying to Paris and enrolling. French Patisserie is that tempting.
The book sets a new standard for cookbooks in general and dessert books in particular. Making patisserie dishes can be intimidating. It can be hard to imagine what each step means or how that final product should appear. No longer. No imagination is needed. There are thousands of photographs woven across the pages. A large, and often full page, photo appears for each final product. For most of the recipes, a sequence of 4"x3" photos showing you each step required. The recipes are presented in terms of these photos, each photo with a one or two sentence caption. Text and photo are married in a most intuitive way. If you have been intimidated by pastry cooking before, you won't be. It's a dramatic improvement that will have you smiling in kitchen. And, of course, with every bite.
The book has 235 recipes plus a discussion, again with photos, of 1,500 skills and techniques. It's comprehensive to the ultimate degree. The recipes are presented in 3 levels. Level 1 versions are the traditional and classic ones you expect. Level 2 offer more sophisticated interpretations — still a lemon tart but now with a more artistic top. And Level 3 recipes are contributions here from pastry experts. You will surely salivate at Level 3 and, over time as your confidence builds, you will not be able to resist.
What recipes are here? You begin, of course, with crust and dough. There are four flaky tart pastries, three puff, and brioche and choux naturally. There are clever hints everywhere. That choux dough? Make sure the butter is cut into small pieces so you don't lose vital moisture through evaporation and you melt it.
There is zoo of macron recipes, organized by color [and taste]. There are classic ideas here, but you are going to be draw to the outrageous: Red Bell Pepper, Raspberry and Chocolate or Blackberry and Avocado.
Beauty and a touch of complexity elevate these recipes. Consider the Red Berry Tartlets: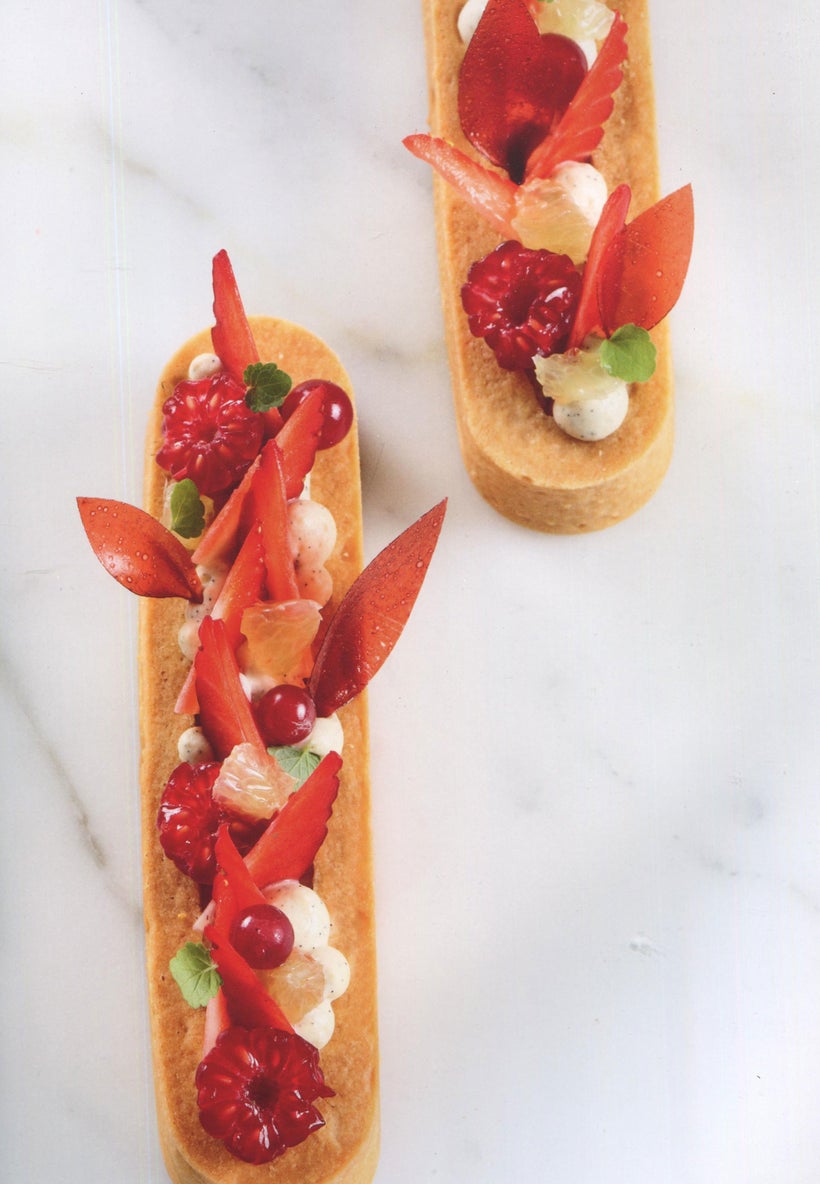 There is a base of sweet pastry made with almond flour combined with a hazelnut sponge. Those red leaves are gold gelatin colored with berry juice. There is pastry cream and a heavy cream mousse. Oh, and there are berries, too.
There is a brownie recipe, too. Ah, you might wonder, how can the French present that American classic? They do. With style. If you like a cakey brownie, then you will experience the finest brownie you have ever had. [Yes, I've made this and I'm posting the recipe today along with this book review.]
Beyond beauty and style, there are tricks and techniques. Consider their pound cake. You fold the flour into the butter base. You pipe, not scrape, that base into the pan. And then you also pipe in an accented line of softened butter. Style, texture and flavor parade on every page.
The presentations on skills and techniques dot the book and make it a treasure of ideas. My favorite is the flavor pairing table: 32 spices are blocked off against 34 fruits. What works with what [and what doesn't]. You should not match apple with basil but apple and bay leaf is suggested. Mint works with strawberries but not, in their recommendation, with blackberries. This two-page extravaganza summarizes centuries of culinary exploration.
French Patisserie is a superlative book. Beautiful and exciting. Fun and delicious. I expect this book to be my companion for decades to come. Will I make all 235 recipes here? I can only try. And you will too.
This is the perfect cookbook to offer as a holiday book. To friends and to family and surely to yourself.
For more cookbook reviews and thousands of recipes, please visit Cooking by the Book. You'll discover how we do Culinary Team Building for corporate teams!
Calling all HuffPost superfans!
Sign up for membership to become a founding member and help shape HuffPost's next chapter
This post was published on the now-closed HuffPost Contributor platform. Contributors control their own work and posted freely to our site. If you need to flag this entry as abusive,
send us an email
.