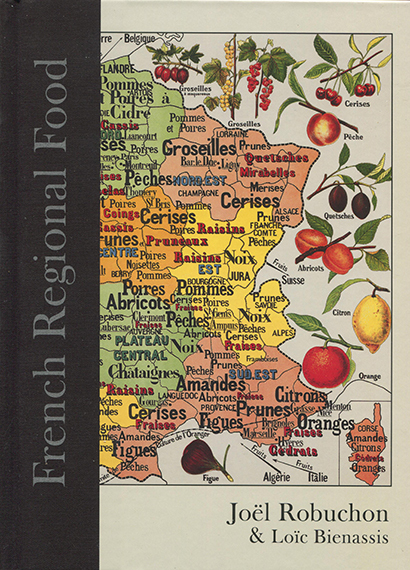 Sometimes it is easy to know where to put a book. Cakes go into the baking section. A book called French Regional Food obviously goes into your French section. Ah, but not this time. Maybe this book goes into your backpack. This isn't just a cookbook. This is book about culture, history, geography and wonder.
France has always been a little complicated politically. The nation is divided into regions and then departments and then communes. The number of regions has just been cut by a third so there is shuffling around about what political entity now rules your favorite town or region. These reorgs have been occurring since Napoleon.
But what has not changed, what cannot change, are what the French call the pays. These are the native regions or homelands. A mountain valley, a river plain. These are the constants of French life, farming and cuisine. No person could understand this better than Joel Robuchon, who with Loïc Bienassis, journeys through twenty-eight pays in this striking book.
You know some of these areas: Brittany, Burgundy. Perhaps you have heard of Alsace or Lorraine. But Camargue and Bresse and Vosges may well be new to you. Yet all these regions have characteristics that lend them charm and uniqueness.
Each chapter shows you just where in France the area lies, describes the geography, and regional food specialties. Those regional foods are very likely ones you cannot get in Paris or Provence. For example, in Picardy there is Pâté D'Abbeville, once made with snipe but now diversified to include mallard, pintail, and widgeon plus pork and spices. The recipe goes back at least two hundred years with the "new versions" dating from 1938. Or in Picardy you can get macaroons, of course, but here they contain fruit and honey. Your first bite might be a surprise.
In Burgundy, you will find spiced bread, Pain D'Épice de Dijon. No ginger here and certainly no mustard. Just aniseed and nutmeg with some bakers adding cinnamon. It's a treasure going back to the 14th century, lost for a while, rediscovered in the 19th century, and now gradually disappearing after World War 2. This book gives you these time histories of the journeys of individual dishes, from discovery, to prominence, to decline and then perhaps to resurgence.
In the Poitou, on the mid-Atlantic dish, there is a cabbage dish -- Farci Poitevin --unlike any I have seen. The cabbage surrounds a stuffing of cooked pork, Swiss chard, spinach, sorrel, onion, garlic, parsley, chives, bread crumbs, eggs, thyme and bay. Wrapped in muslin, the concoction is simmered gently for three hours. It is lovely and it is food from another planet. Or just food from regional France.
At the bottom of this post is a picture of a Pithiviers from the Loire. It's puff pastry enclosing a filling of frangipane. Elegant and delicate and delicious.
Every page in the is book brings you to something new, something unexpected. We associate the word "terroir" with wine but terroir affects everything. If you want Calvados, you don't go to Provence. Each pays comes with its own terroir and its heritage of vegetables, fruits, games, and dairy products. You go to a village, and there's a sausage or chicken dish or fruit dessert that exists nowhere else on earth.
The pays are often a tad remote, far from the tourist centers. To find them and to find the food, you need a superior guidebook. That's why French Regional Food is such a grand book. Yes, I'll keep it in my kitchen and try the recipes. But, this spring, when Suzi and I go to France, we're taking this book along, renting a car, and searching the byways for the super food.
For many more cookbook reviews and hundreds of excellent recipes, please visit Suzi's Blog at www.cookingbythebook.com. While you are there, you can learn how we use the kitchen for culinary teambuilding.