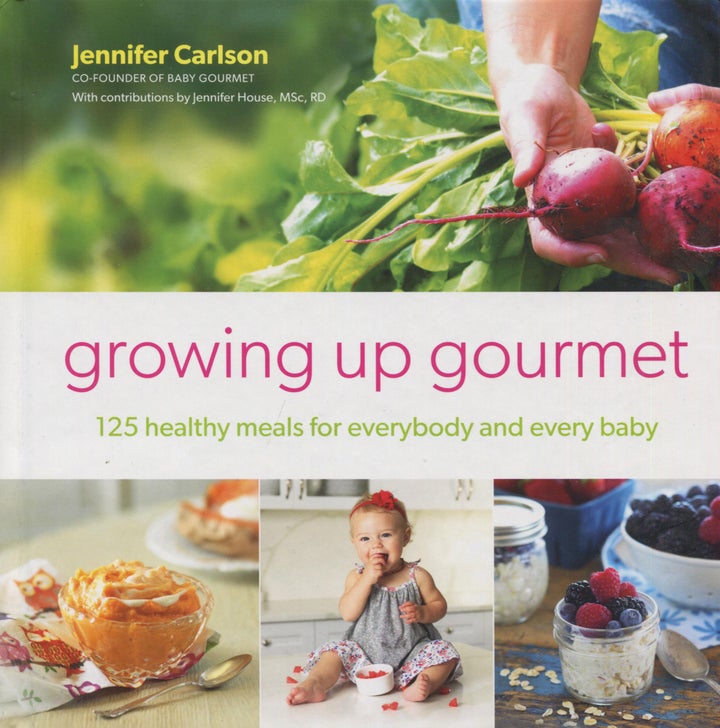 My wife Suzi has had her cooking school, Cooking by the Book, for 29 years. She's recently made an observation: everybody eats. Ah, but how well do they eat? And what do they eat and how do the dishes evolve during the course of their lives.
Growing Up Gourmet: 125 Meals for Everybody and Every Baby is the new book by Jennifer Carlson, founder of Baby Gourmet. This cookbook is "universal" offering suggestions for all ages. If you have a baby, when and how do you advance your child's diet from liquid to "mushy" to solid to real food?
Jennifer offers a pathway in 5 steps:
Simple Purees: 6 months +
Creative Combos: 6 months +
Adventurous Eaters: 8 months +
Independent Toddlers: 12 months +
Feed the Whole Family: one meal, two ways
Now, you can't go back in time, but reading some of these recipes might make you wish your could. I did not feed my kids Roasted Butternut Squash Puree. In fact, I don't' think I had butternut squash until I was 30! Those Creative Combos include Creamy Broccoli Avocado and Chia Pudding. Imagine hooking a kid under one year on avocados? Or Wild Cod, Potatoes and Summer Squash.
The Adventurous Eaters can indulge on Peanut Butter and Banana Hot Quinoa Cereal or Cardamom Coconut Rice Pudding or Wild Salmon with Potatoes, Leeks and Spinach. Add a few months and the Toddlers can indulge in Pumpkin Waffles, Banana Kale Smoothies, and even Sweet Potato Curry. Those are recipes that, golly, I would like.
And in the final chapter, Feed the Whole Family, there are recipes definitely targeted to offering a meal everyone can enjoy. Your baby will be happy and so will you. This is food far, far from Gerber's:
Chocolate Banana Beet Bread with Chocolate Yogurt Topping
Roasted Acorn Squash with Brown Butter
Baked Salmon with Corn Salad Sauté and Asparagus
Chicken and Sweet Potato Potpie
These are lovely recipes with, yes, gourmet flair. As a parent, as a grandparent, I cannot tell you how important it is to get those babies started down the right food path. Yes, a little kid can eat "sophisticated" food. And enjoy it. And learn the difference between good food and the, what can I say, trash that is found at fast food restaurants and sadly on many of the aisles in your supermarket.
The food here is vastly better for your baby. And vastly better for you, too. It's never too early to begin a culinary life path of distinction. Growing Up Gourmet is both proof and path.
For more cookbook reviews and thousands of recipes, please visit Cooking by the Book. You'll discover how we do Culinary Team Building for corporate teams!
Popular in the Community