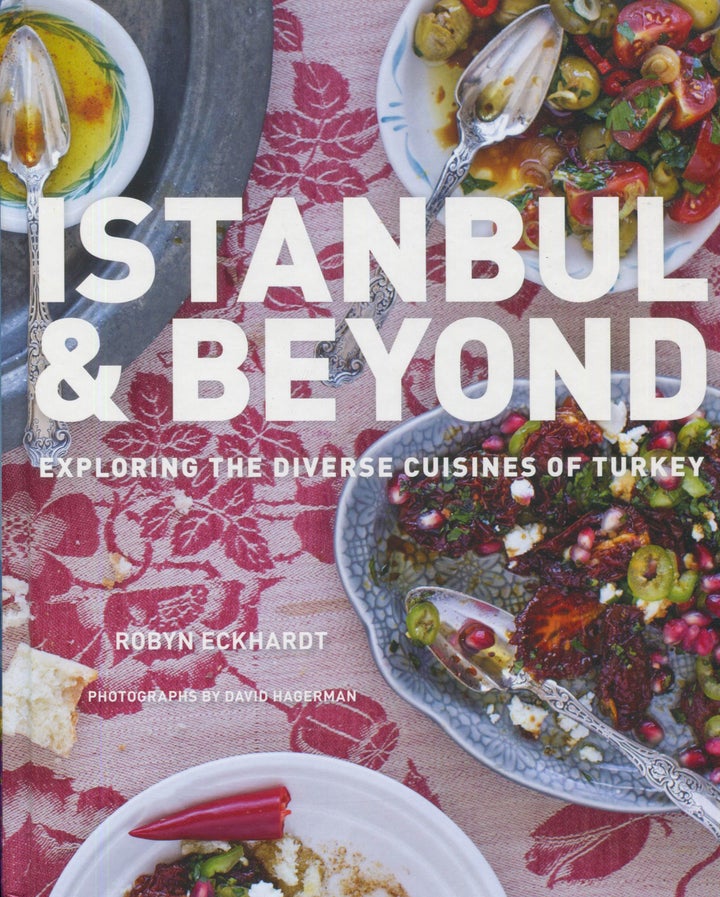 Sometimes you encounter a cookbook that is a cookbook but even more. Istanbul & Beyond is a loving work of significance. It is filled with wonderful recipes from across the local terrains and cultures of Turkey. There are dramatic photos of that food, the people and the country. And there is insight into the complexity that is Turkey.
Turkish cuisine has had many influences. Historically, Eastern Turkey was the site, over 5,000 years ago, when grains were first cultivated and animals domesticated. This was the birthplace of our agricultural civilization. Second, as author Robyn Eckhardt notes, Turkey sits literally in the middle of the world. It touches four major bodies of water and is bordered by eight counties, each their own distinctive culinary history: Bulgaria, Greece, Syria, Iraq, Iran, Azerbaijan, Armenia and Georgia. Turkey is the original melting pot.
Author Robyn Eckhardt and husband/photographer David Hagerman have a love affair with Turkey. They spent years and traveled thousands of miles researching this book. They started, quite naturally in Istanbul, but then journeyed to the corners and shores of Turkey, discovering, tasting, and meticulously recording their survey.
The result is a remarkable book. We see a steady, small but steady stream of books on Turkish cuisine. Istanbul & Beyond rises to the top of these volumes because of its detail, beauty, and enthusiasm.
Most of Turkey is not a "rich" country, so the food is not "Paris-style" rich either. But it would be wrong to describe it as simple or "peasant." It's quite striking in its complexity. Turkish kitchens have much the same ingredients that ours do, but, oh my, what a difference a culture can make. Turkish cuisine develops whole new directions for basic ingredients.
Here's an example. This is a picture of the Pickled Stuffed Eggplants. The eggplants are lightly broiled, stuffed with slivers of carrot and red bell pepper, secured with string, and plunged in a salt-and-vinegar brine for ten days. Or more, if you like you pickles very intense. It's stunning to look out, simple to make and yet thundering in flavor.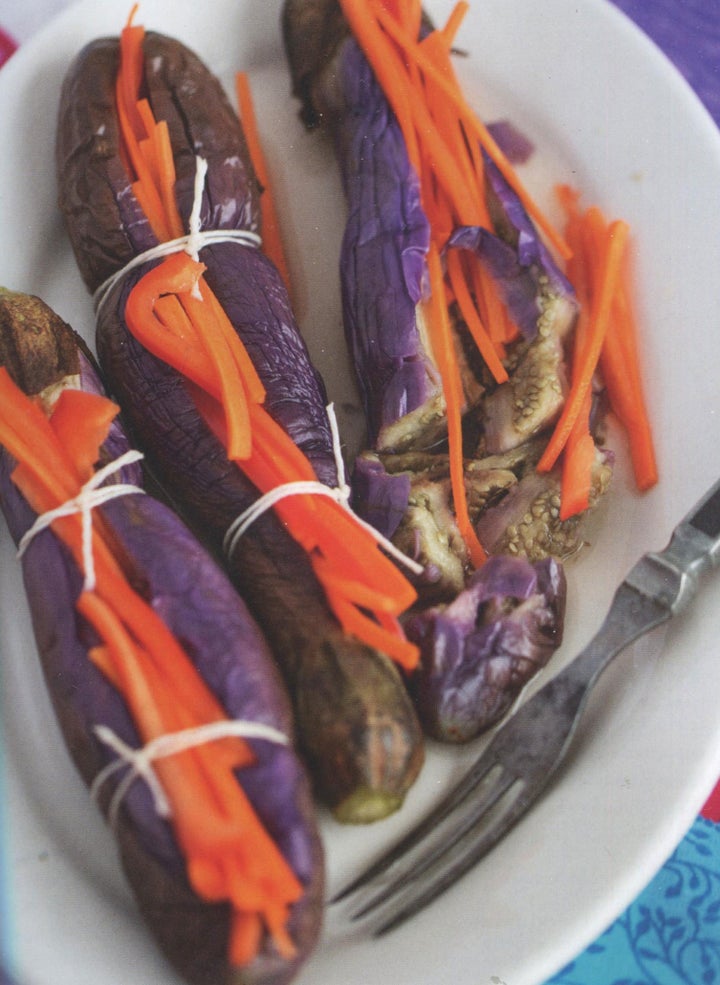 The recipes here cover all the meal elements you might desire:
Appetizers
Soups
Salads
Breads and Pastries
Pasta and Grains
Fish
Chicken
Lamb
Beef
Vegetables Main and Side Dishes
Pickles and Relishes
Desserts
Drinks
That's is the widest possible spectrum of food ideas you might desire. And the actual recipes make each of these categories reverberate with flavor. Here's a baker's dozen of the experiences awaiting you in Istanbul & Beyond:
Tomato and Pomegranate Relish
Tomato and Green Noodle Soup with Croutons
Sun-Dried Tomato and Pomegranate Salad
Yeast Bread Stuffed with Swiss Chard and Herbs
Drinking-House Pilaf with Almonds, Walnuts and Urfa Pepper
Whole Roast Fish with Coriander, Thyme and Root Vegetables
Pan-Seared Sweet and Sour Chicken
Turmeric-Scented Lamb and Chickpea Stew
Sauteed Beef with Caramelized Onion and Urfa Peppers
Bulgar-Filled Peppers and Zucchini in Pomegranate Molasses Sauce
Hot-Pink Quick Pickled Cabbage
Oven-Caramelized Pumpkin with Tahini and Walnuts
That list is representative, impressively representative, of the dishes laid before you in Istanbul & Beyond. A "good" cookbook for me is one that has a couple of dozen great recipes I want to try. A "great" book is one where I can't make up my mind where to start. Istanbul & Beyond is a great book. I do, though, know where I am going to start. There is a Corn and Crème Fraiche Biscuit that is all too tempting. Yes, we and the Turks use the same ingredients. We even use the same names for dishes. But Turkish food, with all that history and regional influence, is wonderfully different. Thankfully, that difference is not subtle. You'll see why in the brilliant pages of Istanbul & Beyond.
Istanbul & Beyond will be published on October 10. Get in line or get online. You will devour this book.
For more cookbook reviews and thousands of recipes, please visit Cooking by the Book. You'll discover how we do Culinary Team Building for corporate teams!
Popular in the Community