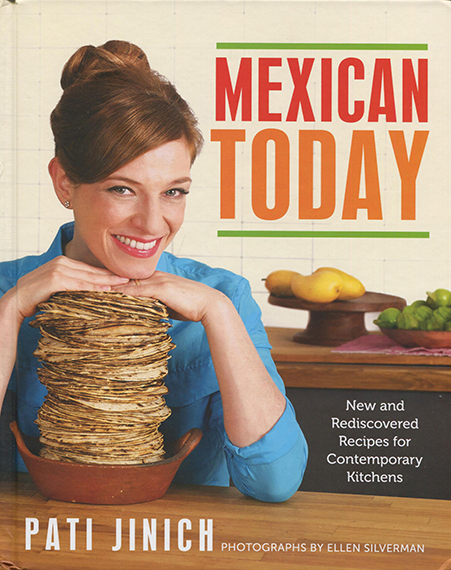 You may know Pati Jinich from her marvelous PBS series or her first cookbook, Pati's Mexican Table: The Secrets of Real Mexican Home Cooking.

Pati's expertise comes from lifelong experience. She was born and raised in Mexico into a family she herself describes as food fanatics. Initially, Pati sought a career in public policy but her food heritage keep pulling her back in and, thankfully, she has succumbed to tradition and memories.
That title of her first book tells us all about her Mexican food philosophy. We think of Mexico as a country, and of course it is, but it is really a geographical area of desserts and mountains that separate many econolgical regions. Those different regions have their own mico-climates and arrays of food ingredients. Mexico is more "regionalized" or "localized" than France or Italy. Until modern times, it was never a "restaurant" society by any means. People lived in villages and ate, at meals, that had been prepared for hours with very "local" ingredients.
So, in this book as well, Pati draws from the Mexican home kitchen to offer dishes to sastify your every Mexican whim. Chapters are devoted to:
Soups
Salads
Tortas, Sandwiches, Hamburgers, and Hot Dogs
Spreads, Guacamole, Salsas, Adobos, and Garnishes
Taco and Tostada
Enchiladas and Crepe Enchilada
Casseroles, Deep-Dish Pies, and Skillet Pizzas
Guisados [Stews] and Other One-Dish Meals
Sides
Desserts
Drinks
Oh, you read this list and you want to know why a Mexican cookbook has hot dogs? Pati observes that just as Americans have adopted Mexican food, they have adopted ours, too. So, Patti has a recipe for Mexican Dreamboat Hot Dogs with bacon, onion, tomato, jalapenos, ketchup, mustard, and cheddar cheese. With some turkey hot dogs, of course. Or you can enjoy Hot Dogs with Chicharron [pork rind], Avocado and Queso Fresco.
For your enjoyment and your enlightenment, on the pure Mexican side, Patti offers a battery of authentic, captivating dishes. Here are some examples:
Sonoran Cheese Soup [potatoes, poblanos, and queso cheese]

Matzo Balls with Mushroom and Jalapenos in Broth [from her grandmother!]

Artichoke Heart, Mushroom and Avocado Salad with Lime Vinaigrette

Grilled Eggplant, Zucchini, and Poblano Ciabattas with Queso Fresco

Drunken Prune Salsa with Pasillas and Orange

Plantain Tacos with Walnut, Pepita, and Pumpkin Seed Crutch

Asparagus, Mushroom and Goat Cheese Enchiladas with Pine Nut Mole Sauce

Crabmeat Enchiladas with Peas in Tangy Buttermilk Sauce

Deep-Dish Cheese and Poblano Pie with Avocado Cream and Pistachios

Drunken Rice with Chicken and Chorizo

Bacon and Chipotle Black Beans

Skillet Corn Bread with Poblanos, Corn, Bacon, and Cheddar

Floating Islands with Mexican-Style Eggnog [the French floating islands made richer]

Mango Pound Cake

Coco Lime Margarita [both shredded and cream of coconut]
Although it is tough to drive down an American highway and not encountrer a "Mexcian" restaurant every few miles, or blocks, the truth is that we really eat our Americanized versions of Mexican cuisine: Tex-Mex or Cal-Mex. Authentic Mexican restaurants are rare, but if you can find one, then you will surely enjoy food that seems far, far different from the Tex-Mex fast food joints we frequent.
And, while those authentic restaurants are rare, you probably have a kitchen in your home or apartment. In Mexican Today, you have the guidance to produce authentic, delightful and often hot Mexican food of distinction.
This is a striking book about how to achieve excellence. It really isn't that hard. You just start with one poblano, an avocado, and keep turning the pages of Mexican Today.

For many more cookbook reviews and hundreds of excellent recipes, please visit Suzi's Blog at www.cookingbythebook.com. While you are there, you can learn how we use the kitchen for culinary teambuilding.
Related