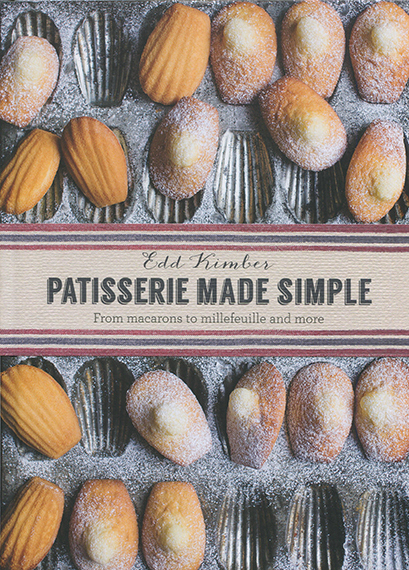 If you walk the streets of France, pretty soon you are going to stop. Your nose is going to be pressed against the window of a patisserie. "I want that," you will tell yourself. "How did they do that?" you will ask yourself. "I could never do that," you will sigh as you wander down the street, to still another window.
That's why the title of this book, Patisserie Made Simple, is so almost unsettling. I would never combine "patisserie" with "simple" because I have always felt too overwhelmed by the contents of all those windows. And, I admit, by some actual tasting, too.
Enter one Edd Kimber. That's not a household name in the United States, but it has become one in Great Britain. On PBS stations now you can be begin to see episodes of The Great British Bake Off. In the first season, Edd was the winner as 4,000 amateurs strove to impress a professional panel with their baking skills. He's now on TV, teaching, writing, appearing everywhere with ideas to share French baking treats.
Edd won the contest that first year for very good reason. He was kind of a ringer. He's been baking since his boyhood, visiting France multiple times each year for decades, walking the streets, testing the treats and, most importantly, developing ways to bring those treats into our home kitchens.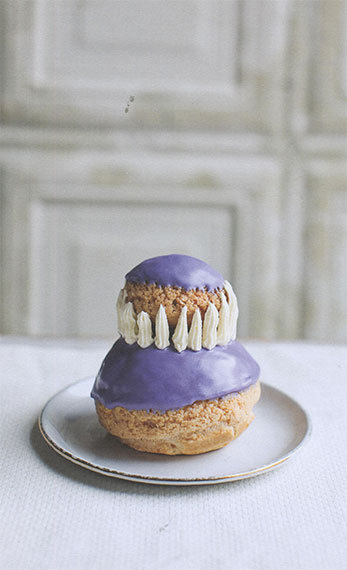 So in this carefully written book, you will find the usual French suspects:
Cassis Religieuse [shown in the picture above]
Chocolate Sables
Coffee Tart
French Meringue Buttercream, and Italian too
Pear Tart
Croissants
Caramelized Pineapple Crepes
Banana Tarte Tatin
Gateau Opera [shown in the picture below]
And dozens more recipes appear in chapters dedicated to Pastry, Cakes and Desserts, Sweet Treats, Masterclass and Basics. There are simple things here, like those sable cookies, actually multiple sable recipes. And then there are the challenges, like the Gateau Opera.
To let you make these classics at home, Edd has manipulated the classic recipes a tad, making them a bit easier, a bit more accessible, and surely more likely to succeed. How well does his approach work?
My wife is a baker and produces Paris-class croissants, a two day process that is physically intense. Croissants don't "rise" to get that flakiness; it's a process of pounding butter into a dough, then folding, resting, rolling, folding, ... It really does take two days to get that flaky marvel that amazed you that rainy Paris morning.
What does Edd do? No pounding of butter. You grate it. And no two days. The croissants are same-day baked. The results? You get a good croissant. Smaller than normal because you don't have two days of dough development. But you have the same layering, the same buttery flavor. It's a good compromise if you don't have the time or temperament for a two-day kitchen exercise.
Edd's book is a true patisserie excursion. You have a bounty of recipes. If you need chocolate, you will find it here. If you need fruit, recipes appear in just flick or two of the pages. The writing is direct: it's one page for each recipe, not four or five. Of course, the book is little oversized and the font is small, so that one page does have plenty of information for you. It has to. These are not chocolate chip cookies. This is patisserie. Just like the stuff you admired on that side street in Paris or Provence. Except Patisserie Made Simple brings it to your kitchen.
This is a valuable book. In this holiday season, you can advance your dessert skills with it, or you can treat someone to a gift they will use for years. One batch of buttercream at a time.
For many more cookbook reviews and hundreds of excellent recipes, please visit Suzi's Blog at www.cookingbythebook.com. While you are there, you can learn how we use the kitchen for culinary teambuilding.