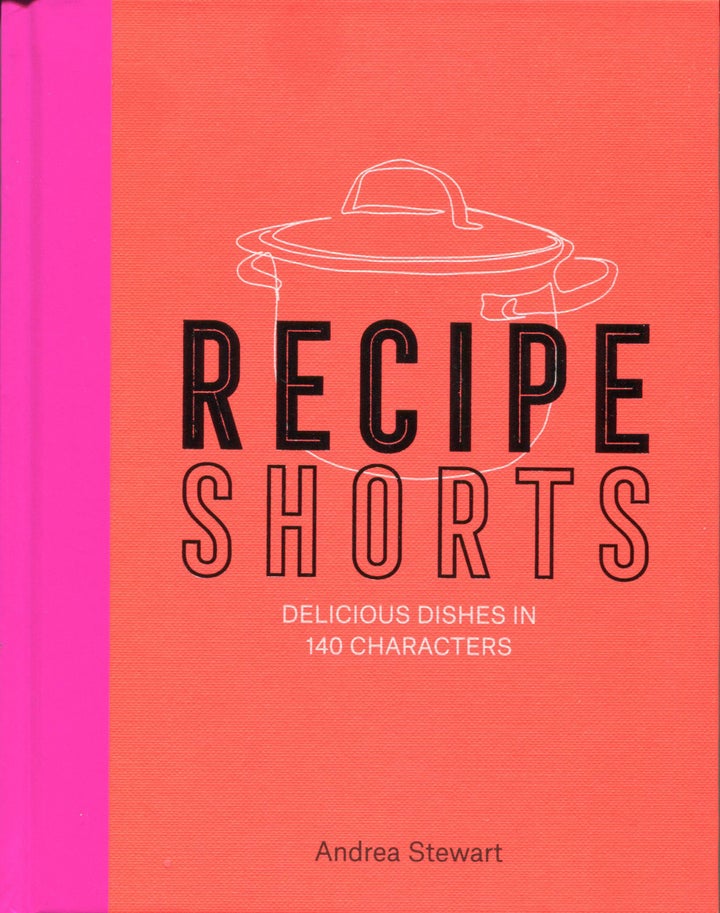 When you think about it, you wonder why it took so long. We live in a Twitter world and here is the Twitter cookbook. The subtitle of Recipe Shorts is Delicious Dishes in 140 Characters.
Dishes like Eggnhole. Oh, the titles have been "twittered" too. That really is Egg in the Hole and it is fried brioche with fried egg. Here, in non-twittered form are some other ideas from the book:
Croissant Perdu with Maple Syrup
Carrot and Dried Cranberry Slaw
Salt Baked Beets with Orange Zest
There are ideas here for breakfast, snacks, soup and salads, supper, sides and sweet endings — like that Boozy Berry Fool: Cointreau tossed over berries, spooned over crushed meringues and topped with whipped cream and mint
The "recipes" here are done in 140 characters, exactly, precisely. They assume you have some components on hand, but you can read the book a day in advance, do some shopping, and use this book to guide in "final assembly" in the moments before you happily enjoy the flavors. Those flavors? These are recipes with impact. The beets are a wonderful example: salt baked with orange zest plus egg white and star anise.
Every one of the 140 characters count here. The recipes are compact. There is a Glossary with all the abbreviations and shortcuts used in formulating the recipes: sesme for sesame and scllns for scallions. This is the first cookbook I've read where I had to sound out the recipes. It's leaving me with a smile on my face.
The book is short, only 160 pages, but it machine guns the ideas across to you: 140 characters at a time. Give this book a look. I bet if you pick it up, you won't put it down. And it's likely to be a weeknight companion. Short on time? Low on energy? Fast and delicious relief is here. Very cleverly here.
For more cookbook reviews and thousands of recipes, please visit Cooking by the Book. You'll discover how we do Culinary Team Building for corporate teams!
Related
Popular in the Community