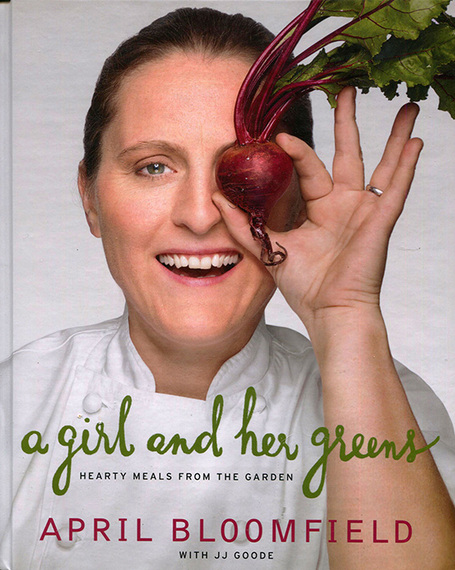 Three years ago April Bloomfield, already a prestigious chef and restaurateur, published A Girl and Her Pig. A dedicated proponent of head-to-tail cooking, April's book ensured that you'll never look at a pig the same way again. Now we have the brand new A Girl and Her Greens. It's the same story: your attitude towards veggies is about to change.
April is British and some of her five restaurants and surely her writing reflect that heritage. Some of the restaurants, like Salvation Taco in mid-town, are testimony to how evolution really does lead upward. On her passage from Britain to NYC, April has spent time in the best of London restaurants, like The River Café, and the best in the USA, too, like Chez Panisse. It was, then, impossible not to become enthusiastic and skilled in the power of greens.
This is a book about greens and vegetables, but it not vegetarian. Anchovy abounds here as a most natural flavor accelerator, as in Whole Pot-Roasted Cauliflower with Tomatoes and Anchovies. And that roasting occurs page after page, as in Piedmontese Peppers with Tomato, Basil and [what else] Anchovy. April often treats veggies as if they were a form of meat. You just pick up that whole cauliflower and start roasting. The same with the Pot-Roasted Artichokes with White Wine and Capers. Heat, slow and steady heat, is used to pave flavor avenues that you may not have traveled.
When you have the fortune to begin your culinary life in Great Britain, you can find yourself exposed to far more than mere Roast Beef. So, here you will find April's own personal recipe for Garam Masala. Her Spiced Carrots with Yogurt incorporate cardamom and Thai chiles. Whether you want to call it fusion or world-food or whatever, you will surely consider these recipes deliciously inspired. This is unfettered food. Free range vegetables.
The book has nine chapters, none of them bearing names you have seen before. Some are devoted to a season, like spring or summer, some to dish types like salad or pasta, and some to using a bit of "little beast" to add some protein temptation to a dish. You'll find new delicacies here like:
Ramps with Fried Eggs
That Whole Pot-Roasted Cauliflower with Tomatoes and Anchovies
Roasted and Raw Fennel Salad with Blood Orange and Bottarga
Corn Soup with Cream and Chanterelle Mushrooms
Steamed Eggplant with Ground Pork and Thai Basil
Sweet Corn Ice Cream with Butterscotch
Ah, that last recipe? You thought this was just another vegetable book? Corn ice cream is, I assure you, sweet and subtle and moderately addictive. The butterscotch on top is one of those "natural" pairings that April seems to create with endless spontaneity. There are surprises in this book, vegetable and green ideas that will tickle your curiosity, stir your imagination, and send you to the produce section of your market.
There are unexpected pleasures here: easy to prepare and easier to fall in love with.
A Girl and Her Greens was published in late April. You will see it prominently displayed in your local bookstore. Pick up a copy, scan the recipes, and succumb to temptation.
For many more cookbook reviews and hundreds of excellent recipes, please visit Suzi's Blog at www.cookingbythebook.com. While you are there, you can learn how we use the kitchen for culinary teambuilding.