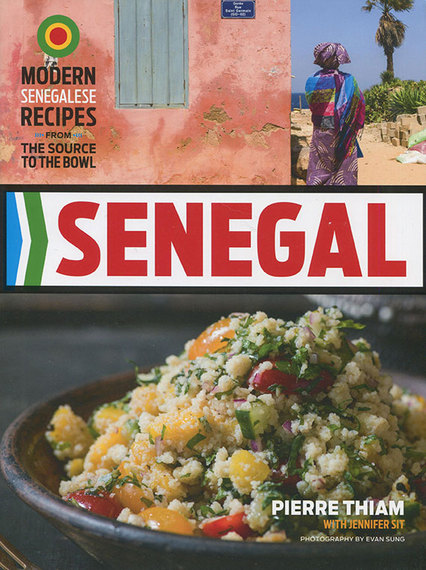 Senegal is a country, the size of Oregon, on the very west coast of Africa. A Portuguese and then French colony for four centuries, Senegal was a melting pot for European and African ingredients and flavors. Asian, too, because of Vietnamese influence and migration during the French colonial period.
With a long sea coast, rolling sandy plains, and tropical forests, Senegal is nation offering true agricultural diversity. The primarily tropical climate sponsors a domain ideal for the fruits penetrating Senegalese cooking. Author Pierre Thiam was born in Dakar and now lives in Brooklyn where his restaurants and his books spearhead a movement to introduce us, to educate us, to the delights of Senegalese food.
The recipes here include a mixture of very authentic ones and extensions by Pierre, a chef of talent and imagination. He's able to combine the foundation of native foods with layers of European and Asian influence, like his Senegalese Summer Rolls based on eggplant.
Before diving into his recipes, Pierre provides over sixty pages of history and background for his native land. And he gives us an overview of what to expect when tasting these dishes:
Rich stews with meats cooked on the bone and accented with peanuts and sesame
Fresh vegetables enjoyed directly form the home garden in pure, simple dishes
Dashes of brightness from limes and lemons paired with the heat of Scotch Bonnet
Flavoring accents of ginger, tamarind, and hibiscus
Africa always seems far away, yet culinarily it is not that distant. The ingredients here are mostly familiar to us. But the combinations and the preparation techniques, now, those are little different and that little difference can result in true distinction when the dish arrives on the table.
Some of the recipes, like the Kale, Avocado & Grapefruit Salad, are ones you might expect to find in any upscale bistro in this country. But the Goat Cheese-Stuffed Lamb Meatballs begin to show some departure from what is "familiar" for us. And the Salad of Roasted Beets with Cashew Puree, Cocoa Nibs & Selim Pepper is going to be a flavor experience we have not yet enjoyed or even imagined.
Here's a tour of the principal chapters and some representative recipes:
Snacks and Street Foods is a natural start to the book. People on that Atlantic seacoast need their finger food just as much as we do:
Spice Crusted Pastels with Smoked Mackerel and Pickled Mango [inspired by Portuguese empanadas]
Senegalese Summer Rolls [Vietnamese-inspired; eggplant, basil, mint, cucumbers]
Tamarind Glazed Littleneck Clams
Vegetables display a range of recipes that will, in the end, make your realize that African cuisine is very much like ours. Farms, whether in Africa or America, give us the same range of fruits and vegetables. The differences in their cuisine and ours lies in our imaginations. There is no better, only different:
Kale, Avocado & Grapefruit Salad
Salad of Roasted Beets with Cashew Puree, Cocoa Nibs & Selim Pepper
Ginger Butternut Squash Soup
Grains is filled with recipes for fonio, the native grain of Senegal. In the colonial period, Western ideas for foods were allowed to dominate and Western grains were introduced. And favored. Fortunately, the heritage grain has not been lost and very interesting recipes appear here:
Mango Fonio Salad [using the native fonio grain]
Slow-Cooked Lamb Fonio Tabouleh
Eggplant & Palm Oil Risotto
Seafood is a chapter of treats. Some recipes are ones we share in common, like pan-fried fish. But the tropical climate lets plantains and coconuts appear in lovely recipes concepts:
Pan-Fried Sea Bass
Smoky Tuna Tartare with Green Plantain Chips
Coconut Mussels
Meats is my favorite chapter for it displays more "difference" than any other. Slow-cooking, spices, and vegetables are brewed here in succulent form:
Goat Cheese-Stuffed Lamb Meatballs
Roasted Rack of Lamb with Crispy Black-Eye Pea and Yuca Cakes
Chicken Roasted in Kraft Paper with Scotch Bonnet Sauce
Sweet Things does what you would expect from a tropical land. Fruits are woven into the dishes offering both sweetness and distinctive flavor:

Banana Coconut Fritters
Chocolate Mango Pound Cake
Guava-Stuffed French Toast

Senegal is both a cookbook and an anthropological tour of the land. Pierre knows that food is ultimately the best guide to understanding the culture of land. It's not just what people eat, but what times of day and with what customs govern the table. It's all on display here, in the lively recipes and the spectacular photography by Evan Sung.
What's the first thing I'm going to make from this book? Look at the picture from Evan below. These are the Spice-Crusted Pastels with Smoked Mackerel and Pickled Mango. It's Philip's tribute to Portuguese empanadas which really derive from the samosas of India. But crusting the dough with spices is a Brazilian technique originating from Africa. Senegal is a brilliant bright cookbook that shows cuisines literally from around the world arriving together in one lovely recipe after another.
For many more cookbook reviews and hundreds of excellent recipes, please visit Suzi's Blog at www.cookingbythebook.com. While you are there, you can learn how we use the kitchen for culinary teambuilding.