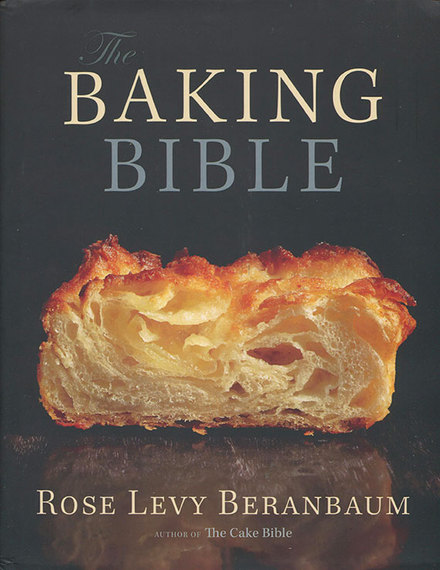 Last fall Rose Levy Beranbaum published her latest cookbook, The Baking Bible. This is Rose's 9th cookbook and follows in the tradition of The Cake Bible, The Bread Bible, The Pie and Pastry Bible, Rose's Heavenly Cakes and all the rest.
Now, "bible" is a strong word. If someone says they have written the bible for something, they may draw questioning looks. When Rose publishes a bible, we all know that we should buy, bake, and relish her intensely perfected recipes.
The Baking Bible is an extraordinary work. If you bake, if you love desserts, if you love culinary art, then this is a bible for your bookshelf and for your kitchen island. I've spent time going through the book seeking to find the best recipes, which ones should Suzen and I cook for ourselves or offer for dessert at her cooking school. There's just one little problem: you want to make everything. You really do.
We've started with a Blueberry Buckle [you can find it here] and Rose's own Chocolate Chip Cookies [link coming soon]. But those are the simple things and, if you know Rose, then you know that her typical recipe is not simple. There are 560 pages in the book and just over a hundred recipes. You can do the math: 5+ pages for each recipe. What on earth can take that long to describe? Consider three examples.
The Polish Princess Cake, pictured below, is new creation that evolved from Polish bakeries after the fall of Communism when they were able to secure ingredients --quality chocolate, alkalized cocoa, superior raisins -- that had not been available for fifty years. The completed cake is a construction project, erected using five separate recipes for the underlying Cake, Tea Vodka Syrup, a Pastry Buttercream Base, Cocoa and Walnut Pastry Cream using that base, and another layer of Chocolate and Raisin Pastry Buttercream using the base. Each of those elements is a mini-project in itself. To make this cake, you are going to spend a day in the kitchen. The Baking Bible is the ultimate rainy day cookbook.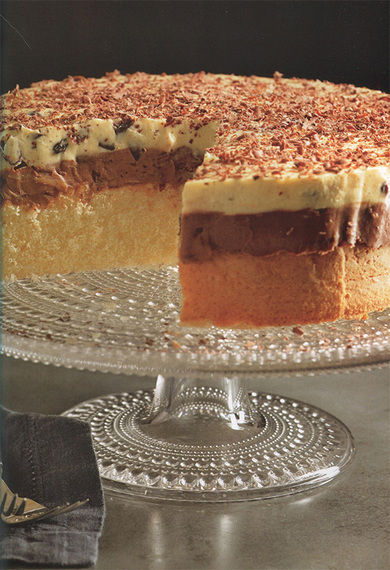 Here's a pie example: Pomegranate Winter Chiffon Meringue Pie. The components here are a Crisp Meringue Pie Shell, White Chocolate Glaze, Pomegranate Chiffon Filling, Pomegranate Glaze and an optional Lemon Cookie Crust.
Even cookies become complex in The Baking Bible. Take the Ischeler, an Austrian sandwich cookie. Elements here are the Nut Cookie Dough, Super Firm Chocolate Ganache Filling, Apricot Lekvar Filling, and an optional Apricot Glaze.
For these extended desserts, Rose has evolved a writing and presentation style that makes each of her bibles easy to follow. A five page recipe is broken into one or two page pieces, one for each of the different elements that are eventually composed into the final dessert. Each piece has its own list of ingredients, preparation steps, and -- most importantly -- storage steps.
You could spend that entire rainy day making one dessert, or you can spread the work out over days, weeks, or even months. Components can be stored, refrigerate or frozen, then assembled on your official Dessert Day.
Better yet, you'll discover that the individual elements here can be used by you independently and deliciously. There is the Custom Rose Blend Ganache Glaze, made with white and bittersweet chocolate, that is presented here for Rose's Marble in Reverse Cake. But that Ganache Glace can adorn any cake, any cookie, any ice cream, or even that nearby spoon that you could just lick in total satisfaction.
Rose's use of the word "bible" reflects the almost ceremonial stature of her recipes. She is famous for her recipe perfection and for testing and refining and escalating each recipe until it will work sumptuously for you in your home kitchen. Yes, there may be a few steps here, you may have hours of work, but the results will make you proud.
Oh, with all that complexity, could you get a little lost perhaps? No. As in previous books, The Baking Bible is lavishly photographed by Ben Fink. His style and perspective let you see exactly where you are headed with each recipe. He's as much an artist as Rose.
There is no question that The Baking Bible, like her previous books, will become a culinary landmark. The recipes, from America and Europe, cover an immense range of flavors, looks, and textures. Somewhere in this book is a treat that will become your favorite. Or your favorite Top 10. Or maybe even your Top 100. The Baking Bible is deliciously exciting and awaits your kitchen.
For many more cookbook reviews and hundreds of excellent recipes, please visit Suzi's Blog at www.cookingbythebook.com. While you are there, you can learn how we use the kitchen for culinary teambuilding