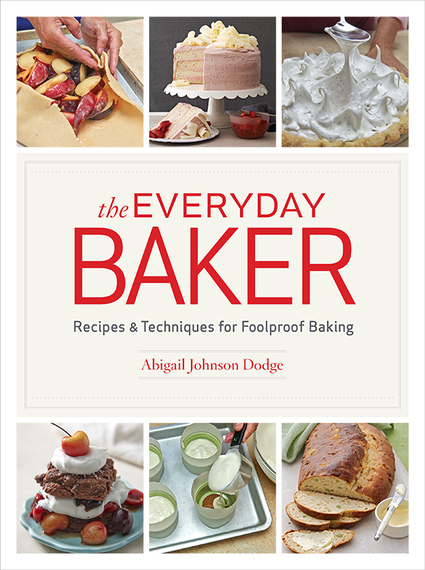 The date -- November 16, 2015 -- has been highlighted in my calendar for months. It is the publication date for The Everyday Baker by Abigail Johnson Dodge. You may not recognize her name immediately but after this book you will. Abby calls this "my tenth cookbook and by far the most important and personal of my career."
This massive volume, over 600 pages, displays both sweet and savory baking ideas. Abby's baking education began with her mother and has extended along many avenues including training in Paris, teaching, writing, and her current twenty-one year spin with Fine Cooking Magazine.
She has been a prodigious author writing both big volumes like The Weekend Baker in 2008 and smaller specialty books like Mini Treats & Hand Held Sweets in 2012. Everyday Baker is by far her biggest, boldest effort. The result is a book that can be your go-to baking guide, the first book you turn to for both recipes and guidance.
Most baking books today begin with that dry obligatory chapter about ingredients, tools and techniques. Abby has one, too: Everyday Baking Basics. Abby does not put the chapter there for you to maybe read. She's very direct: "No matter whether you're a newbie or a pro, read through this section before you start baking." With her years of publication experience, this chapter is tightly written, exceptionally informative, and just the foundation you need for recipe success.
Abby's reputation is for recipes that are simply "more" than you are used to seeing. These are not difficult recipes for the home cook, but they offer you the chance to make something quite out of the ordinary. Consider the first recipe in the book in the Morning Food chapter: Roasted Carrot Jalapeno Soufflés. Other morning suggestions will have your kitchen resembling the best Sunday brunch restaurant you've ever encountered:
Zesty Lemon Artichoke Frittata
Mushroom Chicken Sausage Frittata
Broccoli, Red Pepper, and Cheddar Quiche
Raspberry-Ginger Ricotta Pancakes with Lemon Curd
Cinnamon Swirl Crumble-Topped Ricotta Coffee Cake

Along the way you'll find side notes explaining all the techniques you need for restaurant-level perfection. For those wake-me-up frittatas there is a band of pictures and text showing just how to assemble and cook a frittata. There's even a hint on the right way to grind Parmesan cheese, noting that you'll get very different volume if you use your food processor or hand grinder. That's Abby at her detailed best.
Abby is always time conscious. Her Weekend Baker book was organized not around Cookies-Cakes-Pies but around how much time you have to cook. In the Quick to Make chapter you'll discover a new round ideas that you can concoct in a kitchen flash:
Mile-High Parmesan-Chive Buttermilk Biscuits
Cheesy Beer Muffins
Double Cranberry Orange Bread
Double Chocolate Espresso Wake-Up Bread

Chocolate is dear to Abby and in the Cookies chapter the chocolate species is well represented:
Bittersweet Chocolate Peppermint Thumbprints
Double chocolate Cream Cheese Fudge Brownies
Chocolate Coconut Checkerboards
Orange-Scented Double Chocolate Crackles
Candied Rose Macarons with White Chocolate Filling
And if you do happen to want something beyond chocolate you'll find ideas like Lemon Drop Snaps and Toasted Coconut Meltaways.
If cake is your dessert delight then Cakes provides a multitude of baking options:
Espresso-Hazelnut Meringue Cake with Espresso Buttercream and Milk Chocolate Ganache
Raspberry Zebra Cheese cake
Toasted Coconut Cake with White Chocolate Frosting
Toasted Walnut Maple Chiffon Cake
Lemon Rolls Cake with Blueberry Goat Cheese Filling
Snow White Layer Cake with Strawberry Mascarpone Frosting
I could walk you through the great ideas in the remaining chapters:
Pies and Tarts
Puddings and Custards
Yeast Breads
Pastry
Flatbread
Fruit Desserts
But I think you may now have captured the flavor philosophy of this book. And I really think the only way to appreciate The Everyday Baker is to lift it up, and it is a tad heavy, and wander through the pages. It's impossible to survey this book quickly. Every page reveals some flavor combination that just stirs your saliva. It is a sensuous book, and therefore eminently successful. To be great, a cookbook needs to seduce you into the kitchen. The Everyday Baker beckons one powerful recipe after another.
The triumph of Abby's recipes is the combination of doability and complexity. Take that very first cake: Espresso Hazelnut Meringue Cake with Espresso Buttercream and Milk Chocolate Ganache. Abby layers flavors and textures in her recipes, asking you to go do more with an extra flavor, an extra crunch, some extra smoothness, or maybe all three.

To help you succeed, the books is studded with hundreds of photo and side notes. You get assistance and reassurance as you craft something that, well, you might not have attempted without such comprehensive help.
So when you see the recipe for Bourbon Maple Pecan Baklava, your only reaction needs to be to start searching for the bourbon, syrup and nuts. You are going to succeed in the kitchen and you are going to sing the praises of The Everyday Baker.
The title may say The Everyday Baker but this surely is no everyday book.
For many more cookbook reviews and hundreds of excellent recipes, please visit Suzi's Blog at www.cookingbythebook.com. While you are there, you can learn how we use the kitchen for culinary teambuilding