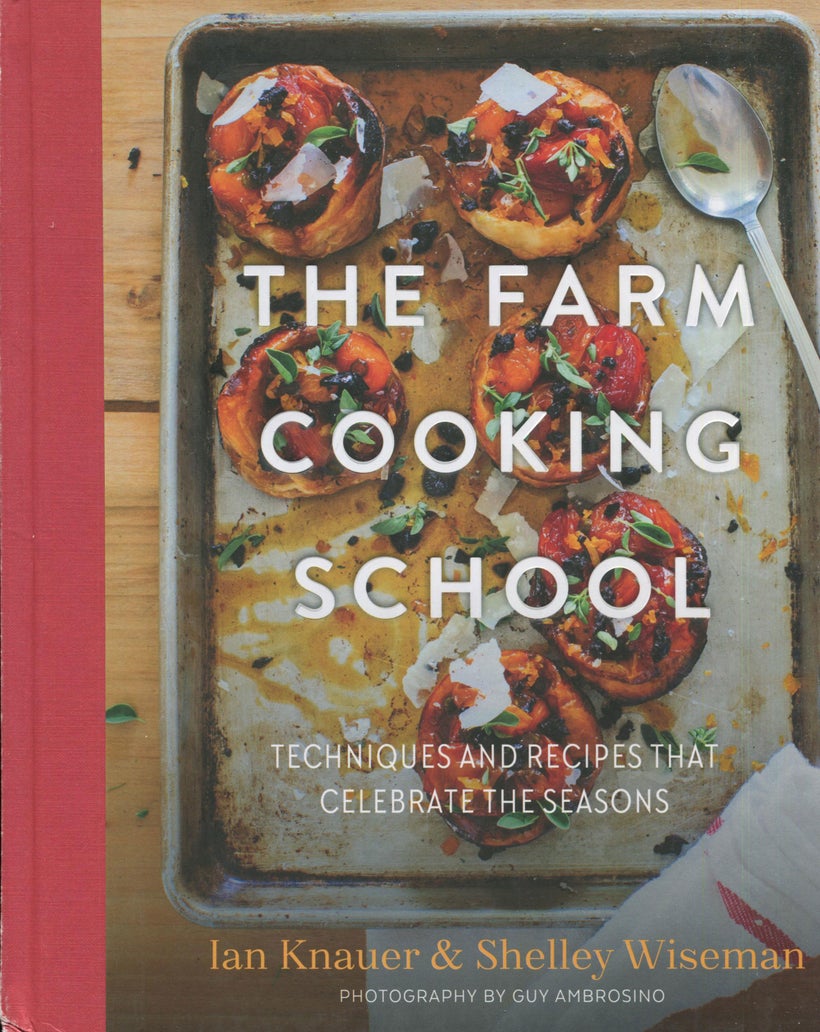 Americans dabble with their food, both what we make at home and what we seek in restaurants. We crave some basic skills for that home cooking. "How do I cut this chicken?" is a question we all understand. Tonight, I'd like some great Mexican food but tomorrow it is going to be pizza. And, it is fall, and there are lovely fall grapes out there. What can I do with them?
You may have images of New Jersey as an endless chain of refineries alongside an Interstate. There is another, and much prettier, New Jersey. On the western border, in the Delaware River Valley, the hills roll in soft greens and yellows while the farms roll out abundance in all possible colors. Famous red tomatoes. The deepest purple in eggplants. Yellow corn and golden pears.
And there, deep in the valley is The Farm Cooking School, happily and productively nestled and bursting with clever idea. The product of Ian Knauer, founder, and Chef Shelley Wiseman, a supreme culinary partner, this school caters to the diverse needs, and loves, of contemporary America.
The book opens with The Foundations of Cooking and introduces knife skills. That's exactly how a session at a cooking school would begin: you cannot cook if you cannot cut. There is a network of explanations for different cooking techniques that you need to understand: searing, braising, roasting, poaching, and steaming.
This first foundations chapter, like most of the others, ends with a "4 Season", a set of four recipes using the same basic recipe applied to the "fresh and local" ingredients you can expect during the year. And this first set of recipes? Pavlova. Wonderful pavlova, a mound of meringue topped with fruit. Those fall grapes I mentioned? Here the fall pavlova is Autumn Grape Pavlova, a gallant use of those lovely goblets of flavor.
There is a lovely chapter, Flavors from the Field, that shows you exciting new ways to exploit the produce of your home garden or your local farmers market:
Roasted Turnips
Carrot Puree
Salt-Roasted Golden Beets with Sunflower Sprouts and Pickled Shallots
Fennel Tart Tatin [yes, fennel and not apple]
If your desire today is Italian, then you'll find wondrous ideas here. No, not spaghetti and meatballs. No, real Italian food, ideas like you'd find wandering the backroads in lovely and lively villages:
Cheddar and Caramelized Onion Pizza
Charred Octopus Salad with Giant White Beans
Bagna Cruda
Egg Yolk and Herbed Ricotta Ravioli with Lardons and Wilted Kale
There are chapters for Fall Favorites — Ricotta Tart with Roasted Figs and Candied Lemon Zest — and Classic French — Braised Rabbit with Mustard Sauce.
But my favorite chapter is Modern Mexican. Why? Look at this picture of Asparagus with Asparagus Mole and Smoky Coffee Mayonnaise. Now, that recipe alone should have you dashing out the door to get your copy of The Farm Cooking School. When you do, when you try that asparagus dish, serve it with the Hibiscus Margarita.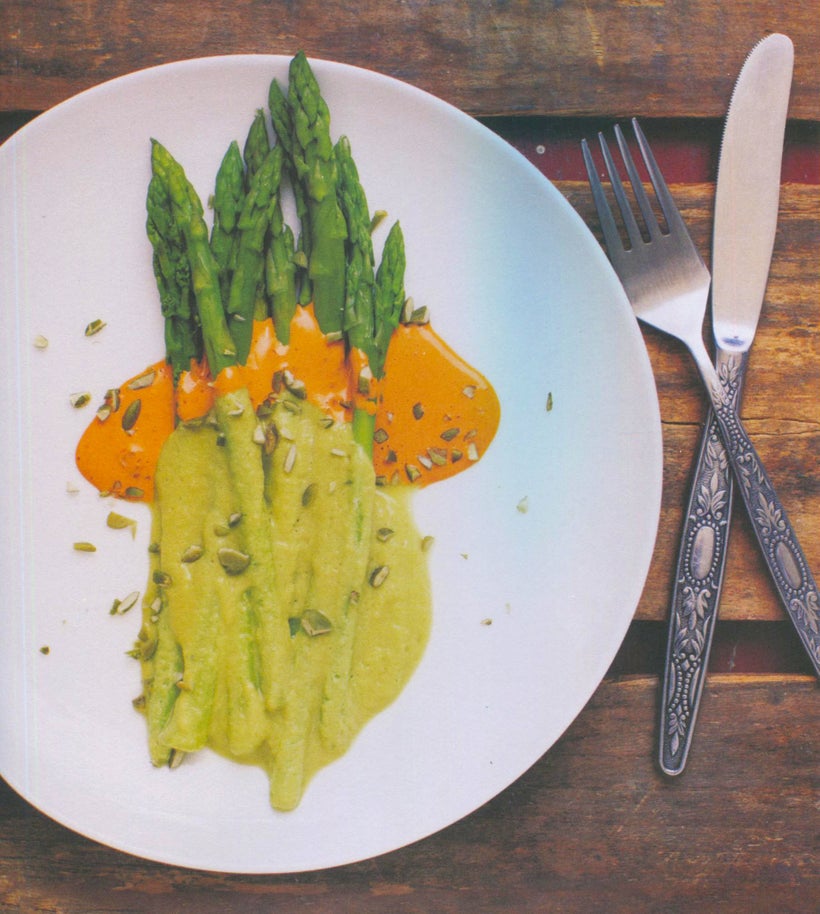 Oh, it's November and fresh asparagus is distant? I'm sorry. You'll just have to settle for Sauteed Duck Breasts with Smoky Pasilla de Oaxaca-Tomatillo Sauce.
If you want to elevate your cooking, you probably need some cooking school time. Or, your copy of The Farm Cooking School. Lovely school, delicious book.
Calling all HuffPost superfans!
Sign up for membership to become a founding member and help shape HuffPost's next chapter
This post was published on the now-closed HuffPost Contributor platform. Contributors control their own work and posted freely to our site. If you need to flag this entry as abusive,
send us an email
.