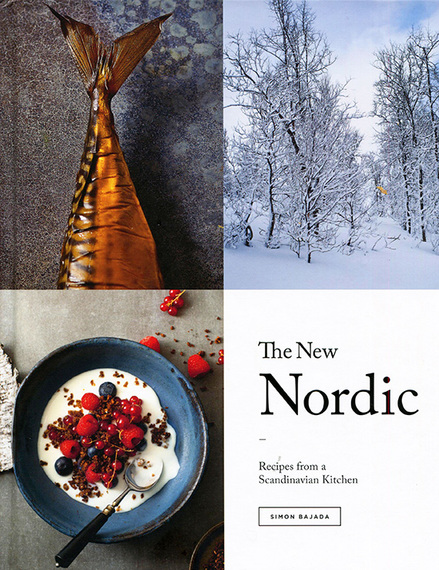 For most of us, a trip to Europe means France, Britain, or Italy. Maybe Spain or Germany. We tend to travel to "the heart" of Europe. And, both in Europe and back home, we eat those heartland dishes like wheat pasta and meatballs with tomato sauce.
Our journeys too rarely take us to other places and other foods. The five Nordic countries -- Norway, Sweden, Denmark, Finland and Greenland -- are overlooked from both the travel and surely that culinary perspective. In his new, and first, cookbook, Simon Bajada uses words and pictures to lure you to the cold North. In The New Nordic: Recipes from a Scandinavian Kitchen, Simon invites us to tour and to taste. When you scan the pages here, you will want to do both.
Simon is responsible for both the regionally authentic recipes and the stunning photos. It's a long way from Provence to the seacoasts of these lands. On pages 130-131 is a stunning panorama of single man in boat exiting a bay-side village with a backdrop of snow draped mountains that pour down to the sea. It looks cold, rural and ominously beautiful. It's unfamiliar landscape.
And unfamiliar, too, perhaps even overlooked are the food combinations you discover here. This is a four-seasons cookbook but, to be honest, three of those seasons are spent eating the treats that you have canned or smoked or brined or pickled or cured during the short summer growing season. All those techniques are on display in The New Nordic.
For example, the prototype Nordic Black Bread appears here with an ingredient list that includes:
Whole wheat flour
Regular white flour, yes, you can import it
Coarse whole meal rye flour
Wheat bran
Wheat germ
Molasses
Yoghurt
Sunflower seeds
You may not be able to imagine what this could taste like, the intensity of its dark flavors. I had the fortune to grow up in Portland with a rafter of Scandinavian bakeries and can still, decades later, taste the depth of this bread. If you make this at home, you too will discover its penetrating flavors.
One of the great benefits of The New Nordic is the presentation to you of both classic dishes, like this bread, and newer ideas that combine tradition with modern availability. Here are some of the recipe delights awaiting you:
That Black Bread is a must
Finnish Sweet Mustard made with dry mustard powder, not mustard seeds, plus sugar and vinegar
Rhubarb Chutney
Elderflower Cordial
Open Face Sandwiches with, for example, Smoked Chicken, Apple, Pickled Carrots, Hazelnut and Raw Broccoli
Swedish Meatballs with Brown Sauce and Lingonberries
Hot-Smoked Salmon, Roasted Garlic, and Apple Salad
Duck, Charred Cucumber and Malt
Roast Pork, Carrot Chutney and Sunflower Cream
Chanterelles, Buckwheat Crepes, and Kale
Nettle Dumplings, Rhubarb and Bacon
Rhubarb and Rye Bread Pudding
Cardamom Chocolate Cream with Blueberries and Meringue

The interesting thing about this book is the way the natural ingredients in these Nordic lands are woven into new combinations. You know the pieces already, but you would never assemble a culinary puzzle out of them.
Consider that Rhubarb and Rye Bread Pudding, an unexpected combination of two very intense flavors. I love salmon and apples, but who would have combined them in a salad, complete with roasted garlic? Although the growing season is short, sunflowers do abound up north so you find that Sunflower Cream combined with some Carrot Chutney -- one of those imported food ideas -- gracefully placed aside a roasted pork loin.
The dishes on display here are not lengthy or arduous to prepare but they are far from simple. Nordic chefs seem to double over to create flavor amalgams destined to overwhelm your taste buds. Like that dish of Nettle Dumplings served with Rhubarb and Bacon. This particular recipe seems invigorating when you read it. When you see the picture ... Well, I said the pictures are stunning and Simon has a particular photographic style combining both starkness and striking beauty.
The New Nordic was just published last month. I've already seen it popping up on store shelves. And for good reason. If you are looking recipes that are new, different and powerful in both flavor and beauty, then The New Nordic is just the journey you want to take.
For many more cookbook reviews and hundreds of excellent recipes, please visit Suzi's Blog at www.cookingbythebook.com. While you are there, you can learn how we use the kitchen for culinary teambuilding.