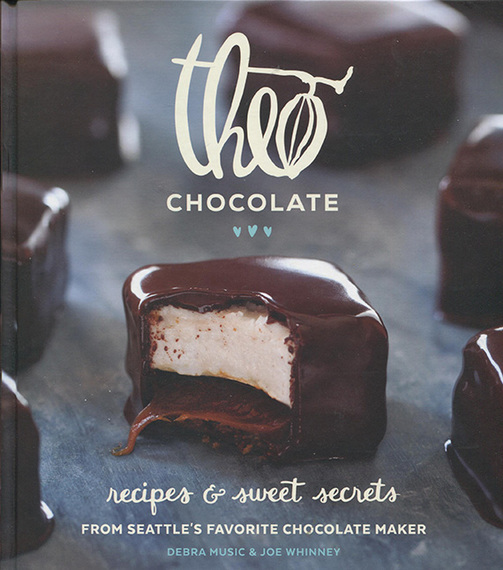 I review cookbooks and sometimes I imagine what kind of cookbook I would personally write. My book would be about chocolate. From dawn to dusk and on to midnight. Not just hot chocolate and brownies, but breads, side dishes, salads, main dishes and even cocktails. Chocolate for every aspect of every meal throughout the day.
Fortunately, I don't have to fret about writing this book for someone else has. Almost a quarter century ago, Joe Whinney founded Theo Chocolate. Events and fortune led Joe to move to Seattle with his Chief Marketing Officer, who just happened to be his very resourceful and friendly ex-wife. This perhaps unconventional business partnership has succeeded. One candy, one cookie, at a time, Theo has grown from a neighborhood to a city to a national chocolate resource. Their experience in making chocolate and using it as simply a standard ingredient -- not just a dessert component -- has led us to this flavor-intense cookbook.
When I met Debra last week, I asked her how much of those nearly 25 years had been spent writing this book. "Nine months," Debra said with her perky smile. "And, I have ideas for more."
This first book then is a solid foundation for whatever is to come. The passion for chocolate all day long is displayed in recipes that can follow the clock.
In the chapter Chocolate for Breakfast, you can begin the day with a chocolate rush:
Chocolate Raspberry Jam
Chocolate Pecan Breakfast Rolls
Chocolate-Stuffed Crème Brulee French Toast

We often nibble on chocolate during the day but Theo extends this to real food in On the Savory Side: Small Plates where you invited to try:
Onion Jam with Dried Plums and Chocolate
Roasted Baby Carrots with Balsamic-Bitter Chocolate Syrup
Roasted Squash with Brown Butter Nibs

In Chocolate for Dinner, chocolate is carefully employed as an essential, but not dominant, ingredient:
Honey-and Saffron-Braised Chicken with Cocoa Nip Couscous
Pumpkin-Filled Chocolate Ravioli with Sage Brown Butter, Pears, and Hazelnuts
Tom Douglas's Roast Chicken and Wild Mushroom Warm Bread Salad with Cocoa Nibs
Dessert ideas arrive in four chapters devoted to Cookies and Bars; Cakes, Pies, and Tarts; On the Silky Side: Pudding; and Frozen Concoctions and Sauces. There are seventy pages here to tempt and to please:
Gooey Double-Chocolate Mocha Cookies
Dark Chocolate Stout Bundt Cake
Chocolate Bread Pudding with Salted Scotch Butterscotch Sauce
Chocolate-Stout-Caramel Hot Fudge Sauce
Theo ends with the Confections chapter. Visit one of the Theo candy stores, and you will face an array of beautiful candies with some rather non-typical flavors:
Fig-Fennel Ganache Confection
Raspberry Ganache
Apple Cider Caramels
Big Daddy Marshmallow Bars

Now you have the opportunity to craft those candy delights at home using Theo as your guide. A guide is useful here for some complicated recipes like those Marshmallow Bars. The bars appear on the cover of the book and are created by topping a graham cracker crust with caramel, adding on a layer of marshmallow, and then coating in properly tempered chocolate. You make all the components, you assemble all the components, and finally you do get to eat them, too.
Theo offers multiple benefits. First, there are forty pages introducing chocolate: how it is made, how to taste, how to store, how to melt and how to temper. Chocolate is not always a simple ingredient to employ. So a knowledge of chocolate can make the fashioning of, say, chocolate pasta much easier.
As you read the recipe titles here, you begin to sense the essence of Theo: subtly complexity. Those Double-Chocolate cookies aside, most of the recipes here find the chocolate being carefully coordinated with other strong ingredients: stout, caramel, pumpkin, mushrooms, and more. This is a book about chocolate partnership.
Debra may have written the book in a mere 9 months, but Theo reflects many years of recipe imagination and experimentation. If you try the recipes in this book, you will be pleased and surprised. Your only dilemma is where to start.
"What's your favorite recipe?" I asked Debra.
"Oh, easy: the Chocolate Chunk Brownies. You should start there."
For many more cookbook reviews and hundreds of excellent recipes, please visit Suzi's Blog at www.cookingbythebook.com. While you are there, you can learn how we use the kitchen for culinary teambuilding.