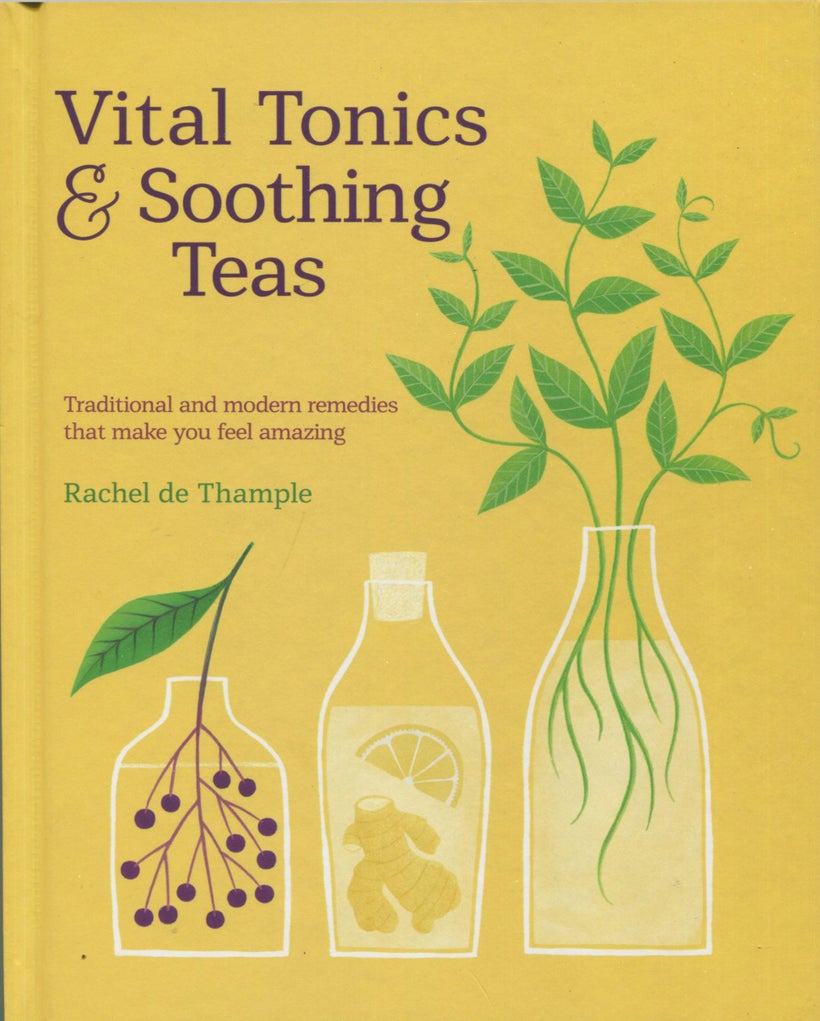 Author Rachel de Thample knows something very important: yes, you are what you eat but you are also what you drink. And your drinks can often bring you health or happiness or sleep far quicker than any mere food.
These are elevated beverages. Yes, the chapters are called Tonics, Teas and Drinks but, golly, what tonics and teas and drinks they are. Consider these lovely and lively idea from each chapter.
In Tonics, those vodka or tequila shots are replaced by seasonal ginger shots: rose petals, lemongrass, cayenne pepper, cardamom or apple and oregano are the options added to ginger, the mass is shot through a blender, and sometimes topped with a lovely piece of fruit [that apple or pear]. How about a Garlic and Lemon Elixir or some Celery and Cilantro Juice? There is a Rosehip Syrup: rosehips, water and honey or maple syrup.
Too often when we make tea we begin by opening up a cardboard box. The ideas in this Tea chapter include a Spiced Dandelion Tea: dandelion root, anise, cardamom, licorice root. That's a combination that will surely open your eyes, no matter the time of day. There are simpler, more familiar ideas: a Chamomile and Lavender combo to induce sleep and dreams. Rachel offers ideas from around the planet, like a lovely Armenian Herbal Tea featuring thyme, lime flowers, and orange zest. That's surely a new perspective on tea.
In Drinks the world is fully on display. A frothy yogurt drink, infiltrated with mint, from Turkey. An Aztec Hot Chocolate combines cinnamon, chile powder, Szechuan pepper and maple syrup! There is Blood Orange Ginger Beer and, back in Mexico, the powerful Tepache: fermented pineapple peel, Mexican piloncillo, cinnamon, and cloves.
There is nothing tepid in this book. It is brimming with bold flavor combinations that you can enjoy all through the day. When you hear "tea" now, it will mean so much more, so much tastefully more.
For more cookbook reviews and thousands of recipes, please visit Cooking by the Book. You'll discover how we do Culinary Team Building for corporate teams!
Calling all HuffPost superfans!
Sign up for membership to become a founding member and help shape HuffPost's next chapter
This post was published on the now-closed HuffPost Contributor platform. Contributors control their own work and posted freely to our site. If you need to flag this entry as abusive,
send us an email
.