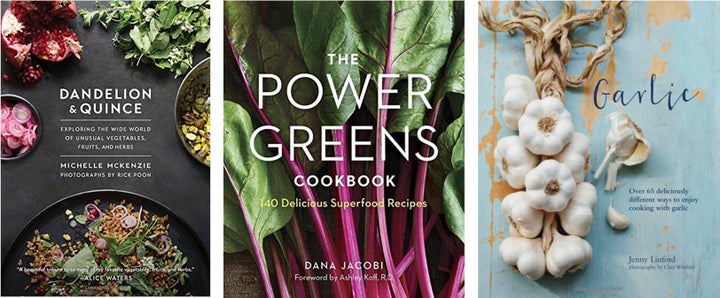 Among this year's crop of cookbooks, several stand out for their minimalistic titles, revealing their own descriptive poetics. Dandelion & Quince (Roost Books) is not only about weeds and tree fruit, but instead speaks to the perspicacious foodie – evoking curiosity and wonder. So too does Dana Jacobi's newest book (her 15th), The Power Greens Cookbook (Ballantine Books), describing how greens help us power on (a new locution post-Hillary's pneumonia). London-based Jenny Linford's irresistible exploration of Garlic (Ryland Peters & Small) devotes its whole being to the historically beloved and occasionally loathed bulb. So there you have it: Instead of "French" or "Thai" or "Healthy" as semaphores of how we are thinking about food and cooking in 2016, we simply get – ingredients.
Michelle McKenzie's Dandelion & Quince presents gorgeous solutions to a cook's seasonal dilemma, when local farmers markets taunt us with super-abundant bundles and baskets and bushels of vegetables and fruits we have no idea how to use, let alone know what they are. That very thing happened to me this morning, where a circus of colorful produce, sitting prettily under shady tents, stole my attention. Fresh soybeans in their pods, with their leaves, on their leggy stems? How divine. And look at all those tiny gooseberries? What do I do with those? And freshly dug French shallots? I immediately lunged for Michelle's new book. She, a chef and program director at 18 Reasons, a community cooking school in San Francisco treats "the strange, lovely and hyperseasonal" produce with the care of an anthropologist or a rare book dealer. The uglier the better; the deeper the flavor; the less familiar the more exciting. All these adages would make great t-shirts for her. (She already owns one with HERBS boldly emblazoned on it.) She teaches real people how to cook, how to be curious, how to feed themselves with pleasure, and then stretch to feed others. It's a lovely cycle – much like that of nature itself. Michelle peels into the personality of dozens of less familiar ingredients – dandelions, quince, yes (!), but also kohlrabi, purslane, persimmons, nettles, cardoons, burdock, fava leaves and ground cherries. And she names her recipes as a poet might. My favorite? "A Steamed (Asian) Pear to Soothe a Cough," and a chapter compellingly named, "Bolting Herbs." Can't wait to dig deep.
Equally illuminating is Dana Jacobi's dynamic tome about how to power, sustain, and enliven our digestive racetracks; and I want to make her Collard Green Dolmas with Wild Rice and Sun-dried Tomato Pesto right now. Many of her 140 recipes are exciting twists on comfort food and some are just plain brilliant, like her super-original Kale Za'atar with crumbled bits of crispy kale you make yourself, or her dairy-free creamed spinach made with tahini. Spoiler alert: Here are the fifteen dark leafy greens Ms. Jacobi deems to be most beneficial – in delivering nutrients, removing toxins, improving digestion, and supporting the overall health of our guts. Arugula, bok choy, broccoli rabe, Brussels sprouts, cabbage, chard and beet greens, cilantro, collard greens, kale, mustard greens, parsley, romaine lettuce, spinach and watercress. You probably don't eat enough of them (nor do I), and this is exactly the premise, and promise, of this book. If knowledge is power, as Ms. Jacobi so clearly believes, that power is at the ready. Kale pesto will be your new go-to hors d'oeuvre, red quinoa tabbouleh will satisfy your best gluten-free friends. You will want to cook your way to health each time you turn a page. The author is a bit of a powerhouse herself; her books and blog, Dana Dish, are celebrated by many, and she writes another blog about health and nutrition for the American Institute for Cancer Research. And in case you didn't know, watercress is coming back.
London-based food writer Jenny Linford is among my favorites. Everything about her is elegant and subtle, hardly the stuff of garlicky-perfumed recipes. However, never shy about exploiting research to its max, she has fashioned a fortifying cookbook – extolling the history of garlic, its properties as both an aphrodisiac and as a "healing food," its use by the ancient Egyptians, and now by contemporary cooks – with a trove of new, exciting, comforting, sophisticated, original recipes created by the author -- a very serious cook and even more serious journalist. The book begins "Garlic is audacious." Yet she goes on to say that it is also humble, everyday, affordable, and readily available. It is the one thing she would take on a desert island. I would, instead, take this book (and pay particular attention to Chapter 8 "Going Wild.")
Garlic is its own powerhouse, and Jenny's writing also finds it own poetics. Like poetry itself, garlic finds its many forms. Green garlic, elephant garlic, black garlic, smoked garlic, deep-fried garlic, pickled garlic, garlic salt, garlic scapes, wild garlic (ramps), garlic chives. A helping of roast garlic salt cod croquettes, served with grassy parsley pesto (Ms. Jacobi would approve), would be a nice way to begin my dinner party, not to mention bites of kimchi pancake with black garlic crème fraîche and a glass of a nicely-aged bubbly. There are some good-looking spicy Indian garlic meatballs, a wild garlic goat cheese flan (in a shortcrust pastry) – which is the closest thing this book gets to dessert.
Support HuffPost
The Stakes Have Never Been Higher
Related
Popular in the Community