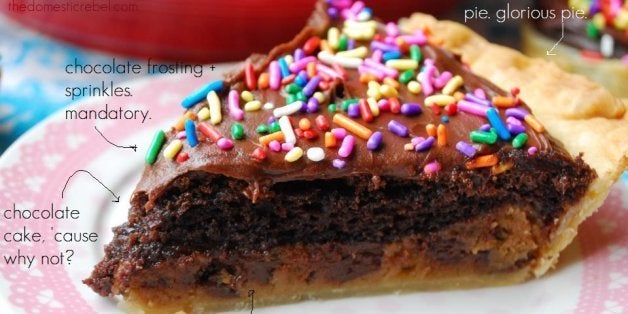 Have you ever found yourself confronted with a dessert menu and you just can't decide? With cakes, pies, and cookies on the menu, having to pick just one dessert makes you feel like your head is going to explode. You really want to order one of everything, but you know that'll just confirm that fact that you are a complete and total glutton. So you sadly order just the chocolate mousse cake, and wonder with every bite if you made the right choice.
Well, my sugar-addicted friends, today is the day your whole life is going to change. You no longer have to pick just one dessert; it's now possible to have three desserts in one single serving. Amazing, right? Please give a big round of applause for the cookie cake pie. This ridiculously indulgent dessert is a sugar freak's wet dream.
The cookie cake pie is exactly what it sounds like: a buttery and flaky pie shell filled with cookie dough AND cake. It's also frosted and topped with sprinkles. It's so decadent that it's disgusting. But we still want some anyway.
You probably won't find this dessert on any restaurant menu, but you can bake one up in the privacy of your kitchen with the recipe from food blogger, The Domestic Rebel. She'll walk you through the steps of this holy trinity of desserts and give you the gift of a whole cookie cake pie all to yourself.