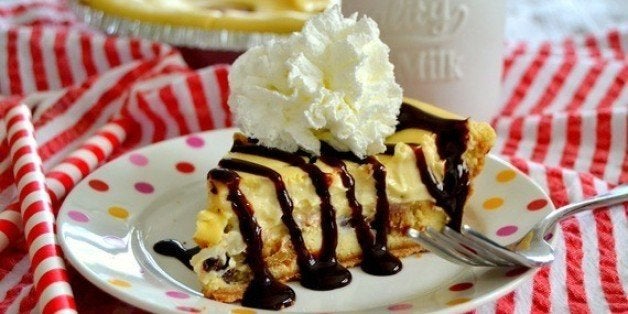 Cookie dough cheesecake makes a ridiculously good way to impress your friends. Because seriously, who wouldn't be impressed.
I love cheesecake. It has to be one of my favorite desserts, yet I often forget about it since I never eat it.
I used to date someone who was freakishly obsessed with cheesecake. Like, that was all he ever wanted, ordered it whenever we'd go out, and requested I make it constantly. I'd say if he wasn't in love with me, he would be madly, hopelessly, devotedly in love with cheesecake. And honestly? That's not a bad thing to be in love with.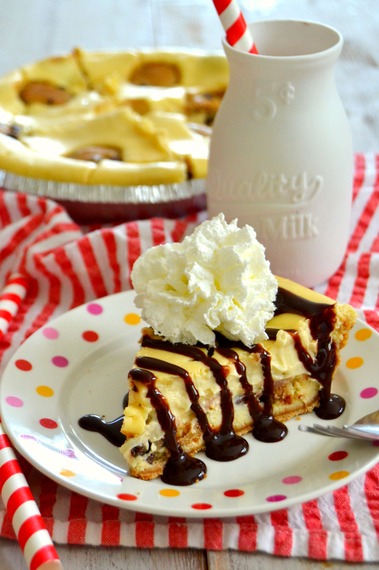 But much like candy thermometers and flying monkeys, cheesecake used to scare me deeply. There was something so hardcore about it, like the fact that it had to be babied and baked in a water bath like this was some kind of spa I'm running in my kitchen.
What's next, cucumbers over its eyes? Seriously, I was not having any of this water bath, singing lullabies nonsense and therefore wanted nothing to do with homemade cheesecake. I'll take the freezer-burned frozen slice, please. Side order of tears optional.
Then I found a recipe I ADORE for the best cheesecake evah. It doesn't require a water bath, you don't have to slice a cucumber or play Enya at a low volume, and it is basically goof-proof. Is it the prettiest cheesecake in the land? No, but it is one of the tastiest, I'll guarantee that.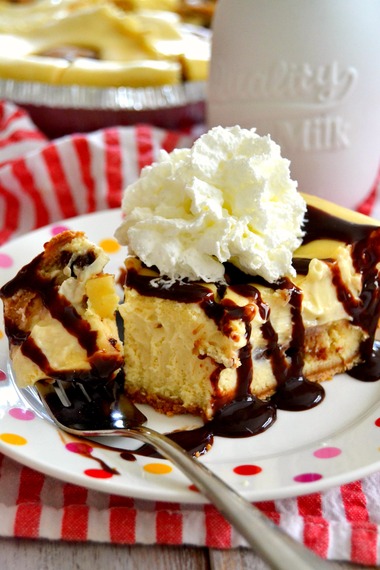 There are two simple secrets to this cheesecake's success. One, the addition of sour cream. It's only a little bit, but it helps lend that authentic cheesecake flavor and keeps everything fluffy and moist. And two, the low-and-slow temperature. Most cheesecakes can bake at 350°F, but I find it too high, so I knocked it down to 325°F. Easy peasy!
But the BESTBESTBEST part of this cheesecake? The fact that it's loaded with COOKIE DOUGH. Each piece has delightful pieces of cookie dough baked throughout, lending that warm, gooey, brown sugary goodness we all know and love from a buttery bite of cookie dough. Trust me – you will not be able to resist a slice of this perfection!
Listening to Enya with cucumbers on your eyes while you eat the cheesecake, however, is entirely up to you.
About Hayley
Hayley is known for over-the-top desserts of all kinds on her blog, The Domestic Rebel. Since she's fanatical about cookie dough, she's our cookie dough fanatic!