If you're a die-hard fan of the original Oreo and think the cookie doesn't need one more variation, you might need to reconsider. Oreo is releasing two new flavors you definitely want to know about: Cookie Dough and Marshmallow Crispy.
The new flavors were spotted on shelves on January 21 and January 22 on the website The Impulsive Buy. According to TIME, both Cookie Dough Oreos and Marshmallow Crispy Oreos will be available for a limited time only starting on February 3.
ABC Business Correspondent Darren Rovell tweeted out photos of the new cookies, and had good things to say about the Cookie Dough Oreos he tried.
Staffers from TIME had varying responses after tasting the cookies, reporting that while the Cookie Dough flavor was good, it didn't necessarily scream "cookie dough." Caramel and coffee flavors came through instead, and somebody even suggested that the cookie be renamed the "Frappuccino Oreo." (Starbucks, please don't get any ideas.) While TIME staffers agreed that the Marshmallow Crispy Oreo tasted much closer to its namesake -- the Rice Krispies Treat -- some people loved the cookie and others hated it.
We tried them and agree that the Cookie Dough tastes more of coffee and caramel, and overall, we liked the Marshmallow Crispy Oreo the best.
If you're dying to try the cookies before they hit shelves, ABC News says you can watch the Grammys this Sunday for a special hashtag that will be revealed in an Oreo commercial. Fans can then tweet using the hashtag for a chance to win some free cookies before they're available to the rest of us.
The original Oreo might be the ultimate classic cookie, but that hasn't stopped the brand from reinventing the cream and chocolate sandwich on the regular. From the simple Golden Oreo to the more elaborate Chocolate Banana Split Creme, and, of course, the Double Stuf Oreo, there is no shortage of delicious iterations of the original cookie. (And then, of course, there are the more questionable ones... We're looking at you, Watermelon Oreo.)
Will the Cookie Dough Oreos and Marshmallow Crispy Oreos trump them all? If you get your hands on one of these new flavors, let us know what you think!
Support HuffPost
A No-B.S. Guide To Life
Related
Before You Go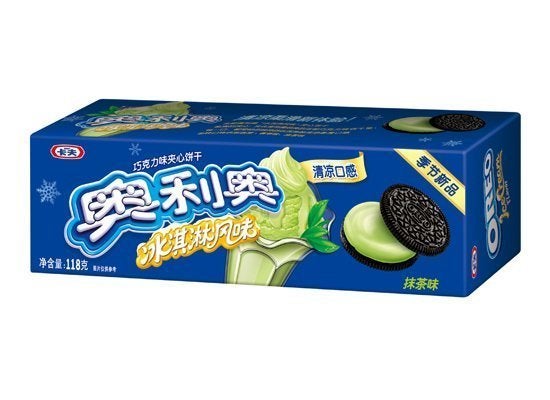 Oreo Flavors
Popular in the Community