A little cookie kindness can go a long way.
The air conditioning unit at Planting Peace's Equality House, which is located across the street from the Westboro Baptist Church compound in Topeka, Kansas, broke last week as temperatures hit the high-80s and mid-90s. The nonprofit contacted some local repair companies, but it was told a fix would cost $3,000, an unaffordable sum. So, the humanitarian organization decided to make some more calls in the hopes of getting a different response.
A-Way Heating, Cooling and Electric, which is based in Topeka, answered the call and sent out a technician to the rainbow-hued house. After a few hours, the problem was fixed. When it came time to take a look at the potentially hefty fee, Planting Peace President Aaron Jackson got a sweet surprise instead.
(Story continues below.)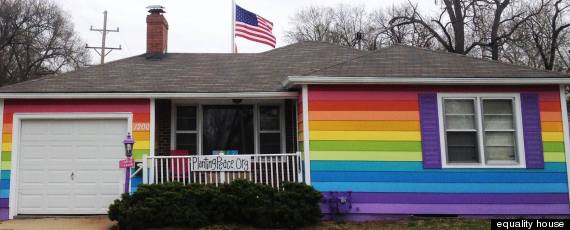 The Equality House, owned by the Planting Peace charity.
"Roughly [three] hours into it they had it all fixed and brought us a bill that just asked for cookies from a local lady who is known for making a mean cookie," Jackson told The Huffington Post in an email Monday evening. "I thanked him [the repairman], and he responded by letting me know that he was no fan of my neighbors and to keep up the good work. We posted the story online roughly an hour ago, and it has already taken off. People are even letting us know they will be sending them [A-Way] cookies and using them for future heating [and] cooling needs."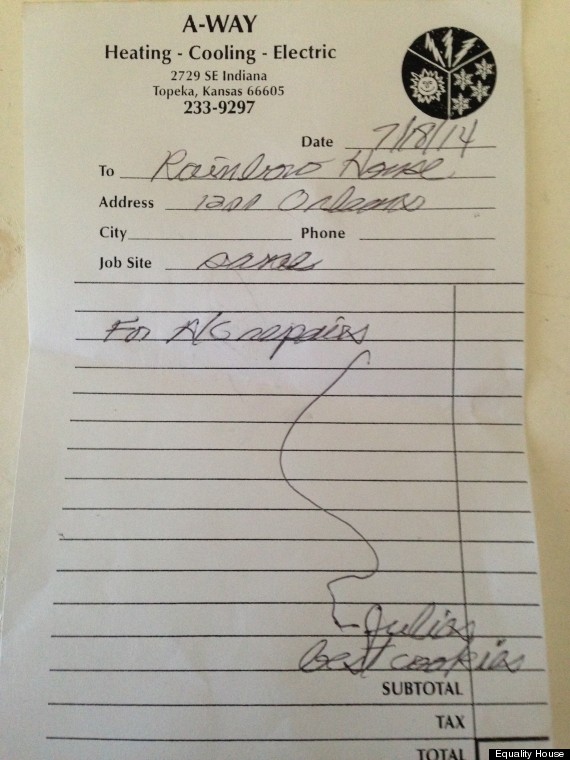 By Tuesday morning, the post had more than 14,000 likes and 1,000 shares.
Now, Equality House is raising money via a Crowd Rise donation campaign called "Cookie Kindness for A-Way Heating & Cooling." The group says for every $10 raised they will send a half-dozen cookies to the employees at A-Way. All monetary donations will go to Equality House and help the group's efforts for the lesbian, gay, bisexual, transgender and questioning community.
BEFORE YOU GO
PHOTO GALLERY
Westboro Baptist Demonstrations