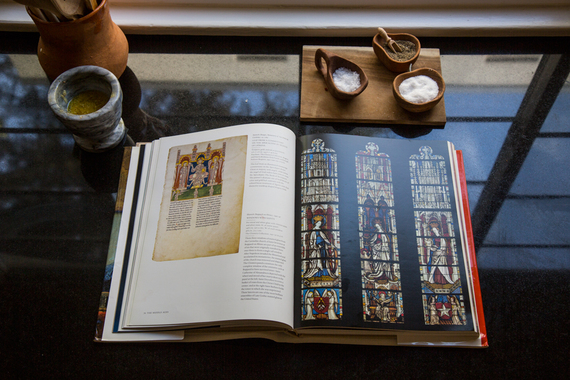 A few months ago I was asked to develop a class around a group of stained glass windows at the J. Paul Getty Museum from the Canterbury Cathedral. (They're now at The Cloisters in NYC and totally worth seeing before they head home). I was stumped. The windows were stunning, but fine dining doesn't exactly come to mind when thinking of medieval England.
With the end of the Roman Empire, the culture responsible for the first western cookbook with the 5th century's De re coquinaria (On the Art of Cooking) attributed to Apicius, the widespread understanding of high cuisine and fine dining was destroyed. The influence of Apicius may have lingered in modern day Italy and Spain, but not in England. That said; the rich, heavily spiced dishes and bizarre sauces that flavor the Middle Ages weren't the absolute norm, even among the upper classes. I was surprised to learn that simple salads and vegetables were common fare among all classes of society, even though in many ways they were considered an inferior menu item. Vegetable dishes are hardly ever mentioned in medieval cookbooks because the pure simplicity of their preparation - raw tossed with oil and vinegar - often meant that precious vellum or parchment (expensive in an age before paper and the printing press) wasn't wasted on recording the recipes. Some cookbooks go so far as to point out that "the ability to prepare vegetables is common knowledge and further instructions are not necessary". Raw salads were considered an excellent way to begin a meal.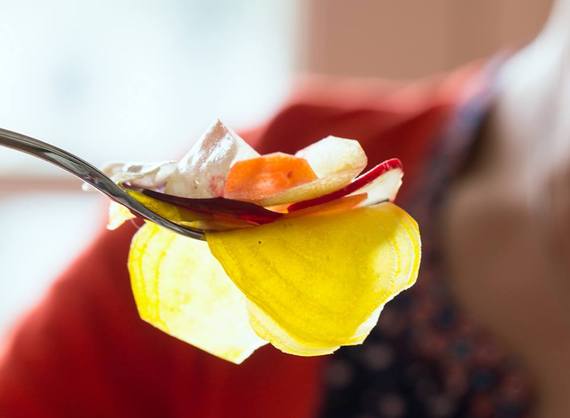 This Shaved Root Vegetable Salad is inspired by those stained glass windows. Its preparation is simple but the outcome is as gorgeous as stained glass.
All pictures were taken by Julia Sherman and first appeared in her blog Salad for President.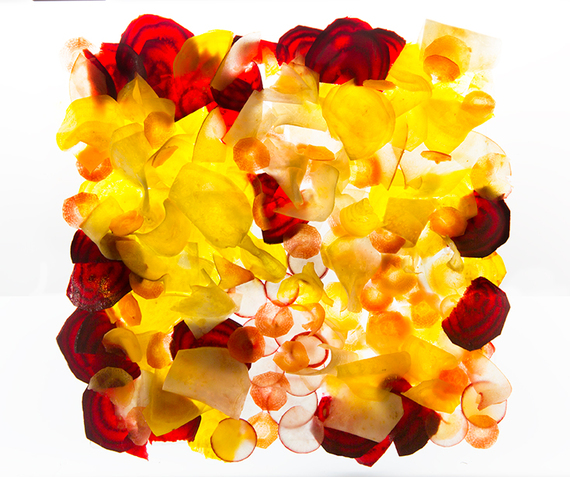 Shaved Root Vegetable Salad

For the salad:
1 red beet
1 golden beet
1 celeriac (celery root)
3 carrots (preferably colorful heirloom)
1 fennel bulb
1 bunch red radishes
1 apple, unpeeled (Gala, Braeburn or Fuji are good options)
For the dressing:
1 anchovy
1 garlic clove
juice of one lemon (or more to taste)
1 teaspoon Dijon mustard
¼ cup olive oil
salt and pepper to taste
1. Scrub vegetables, remove peel from carrots and beets. Cut fronds and bottom of fennel, discard. Cut fennel in half lengthwise, remove outer layer and discard. Remove tops from radishes and wash the radishes well. Cut apple in half and de-seed.
2. Using a large knife, remove all out layer of the celery root and discard. You should just have the white flesh showing.
3. Using a mandolin, carefully slice all vegetables except for radishes, into paper-thin slices. Slice radishes individually to the same thickness of the rest of your veggies. Place in separate bowls and make the dressing.
4. In a mortar and pestle, mash the anchovy, garlic and a pinch of salt to a paste. Squeeze in the lemon juice and stir to break up the anchovy paste. Beat in the mustard. Whisk in the olive oil, a little at a time. Season with the pepper.
5. Dress each vegetable pile separately to keep the beets from turning everything red, or toss them all together in a bowl. Beautiful and delicious either way! This salad is better the longer it sits in the dressing.
Serves 6
REAL LIFE. REAL NEWS. REAL VOICES.
Help us tell more of the stories that matter from voices that too often remain unheard.