It is rare that I get to develop a class around contemporary art and the opportunity to teach from ESMoA's latest Experience, SCRATCH, is quite a treat. The show combines 16th through 18th century manuscripts from the Getty Research Institute's (GRI) collection of rare books with art from some of LA's finest graffiti and tattoo artists. Yes, street art on museum walls is as cool as it sounds, but combining it with Renaissance manuscripts is groundbreaking.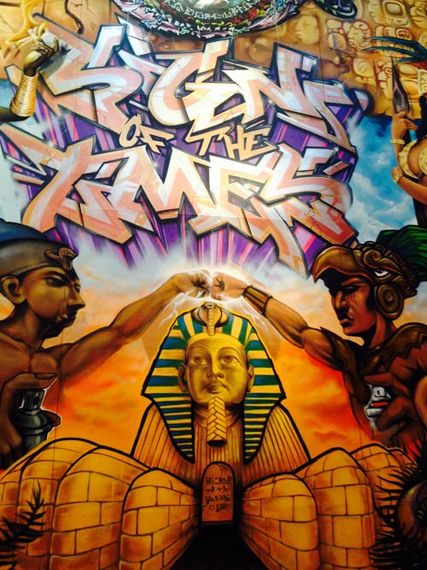 Serving as inspiration for the show is a Liber Amicorum or "Book of Friends". Comparable to a high school yearbook or the posts on someone's Facebook wall, the book is one of a series of popular books originally bound with blank leaves and filled with drawings and watercolors by friends. The Liber Amicorum in SCRATCH was owned by Nuremberg merchant Johann Heinrich Gruber, was compiled between 1602 and 1612 and is filled with illustrations by his highfalutin friends. To art collector Ed Sweeney and GRI rare books curator David Brafman, the book resembled the sketchbooks graffiti artists have their friends tag -- black books with blank pages that serve as an exchange of memories and ideas.
Brafman, who also curated the Experience, showed the 17th century book to 150 LA graffiti artists who created their own works on paper inspired by it. The results were bound together in the Getty Black Book or LA Liber Amicorum ("Los Angeles Book of Friends)". Six of its artists, including Axis, Cre8 and Defer, were then selected to pick their own crews and collaborate in transforming ESMoA into a "cathedral of urban art." In just two weeks, 57 artists with different artistic styles created a space that is as colorful, diverse and alive as Los Angeles itself. Walking into ESMoA made my jaw drop.
This visual slice of the city naturally made me think of street food -- and the taco truck -- as its culinary equivalent. Like graffiti, street food has existed around the world since antiquity. An urban phenomenon, it has always been convenient and inexpensive and, like graffiti, was traditionally held in low regard. Today food trucks with flavors from the world over are scattered throughout Los Angeles and other major cities and are a normal part of daily life; a slice of life that everyone can afford and enjoy. Graffiti, once seen as a public nuisance, is now being taken into consideration as a serious art form. Thankfully, the times they are a-changin'.
SCRATCH will be on view through September 21st. Don't miss it! And share this Chino-Latino Braised Pork which combines Latino and Asian flavors with your friends.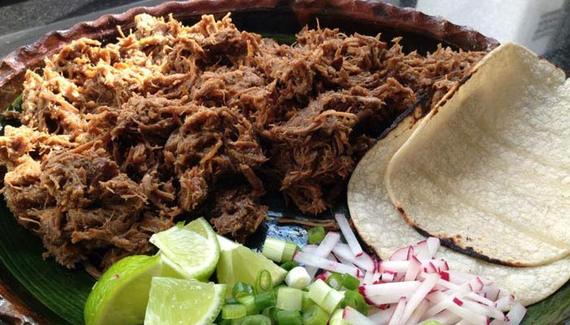 Chino Latino Braised Pork
Asian Latin fusion foods have been around for centuries. Though Asia and Latin American are half a world away, they were first united in 1565 with the Manila-Acapulco Galleons, the world's first truly global trading route. For 250 years, huge Spanish-built ships were the means of a rich exchange that forever changed the culture and cooking of both parts of the world. In came silks, rice, herbs and spices and out went silver, tomatoes, chiles and beans among many other ingredients. The trading network ended in 1815, a few years before Mexico's independence from Spain. Today it is hard to imagine Chinese, Thai or Indian food without chiles and Mexican food without rice or cilantro. Roy Choi's Kogi Trucks would not have existed without this exchange.
1 tablespoon avocado oil
3 ½ pounds bone-in pork shoulder, trimmed of fat and cut into large chunks
salt
3 tablespoons minced peeled fresh ginger
5 garlic cloves, minced
2 cups coca-cola
½ cup hoisin sauce
¼ cup rice vinegar
¼ cup soy sauce
1 tablespoon sesame oil
1 teaspoon ground cloves
5 chilies de arbol, chopped, or more to taste
handful cilantro
corn tortillas
6 scallions, white and light green part only, thinly sliced or chopped red onion
one bunch radish, finely chopped
1 avocado, thinly sliced
lime wedges
1. Whisk together the hoisin sauce, rice vinegar, soy sauce, sesame oil and ground cloves in a small bowl. Set aside.
2. Preheat oven to 325° F. Pat the pork dry with paper towels and season on all sides with salt. In a large Dutch oven, heat the oil over medium-high heat and, working in batches, brown the meat on all sides until a golden crust forms. Transfer the pork to a plate.
3. Add the garlic, ginger and chilies to the pan and sauté for about 2 minutes, stirring constantly. Whisk in the coca-cola, making sure to loosen up any brown bits and the bottom of the pan. Bring to a boil. Add the soy sauce mixture to the pan and bring to a simmer.
4. Return the pork to the Dutch oven, add the cilantro, cover and place it in the oven to braise until the meat is fork tender, about 2 ½ to 3 hours. Remove the meat from the pan and shred with a fork. Set aside.
5. Skim the fat from the cooking liquid and reduce to about 3 cups. Return the shredded meat to the pan and mix well. The meat should absorb most of the sauce.
6. Serve with corn tortillas, red or green onions, avocado slices, chopped radish and lime wedges.
images from Maite Gomez-Rejon