Would you like to know more about cooking at sea?
For a number of years, I worked aboard cruise ships. I enjoyed visiting exciting ports of call, broadening my horizons and making lasting friendships, while honing my skills as a chef. I'm often asked by cooks, "How can I get a job on a cruise ship, and what it is like to work on one?"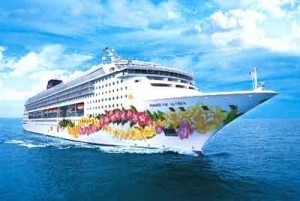 Cruise ships are like large floating hotels. There are a multitude of job offerings available that canvas the full spectrum of the hotel and restaurant industry. These positions on cruise lines are filled with people from around the world, creating a very colorful mosaic of cultural diversity in the work environment.
The galley (kitchen department) is the heartbeat of it all. The rhythm of the galley creates an ever-flowing trade wind between the passengers and the entire restaurant staff. This important synergy sets the tone for the entire voyage. Fine dining on luxury cruise lines has become a highly anticipated main event for passengers. And, surpassing expectations is the name of the game!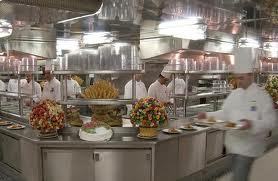 Cooking at sea is extremely demanding and entirely different than cooking on land. Galley work is full of challenges, and subject to the conditions of the sea. Many cruise lines serve passengers 24/7. The number of cruisers per vessel can vary from a few hundred to as many as 5,000 or more. The chef and his culinary team have the duty to make sure that all cooks are preparing and seasoning company recipes in accordance with the companies' culinary vision, and definitely not their own.
Men and women who work on cruise ships are some of the hardest-working people I have ever known. There are no days off at sea; it is a seven-day work week! The average work day is approximately 11 hours. Maritime contracts could range anywhere between four to nine months long. This places a tremendous workload on the chef and his kitchen team. However, it can be a very rewarding experience, where cooks can learn new culinary skills and forge international friendships that can last a lifetime.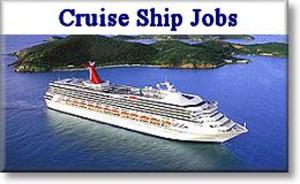 Candidates for employment should possess a cooking degree from an accredited culinary school and have three to five years' cooking experience at well-established hotels and/or restaurants on land first. Those who wish to cook on a cruise ship will have to undergo thorough physical and dental examinations and will be tested for abuse of drugs and alcohol prior to hire. In my experience, submitting your resume online to apply for culinary positions on cruise lines generally produces little to no results. Online agents who charge a fee to connect you to a cruise line are bogus. I highly suggest you do not send any money for services that they promise to provide.
Certified hiring agencies for seafarers that specifically hire for cruise lines (see below) are the way to go, but finding a legitimate one can be tricky. These international agencies will walk you through the process to get you hired properly and in a timely manner. However, they are extremely busy and deal with hundreds of applications daily. You need to be persistent and follow-up on the status of your application if you really want to cook at sea.
Remember the cruise line recruitment officer will, most likely, be based out of various European countries, such as France, Austria, Italy, England and Sweden. Depending on your skill set, experience and availability, you may eventually be called for an interview. Phone interviews via Skype are usually the way interviews are conducted. Keeping the time difference in mind is crucial when orchestrating these very important oversea phone interviews. During these interviews it is extremely important that you clearly express your cooking capabilities and formal training to make an impression on the interviewer. This may very well be the only chance you get to impress and possibly land a position with a cruise line. So, confidence, knowledge and an overall appreciation for the opportunity should be expressed.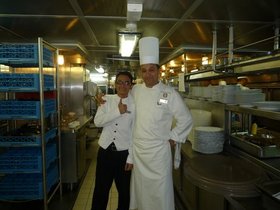 The cruise industry is a multibillion-dollar-a-year industry that keeps growing. Jobs and opportunities are plentiful and with the world economy the way it is today, the cruise line industry offers an enormous amount of employment, especially to those in the hotel and restaurant industry. Besides the financial rewards, the opportunity to visit many unforgettable and exciting places around the world makes working on a cruise ship an experience of a lifetime!
Below I share with you four certified hiring agencies to help get you cooking at sea!
Related