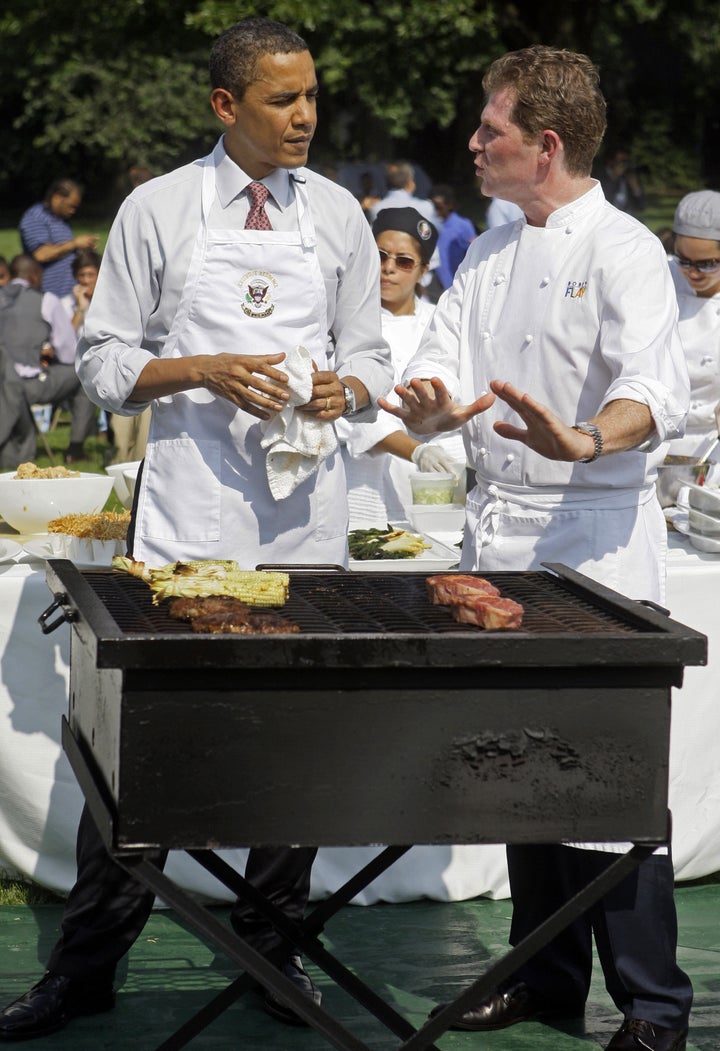 Scripps, the parents company of the Food Network, will be launching a second 24-hour food network on May 31, reports Brian Stelter at the New York Times. They'll soon be announcing six new original series for the channel, including new series for both Rachel Ray, Bobby Flay, and Emeril Lagasse:
Ms. Ray, the celebrity chef turned talk show host, will headline "A Week in a Day," a one-hour show about stocking up on the week's meals. Mr. Flay will be the host of a half-hour show, "Brunch With Bobby." Emeril Lagasse will present "Fresh Food Fast," a show that focuses on organic and locally grown ingredients.
An ad executive at Scripps explains the decision on the new network:
"[T]he advertiser demand for Food was outstripping the audience growth," Jon Steinlauf, the senior vice president for ad sales for Scripps Networks, said this week. "Therefore, creating a second channel started making more sense. ... When you see Fox lining up its third Gordon Ramsay cooking show in prime time, I think food's arrived as a mainstream genre," Mr. Steinlauf said.
Meanwhile, Grub Streets jokes that the new station is "anti-American" due to the inclusion of several new Canadian and British food personalities to the introductory lineup:
"...David Rocco, Chuck Hughes, Laura Calder, and Roger Mooking are all based in Canada, while Rachel Allen and Ching-He Huang come out of the U.K. What the wha? Combine this with the fact that a Canuck is hosting the new Food Network program The Opener and you have to wonder why Scripps is outsourcing its talent."
Herewith, a preview of the new Food Channel's official introductory lineup:
Rachael Ray's Week in a Day
Rachael Ray shows viewers how to plan a week's worth of meals with just one day of cooking in the kitchen.
Bobby Flay's Brunch
Bobby Flay dishes out recipes and entertaining tips for his favorite meal - brunch! This show will have a Bloody Mary in one hand and a spatula in the other.
Emeril's Fresh Food Fast
Emeril Lagasse shows viewers how fresh food can be prepared fast, without sacrificing taste and time.
Chuck's Day Off
Chuck Hughes' days are spent juggling the rock 'n roll reality of running a restaurant and he still cooks on his days off! Viewers will see the real life of a chef as he cooks for his friends, family and staff.
Chinese Food Made Easy
Glamorous, young, food entrepreneur Ching-He Huang shatters the myth that Chinese food is complicated. Ching shares easy, fresh recipes that are central to her Chinese heritage, but that any home cook can prepare.
Everyday Exotic
Chef and award-winning musician Roger Mooking explores exotic ingredients and incorporates them into everyday cooking. In each episode Roger focuses on one distinctive seasoning or ingredient and reveals its provocative flavors.
David Rocco's Dolce Vita
David Rocco immerses himself in the charm and beauty of Tuscan life as he visits local markets and prepares authentic, easy-to-learn classic Italian dishes. Inspired by the peasant cuisine at the heart of Italian cooking, David makes dishes using fresh, seasonal ingredients home chefs will love.
French Food At Home
French Food At Home, hosted by noted cookbook author Laura Calder, celebrates everyday French food as one of the great culinary touchstones of our time. This series invites viewers to share in the magic French lifestyle around food.
Rachel Allen: Bake
Rachel Allen takes viewers step-by-step through a delicious range of sumptuous and mouth-watering baked treats. Allen brings baking into the twenty-first century, leading viewers on a tour of the decadent world of modern baking.
Popular in the Community