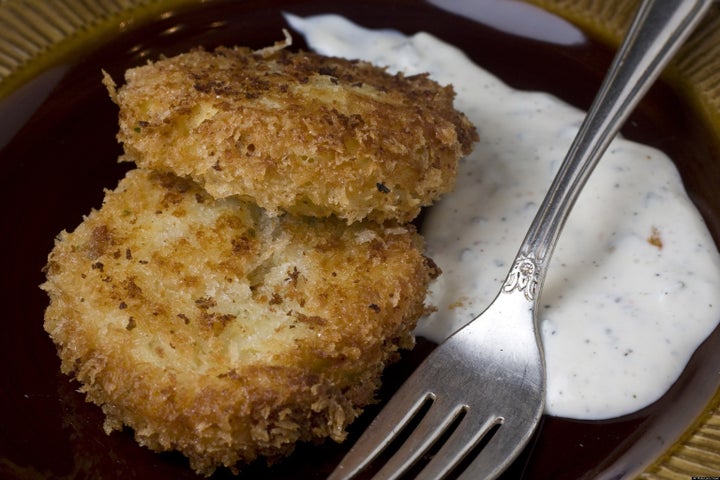 By Nicole Neroulias
Religion News Service
(RNS) Anne Coyle used to set the holiday table with roast beef and Yorkshire pudding, but this year, she's rolling up her sleeves in an attempt to make latkes and brisket.

Cheered on by her husband and a support group for non-Jewish women raising Jewish children, Coyle's first stab at a traditional Hanukkah meal has a modest goal: don't burn anything. Or anyone.

"My husband did the cooking for Passover, but I wanted to try this one," said Coyle, who was raised Catholic, from the family's home in Rhode Island. "I thought doing the Hanukkah meal would be like putting my toe in the water, instead of Passover, which would be like jumping
into the pool."

Hanukkah, observed from sundown Dec. 1 to Dec. 9 this year, celebrates the reclamation of the Temple in Jerusalem nearly 2,200 years ago. The tiny amount of oil available to light the temple's menorah unexpectedly lasted eight days, inspiring the holiday's candle-lighting
ceremony and oil-fried cuisine.

And for women like Coyle, who have not formally converted but still embrace Jewish culture for their families, Hanukkah seems like a good way to ease into traditional cooking.

But dodging splattering hot oil and ensuring that potato pancakes emerge neither soggy nor burned is an acquired skill, perfected over years, if not generations.

The Mothers Circle, which has taken more than 1,000 women like Coyle through a 16-session discussion group around the country since 2002, includes some tips in its new cookbook, a compilation of learned-the-hard-way recipes.

"We thought it would be a really wonderful way to share the ingenuity of these women with the greater Jewish community," said Liz Offenbach, program director for the New York-based Jewish Outreach Institute, which offers The Mothers Circle Cookbook as a free download
or for sale as a hard copy.

"We think that people who are already in the Jewish community will also like the recipes, as well."

With U.S. Jewish intermarriage rates hovering around 50 percent -- including Chelsea Clinton's high-profile wedding to Marc Mezvinsky this year -- non-Orthodox denominations have been making efforts to welcome the resulting families, though it's too early to measure the impact of the attitude shift.

Even so, Offenbach said she's noticed an increase in non-Jewish spouses opting not to convert but nonetheless committed to raising Jewish children.

Some Mothers Circle participants who decided to convert, such as Christine Layton of Baltimore, Md., discovered that learning Jewish prayers doesn't necessarily translate to kosher cooking prowess.

After a decade of marriage, Layton, who grew up in a Catholic-Episcopal home, developed the "compromise latke" recipe featured in The Mothers Circle Cookbook -- an appropriately Solomonic solution to her shredded-potato and her husband's ground-potato preference.

But for her first Hanukkah, she confessed, she unwisely aimed far too high.

"I was trying to impress people, so I was trying to make a lot of little latkes, to go all Martha Stewart on them," she said. "I invited everybody in the neighborhood over and it was great, except that I discovered that having lots of people in the house and kids running through the kitchen where there's hot oil spattering caused a lot of anxiety. Our neighbor, who was much more observant Jewish, was laughing at me, and she said, 'I would never have done this!"'

The first Hanukkah can be a pressure-cooker, agreed Tori Avey, the Los Angeles-based writer behind The Shiksa in the Kitchen blog. The first time she hosted a Hanukkah meal, she anxiously performed a "latke dress rehearsal" earlier in the day, and discovered a big problem.

"They kept totally disintegrating and I couldn't figure out why. I had to run and Google it and I figured out they were too moist," she explained. "I had to put the shredded potatoes in a colander over the sink and push the moisture out with a towel. And then again, after I
form them into pancakes mixed with eggs and spices and onion, I put them in a slotted spoon and squeeze them again before they go in the oil."

For Coyle and other newcomers to Jewish culture attempting their first Hanukkah meal, their predecessors have plenty of tips, as well as recipes, to share:

-- Layton stresses the importance of a good food processor for the potatoes, and keeping the crowds out of the kitchen during the deep-frying process.

-- After experimenting with different kinds of oil, Avey recommends peanut oil for latkes and grapeseed oil for sufganiyot -- jelly-filled doughnuts, which the Mothers Circle Cookbook recommends novices buy from a store instead.

-- Inviting guests who are also new to Jewish cooking can also turn the holiday into a more relaxing learning experience for everyone, Avey said.

"Food brings people together, and for interfaith relationships, food can be a great tool to celebrate different backgrounds," she said. "Food is a great equalizer among religions. I have a lot of Christian fans on my blog, a lot of Seventh-day Adventists and Muslim fans. Everybody loves a good meal."

Coyle's husband, Samuel Sadowsky, gives his wife credit for stepping out of her comfort zone this year, and including some of his late mother's recipes and other family favorites in their Hanukkah feast.

"With Jewish food, there's a lot of tradition in there, it's not just the recipes," he said. "You've got to give it a little love."
Calling all HuffPost superfans!
Sign up for membership to become a founding member and help shape HuffPost's next chapter