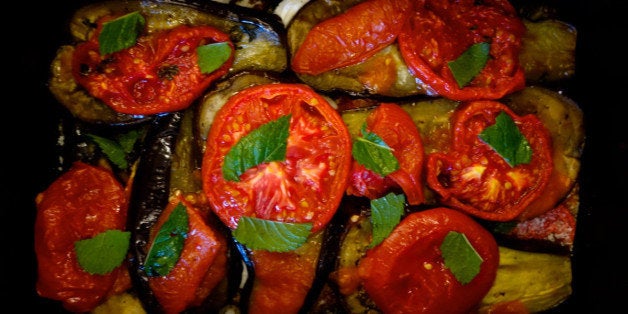 Eggplant (aubergine) parmigiana is almost always made with some kind of tomato sauce, and it is great that way, especially if the sauce, even if made with canned tomatoes, comes out of your kitchen rather than a jar. But looking at the dish from a farmers' market vantage point, it is hard not to note that eggplant and tomatoes reach the height of abundance pretty much simultaneously - right about now, in fact. So why not freshen up the recipe by skipping the sauce-making and adding some fresh tomatoes to the shopping bag?
Here's why not: Simply slicing ripe, juicy tomatoes and layering them with the other ingredients wouldn't have a happy outcome. The result would be soupy and on the bland side. There's need for a little intervention, well short of making sauce. What I did recently, to very good effect, was slice the tomatoes and roast them until their flavor had intensified and some of their water had boiled away. Now they had the richness of sauce but retained the freshness of great summer tomatoes. And they did nothing to betray the spirit of a classic meal.
For years, I've been roasting eggplant slices rather than frying them (most of the time, anyway), a technique I adopted twenty years ago when translating Roger Vergé's Vegetables in the French Style: I place thickish slices of eggplant on sheet pans that have been drizzled generously with olive oil and sprinkled with salt, pepper and herbs (usually thyme). Then I oil and season the top surface and place the pans in an oven heated to around 360 degrees F (180-ish C); after 20 minutes I turn the slices and make sure there's enough oil, then return them to the oven until they are very tender and a little brown - around another 20 minutes usually does it. For this batch I used five medium eggplants; I'd salted the slices and set them in a strainer under a weight for 20 minutes before drying them by pressing (almost squeezing) them with paper toweling.
I did the same with half a dozen ripe beefsteak tomatoes sliced around 3/8 inch (1 cm) thick; even unpeeled, they needed to be handled carefully after their 40 minutes in the oven, so I lined the sheet pans with parchment paper for ease of retrieval and used a thin metal spatula - a pancake turner would work - to lift them from the pans. They were delicious at this stage and could have been tossed with pasta for one of the best spaghetti-and-tomato dishes imaginable. (Think about keeping a container of roasted tomatoes in the fridge.)
With these two sets of well seasoned roasted vegetables I assembled the eggplant parmigiana in the usual way in a deepish baking dish: a little tomato and oil on the bottom, then layers of eggplant, tomato, grated parmesan, mint (instead of the usual basil) and a modest amount of mozzarella (caciocavallo wold be a traditional alternative). I baked it (also at 360 degrees F) for 30 minutes covered in foil, then removed the foil and baked it for another 10 or 15 minutes until the juices were bubbling.
I did this far enough in advance that the dish would have time to rest at room temperature for 20 minutes: eggplant parmigiana is best eaten tepid so that some of the juices withdraw into the solids. I always serve it with grilled bread. You can oil or butter the bread and/or rub it with raw garlic, but I serve it right off the grill. I always put my portion of eggplant on top of the bread and eat it as an open sandwich; the bread soaks up the oil and vegetable juices and becomes incomparably delicious.
This non-tomato-sauce edition of eggplant parmigiana is a purer thing than the more typical versions. And, when tomatoes are as good as they are at the height of summer, purity is a great asset.
Leftovers reheat pretty well, so make lots.
It's sometimes easier to oil and season the pan than the food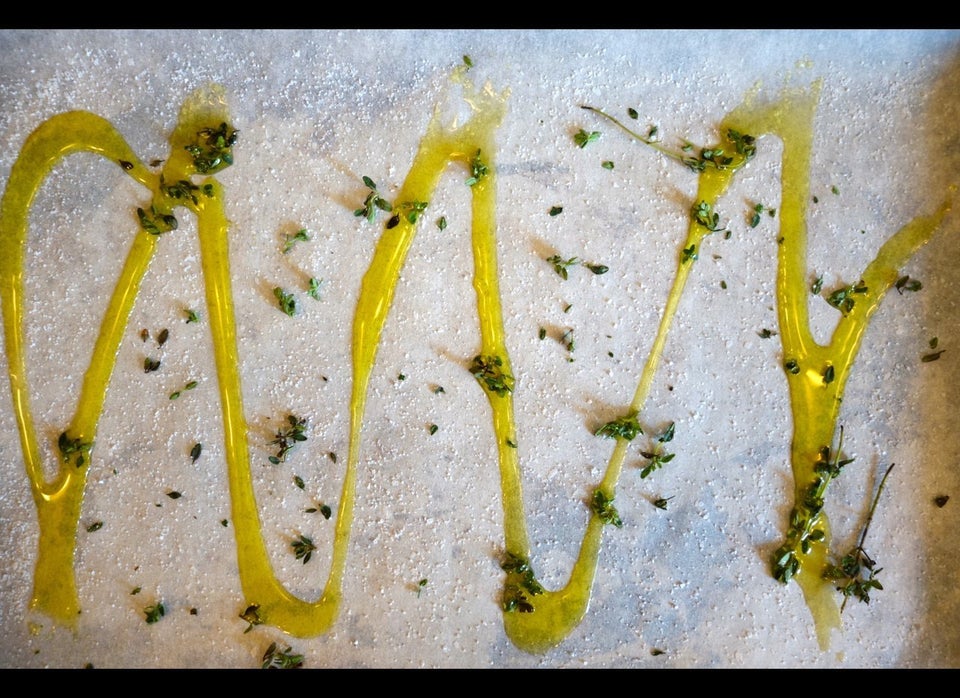 Eggplant ready for the oven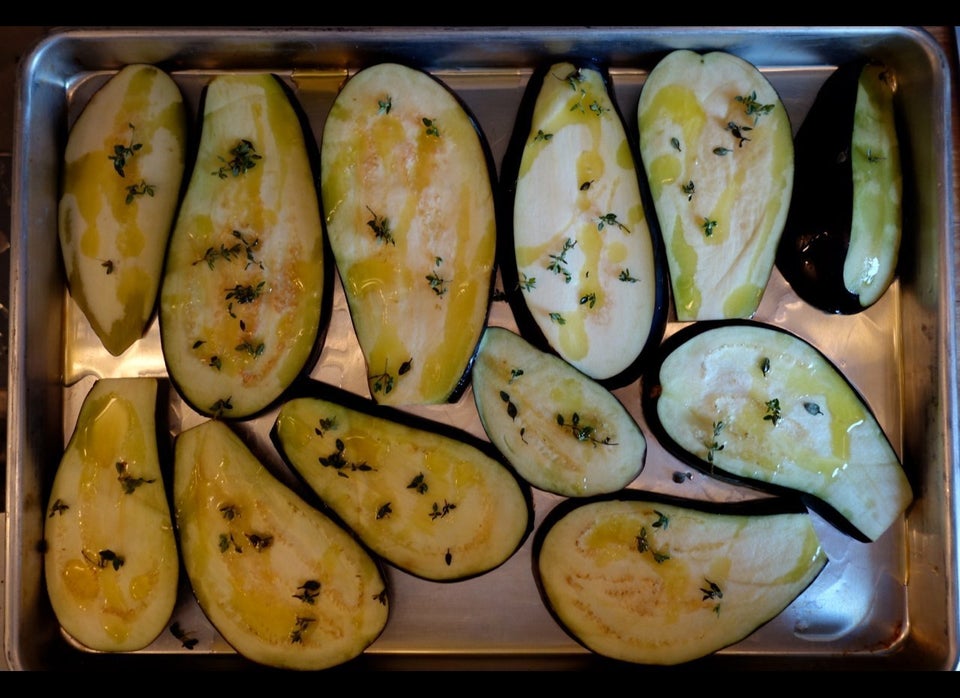 Tomatoes ready for the oven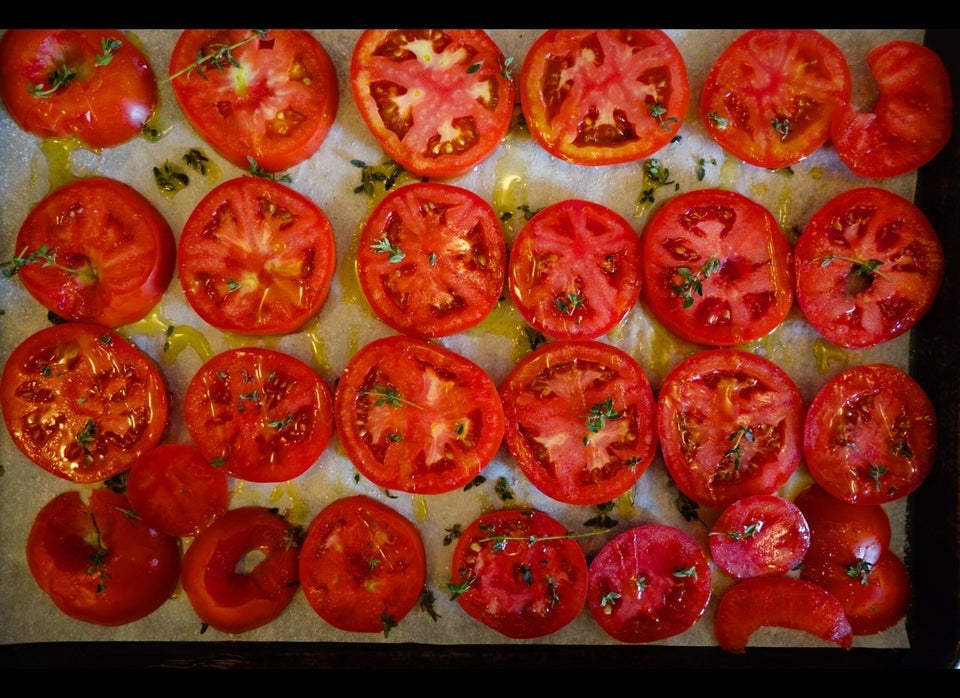 Tomatoes after 20 minutes: ready to turn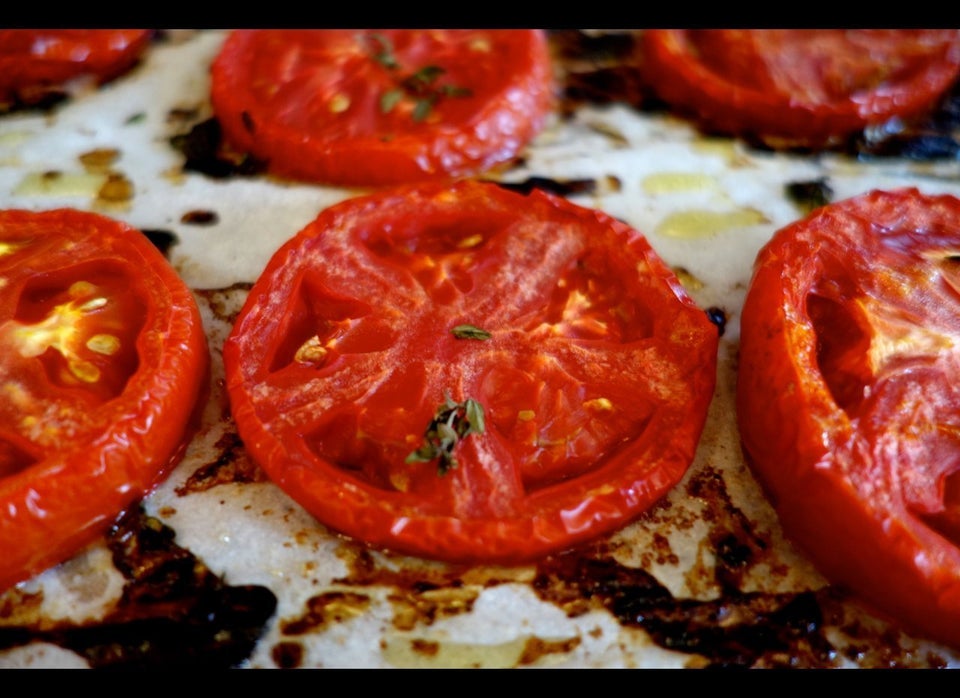 Roasted tomatoes: intensified flavor and perfect for layering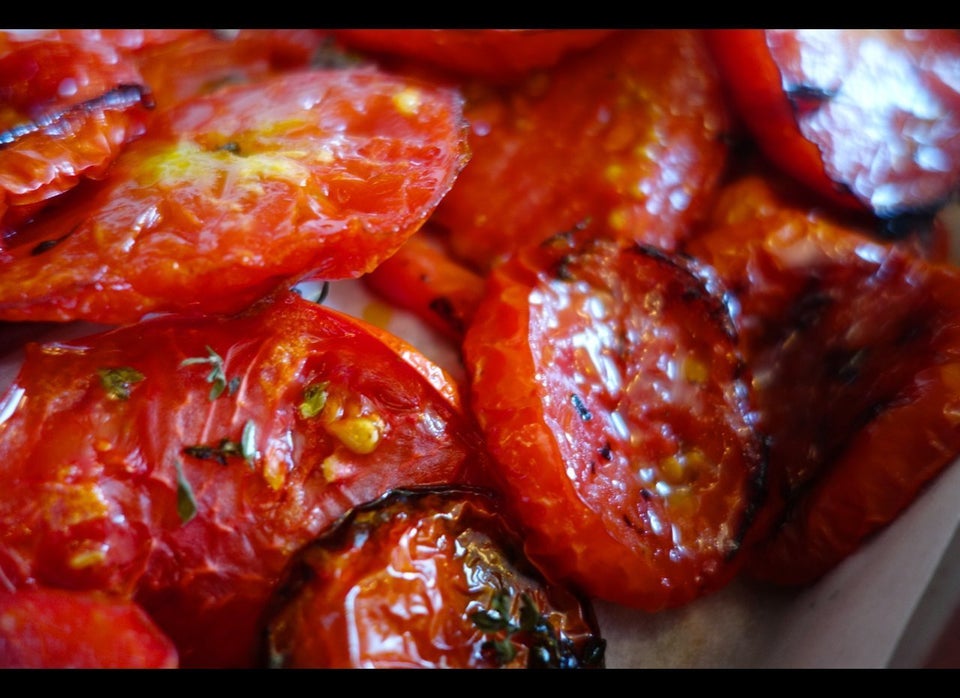 Assembling the layers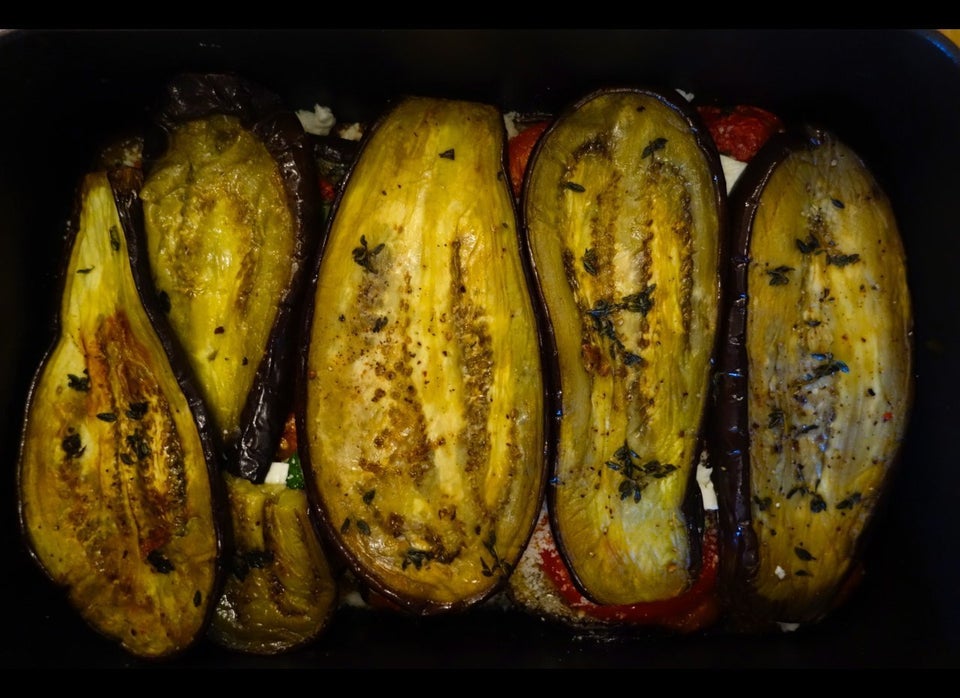 Try mint as an alternative to basil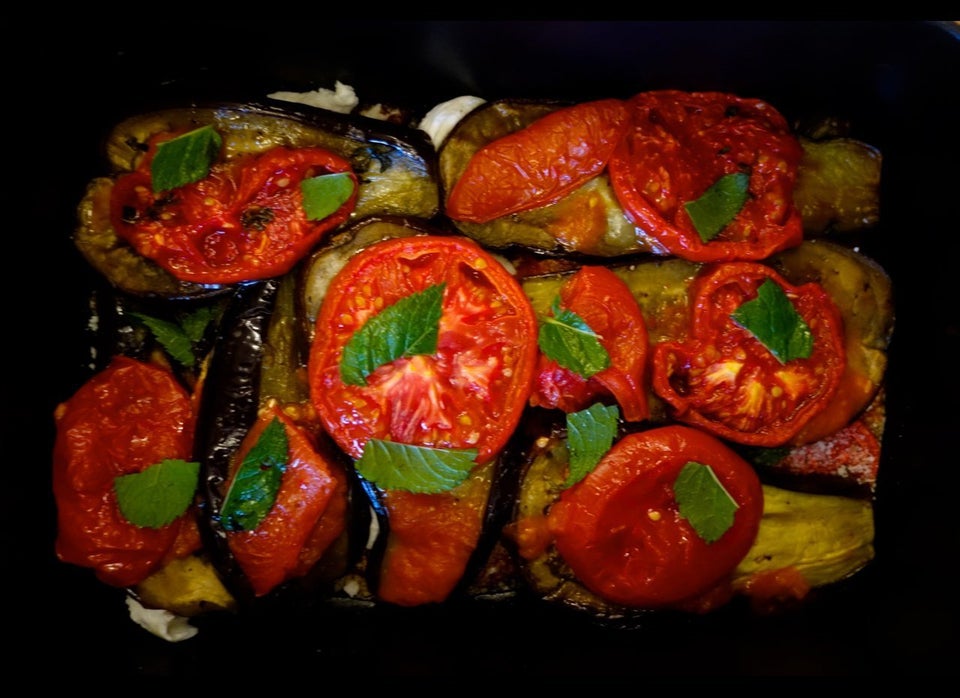 And don't overdo the parmesan and mozzarella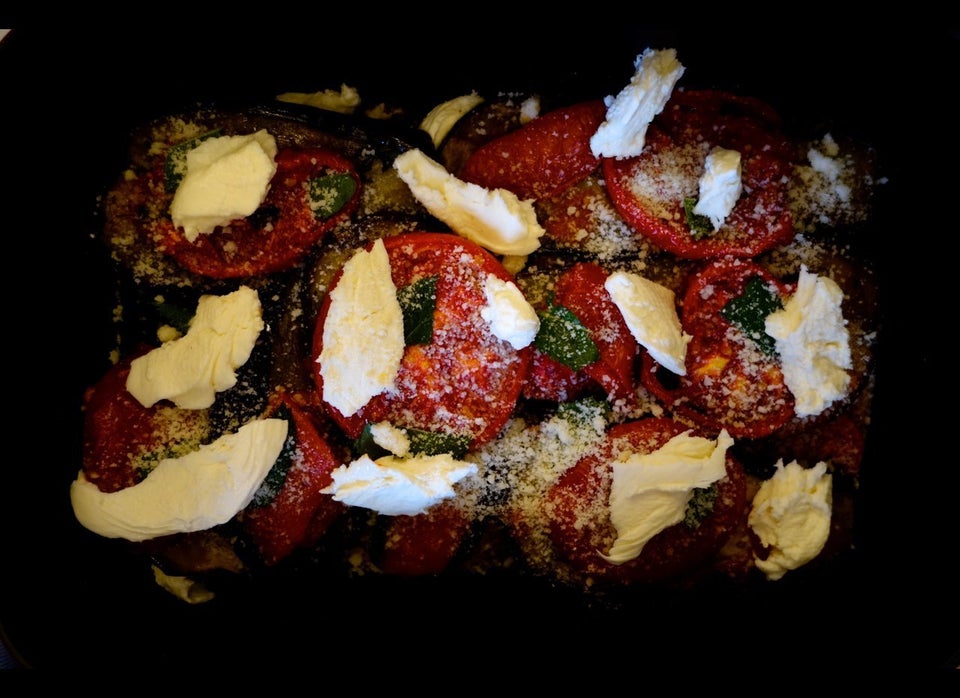 There's nothing like serving it with, or on, grilled bread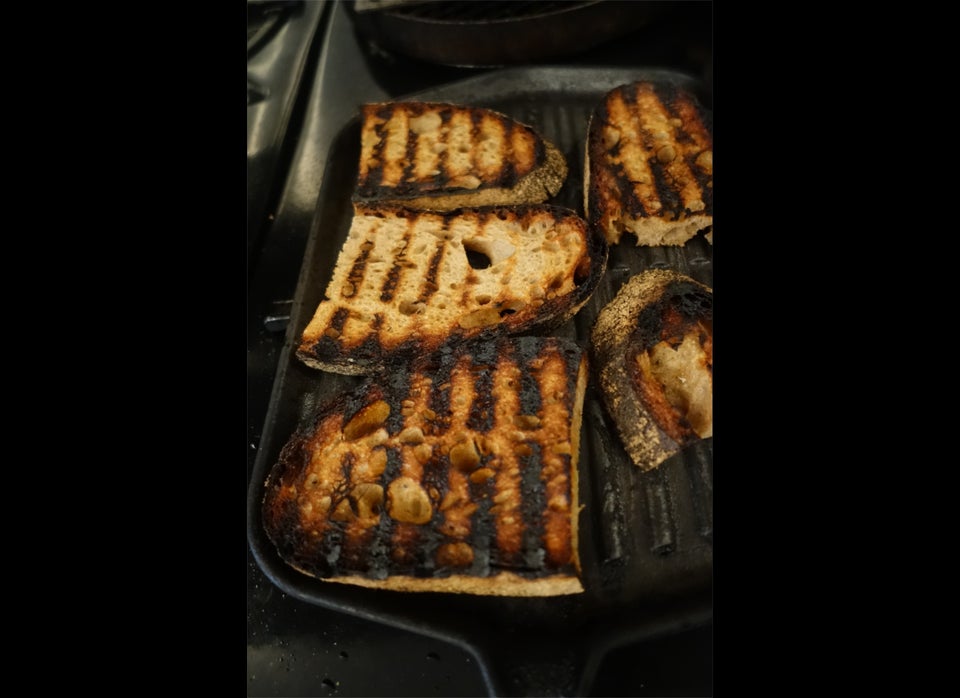 Though it's pretty good with crisp, fresh baguette too