Jackie and I enjoy going to the farmers' market; we're fortunate to live just a mile-and-a-half walk from one of New York's best, and we have the time to shop there regularly. Not everybody has the latter two luxuries, though I'd like to think that anyone who cooks gets a kick out of wandering through a good market.
For those who can't shop that way and who are reluctant to rely on supermarkets, there are various delivery options, such as CSA programs and "curated" services like Quinciple (which last year I tried and liked). Some of these tuck recipe cards into the cartons, but ultimately the menu is up to you, and the produce is not chosen and measured to match the recipes down to the last garbanzo.
In that respect, Purple Carrot is different: Each Purple Carrot box constitutes a vegan dinner kit, with detailed recipes by Mark Bittman, who made a splash earlier this year by announcing that he was leaving the New York Times food and opinion pages to join the company. I've known Mark for years, and he sent me a two-person/three-meal kit to assemble; it would have cost $68, or more than $11 per serving: by no means cheap, especially since there was nothing remarkable or costly about the products.
While no specific claims about origins are made (not a bad thing), we are assured that everything is non-GMO and ethically sourced, and often organic. The ingredients are pre-measured (there's no food waste, and the user need have nothing much in the pantry beyond salt, pepper and a few spoonsful of oil) and are packed in a disconcertingly large number of zip-lock bags and plastic bottles: more than three dozen in our box - in addition to the box itself, its insulated liner and a couple of frozen gel packs. I'm not sure how devoting a plastic bag to a solitary clove of garlic and generating all this trash (recyclable though it may be) jibes with the purported environmental benefits of eating vegetable-rich meals, but Mark has said that this is one of the things he'll be trying to improve.
I cooked two of the Purple Carrot dishes: delicata squash tagine with chickpeas and bulgur; and a winter variation on panzanella -- Tuscan bread salad -- using Italian-type lacinato kale and served with pan-fried portobello mushroom caps and caramelized lemon halves. The third meal was entitled Sushi Night, but we're saving our sushi-eating for next year's trip to Japan, so I made other arrangements for those ingredients.
The recipes had the attributes we all like about Bittman's writing: tempting, compact introductions, and instructions that were a model of concise clarity. Clear too were the accompanying photographs, both of steps in the cooking and of the finished dishes; text and graphics were beautifully designed. I played by the rules, obeying Mark's recipes to the letter - which was not difficult: there was nothing much I'd have changed about them.
Tuscan panzanella is a wet, summery thing, made with ingredients including ripe, juicy tomatoes and old bread that has been soaked, usually in water, and squeezed into a damp mess before being dressed with oil and vinegar. The recipe for this winter panzanella looked as if it were going to yield a rather dry bowl of chopped kale with even drier cubes of oven-toasted bread. But the result was moist and delicious. What seemed like a small quantity of dressing was more than adequate; the just-right amounts of thin-sliced raw shallot and chopped pan-roasted garlic added the necessary zip; a handful of freshly toasted walnuts lent crunch and richness; and the segments from a couple of mandarins provided points of sweet juiciness. One big portobello mushroom cap per serving was browned in a skillet along with lemon halves caramelized cut-side down as the mushrooms cooked. These additions completed the dish in a good-looking and flavorful way. It takes a lot for a main-course salad to win me over; this one did.
On the other hand, I was not at all skeptical about the aromatic chickpea tagine with roasted winter squash; we eat similar dishes all the time, though we're more likely to call them curries. The recipe was a salutary lesson in restraint. I tend to use complicated spice mixtures - it's fun to bump into a cardamom pod as you eat, isn't it? - but here Bittman gives only cumin, coriander and cinnamon (each in its own baggie), plus onion, garlic and ginger as aromatics. And, you know what? Not a single additional flavor was needed. The tagine (using canned chickpeas to save time and canned diced tomatoes because of the season) simmered while the delicata squash was roasting in the oven, then the two elements were combined and garnished with parsley and sliced almonds. The stew included bulgur wheat; I'd have liked more of it, or perhaps a couple of pieces of pita bread to warm up in the oven after the squash was done. That apart, this made a well balanced and enticing dinner. Two dinners, in fact: we were able to eat only about two thirds of it and had the remainder the following evening with a basmati rice pilaf - in which I used the soybeans and mushrooms from our abandoned Sushi Night kit.
It's hard for me to crawl into the skin of someone who, while wishing to cook dinner from scratch, is unable to muster a pretty simple set of ingredients. If the meals weren't so good, I'd just roll my eyes in bafflement, even setting aside the cost and the matter of all the wasteful packaging. But, on the basis of two recipes, I'd say they're delicious, so my bafflement is tempered by admiration for a well conceived, appealing package delivering good products and excellent ways to use them.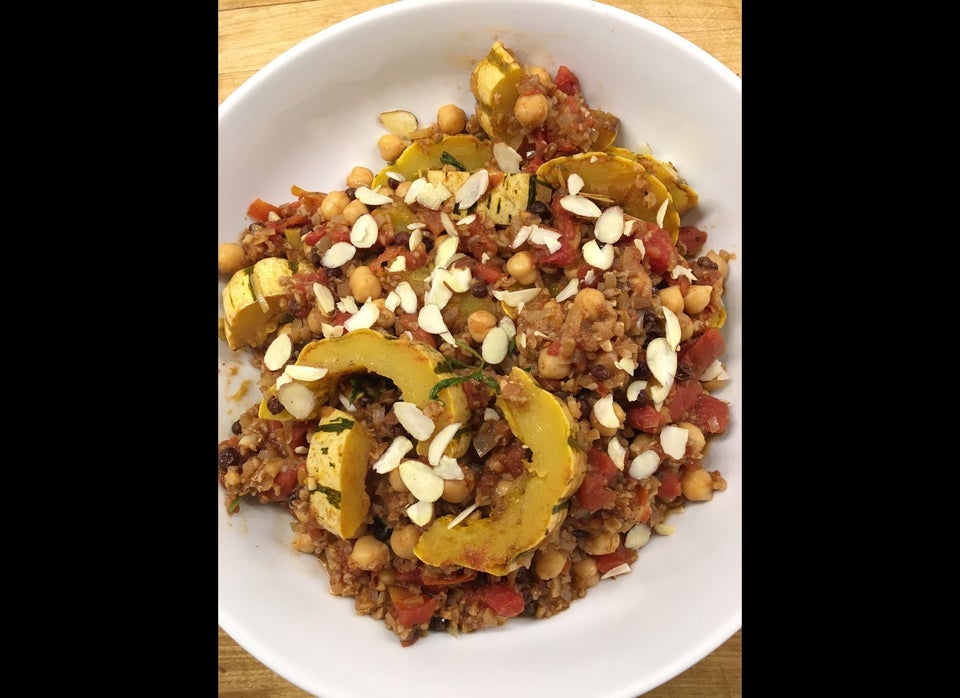 A Dinner Kit from Purple Carrot
Related