A couple of weeks ago I wrote about double-baking tart shells to ensure long-lasting crispness. Here's the latest beneficiary of that technique, a vegetarian (not vegan) tart that made a grand first course for a recent dinner with friends, and whose leftovers, still crisp, were a nice snack the next day.
It was basically a potato tart made with sliced boiled potatoes. Such things can be dry, so I built it atop a substrate of buttery pre-cooked leeks and used lots of mushrooms, also previously cooked. That's the recipe, so I suppose I could sign off right now.
But I might as well go into more detail before turning very briefly to the sauce. I lined a tart pan with nice buttery pastry; fluted looks attractive but is not necessary, and a removable bottom will make life so much easier - though nothing is stopping you Escoffier-ridden die-hards from using a bottomless tart ring for old time's sake. My fluted pan was about eight inches (20 cm) in diameter and it served four people as a first course with a little left over for the next day. My pastry was made (in advance) of 6 ounces (170 g) flour, 4 ounces (115 g) butter, salt and enough very cold water to bring it together before it went into the fridge wrapped in plastic for a good couple of hours or overnight.
Also in advance, I sliced the white and pale green parts of two medium leeks and rinsed the slices free of sand. I slowly sweated them in butter with salt and thyme; when they were tender I set them aside to cool. And I did the same with 8 ounces (225 g) of regular white mushrooms of a decent size, sliced not too thin: probably around 3/16 inch (a scant 5 mm) thick; these I cooked until they'd just begun to turn golden and had given up a lot, but not all, of their water.
All of that I did the day before cooking. The next afternoon, I prepared the tart shell for baking. Once I'd rolled out the pastry and lined the pan, I folded/pressed down the rim to create a shallower shell: With this non-liquid filling, a deep shell would have been superfluous, and a lower rim also added stability and made the finished tart easy to slice. I then lined it with aluminum foil and froze it - freezing makes these things more tractable and they're less likely to deform or bubble up as they bake. When it was frozen, I filled the foil with my old pie-weights (dried beans and a purpose-made metal chain) and baked the shell at 375º F (190º C) for 20 minutes, at which time I removed the foil and beans and baked it until it was thoroughly crisp and brown, another 20 minutes or so.
While this was in the oven, I peeled and boiled three medium-sized German butterball potatoes, starting them in cold salted water and cooking, covered and at a simmer, until just done. German butterballs don't run that big, so "medium" isn't gigantic - use whatever "waxy" potato you prefer and cook enough to generate slices that will more or less cover the tart shell. I drained them, and when they'd cooled enough to handle, I sliced them 1/4 inch (6 or 7 mm) thick and tossed them in a bowl with butter to coat. Don't do this too, too early: the potatoes could discolor, even with their butter coating.
An hour before we sat down to eat, I spread the leeks onto the baked shell, then arranged potatoes and mushrooms on top, with lots of the moist mushrooms tucked between and under the potatoes. I poured a generous tablespoonful of melted butter over all and seasoned with salt, pepper and thyme leaves. I baked it for 30 minutes - even though everything is already cooked, this brings it all together somehow - unmolded it and left it to cool to tepid before cutting it into wedges and serving it with a blob of romesco on each plate.
The Catalan sauce romesco goes so well with potatoes and with alliums like leeks that it was bound to go well with this tart. To make it, warm some olive oil and cook down tomatoes, red bell peppers (preferably roasted and peeled, and supplemented if you like with soaked ancho chilies, which are not hot but have great flavor) and garlic, all seasoned with salt and, optionally, smoked Spanish paprika (pimentón). I sometimes add lemon zest and thyme or rosemary: the idea is to make an intensely flavorful reduction of peppers, tomatoes and garlic, and there's lots of scope for variation - I could imagine Asian-inflected variants. When it's well cooked and oily (i.e., when much of the moisture has evaporated) mash it up in a food processor and add chopped parsley, ground toasted almonds and, if you have any, hazelnuts (raw pre-ground nuts can be retroactively toasted in the microwave so long as you check them every 10 seconds and give them a stir to prevent burning) and breadcrumbs to make a somewhat fluid paste, fairly homogeneous but not pureed to complete smoothness. Add more uncooked olive oil and a little wine vinegar, then tinker with the salt, oil and vinegar until you like the result. Taste it again just before serving: it develops as it sits.
Romesco keeps pretty well in the fridge, and you can eat it with fish or chicken or vegetables or potatoes - or today's tart, for which there could hardly be a better complement.
Fold/press down the edges before baking the shell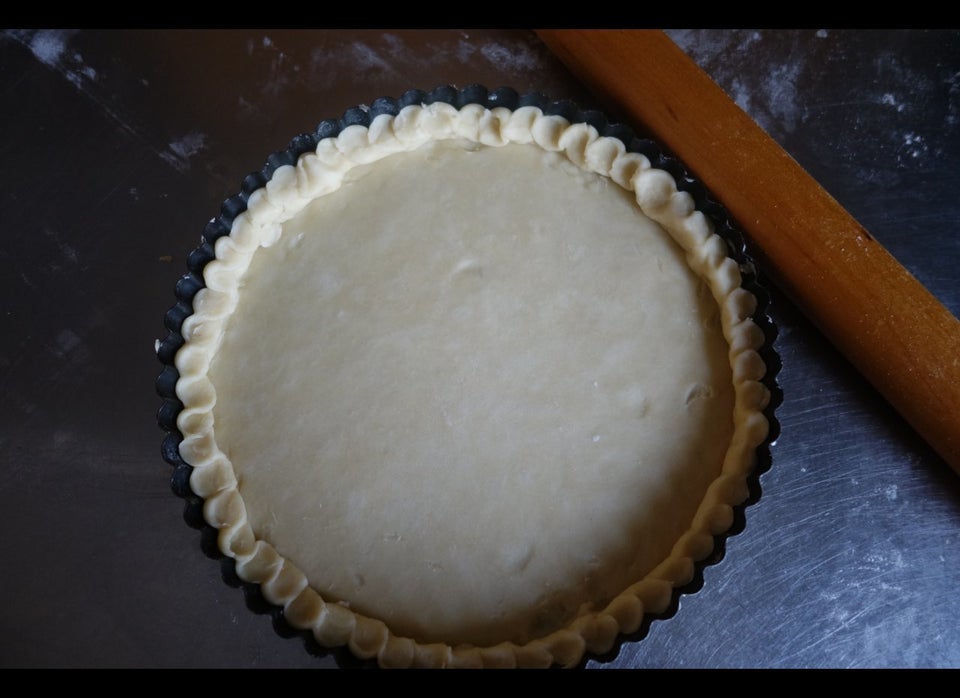 The finished tart (there are more mushrooms hidden beneath the potatoes): Its twice-baked shell stayed crisp for the next day's snack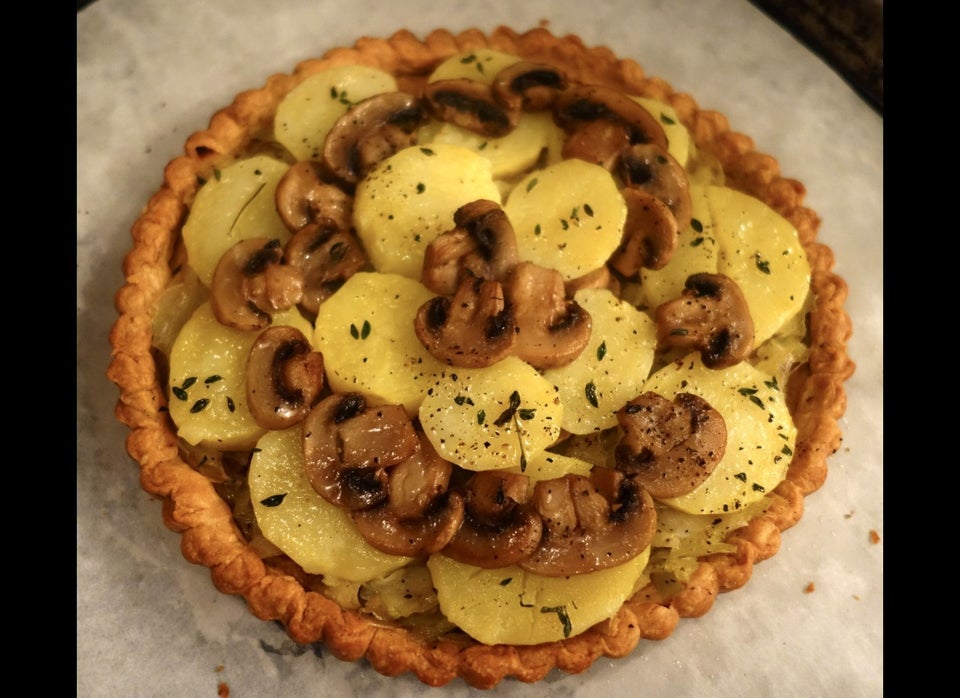 The start of one variation on romesco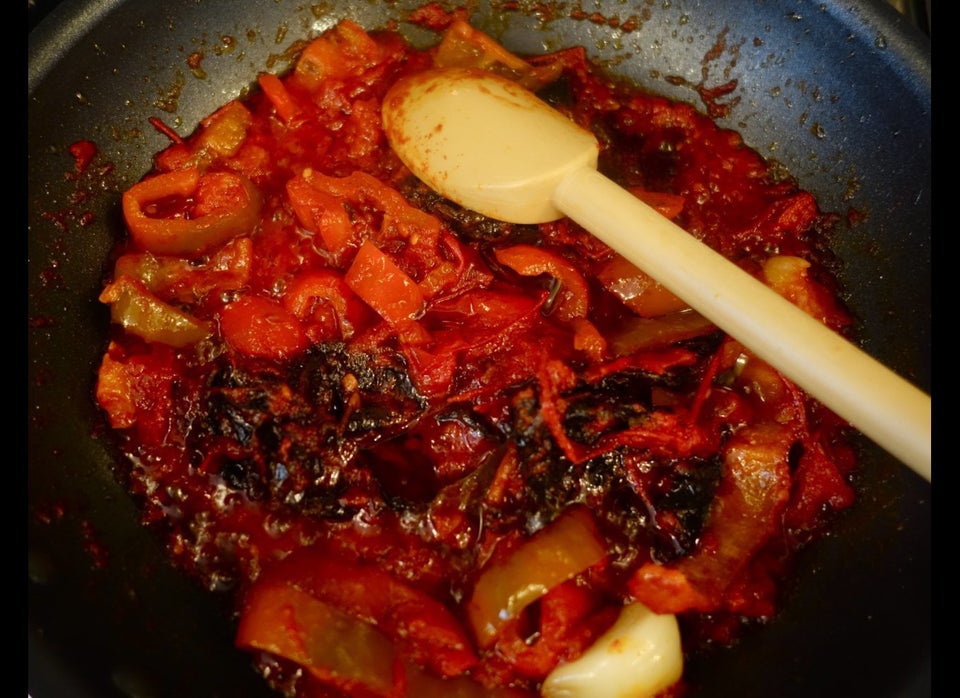 The start of another version of romesco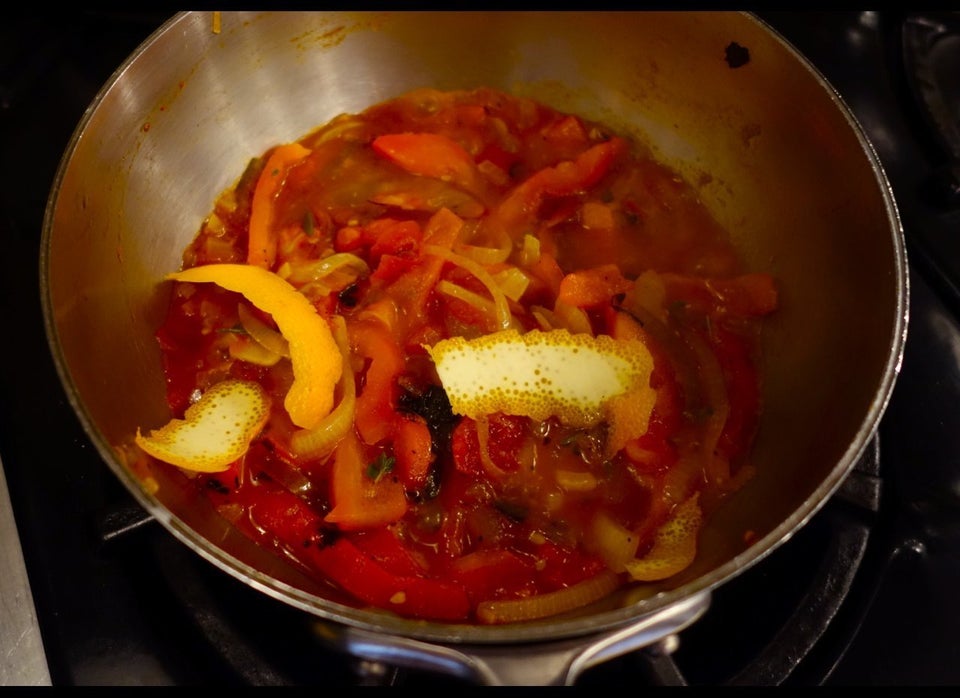 That second version of romesco: Great with just about anything