The restaurant Balthazar, in New York's SoHo, opened in 1997. Nearly 20 years on, Jackie and I ate there for the first time a couple of weeks ago; that's about par for our restaurant-going course, at least when we're not traveling and, perforce, eating out every night.
I ordered a delicious duck shepherd's pie in which the braised duck, in a rich sauce, was cut into bite-sized chunks rather than tiny fragments. I could have eaten it all but was determined to have plenty of room for dessert, so I asked that about a third of it be packed up to take home. I wasn't sure what would become of it (ravioli were one possibility, or some other pasta dish - perhaps pappardelle) but I knew it would be something suitable for parlous times and cool - even cold - weather.
As dinner approached a few days later, it became clear that a risotto was on the menu: a rich risotto of a kind that could be made with any sort of braised meat. In recent times, my risottos, while full of flavor, have tended to be light and vegetable-based. Most of the time, even the stock with which they're made - whether vegetable or chicken - has been diluted. Whatever the ingredient in their name - squash, say - the rice, allium and wine flavors have rarely been obscured by rich stocks.
This was to be different. The aromatic base and the cooking liquid needed more oomph to create more of a balance with the rich duck and its richer sauce. So rather than starting with just shallot (or onion or leek) and butter, I began by sweating a shallot and half a clove of garlic, both minced, in olive oil with salt and black pepper. (This is for two main-course portions.) When they had softened, I added a few crushed juniper berries, a half teaspoon of minced fresh rosemary leaves and a scant 2 ounces (50 g) of Italian speck, both fat and lean chopped fairly fine. When this smelled delicious and the speck had rendered much of its fat, I added 2/3 cup (150 g) carnaroli rice (vialone nano is good too, and takes a little less time to cook), then a minute later 1/3 cup (80 ml) white wine. I stirred until this was mostly absorbed, then began adding undiluted, full-flavored, lightly salted chicken stock in the usual way.
"The usual way" for me involves constant vigorous stirring, about which I and many others have written repeatedly. The food writer J. Kenji López-Alt has made an entirely plausible case for a very different method demanding minimal stirring and only intermittent attention. I won't say I'm stuck in my ways - I'm open to all manner of innovation - but I like stirring rice and listening to it as it absorbs successive dousings of liquid.
When the risotto was very nearly done, I stirred in the heated-up duck (chopped into smaller pieces but not minced) and its sauce and continued to cook, add stock and stir until the rice was as I like it: firm but not crunchy, with a well-integrated sauce of creamy consistency. After checking for salt and pepper, I covered the pan and removed it from the heat to relax for three minutes, then added a handful of grated parmesan and gave it a final energetic stir. Had it been too dense, I could have added another spoonful or two of stock, but it was fine. I considered adding butter along with the cheese, which is generally seen as good practice (notably by me), but this would have been superfluous in terms of both flavor and consistency.
This has opened the seasonal door to more highly flavored "winter" risottos. Meat - short ribs or the shoulders, shanks or cheeks of various quadrupeds - gets braised in our house, and that final leftover half-portion (and its gelatinous sauce) will sometimes wind up enriching a dish of rice.
(And, by the way, despite all the richness, the flavor of the rice still sang through loud and clear.)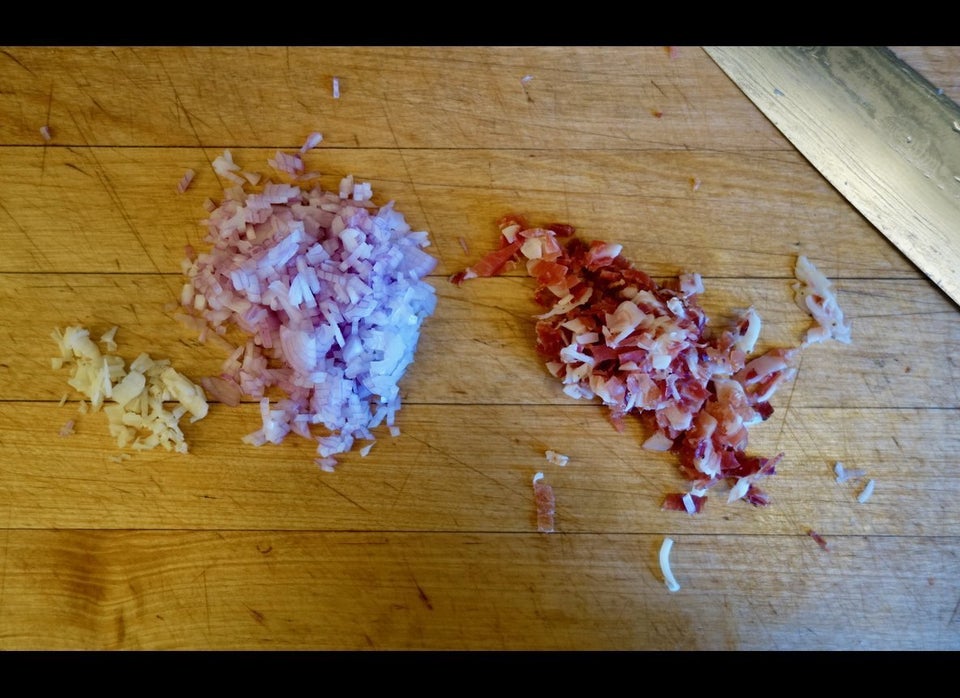 A Hearty Risotto From a Duck Doggy-Bag