A couple of days ago Jackie and I returned from a trip to London and eastern Germany, and there's been no home cooking worth reporting: As usual, we are revisiting favorite foods we missed while we were away. Next week, I promise bread dumplings or maybe quark-and-potato dessert pancakes.
In the meantime, here's a tip from one of the two non-traditional restaurants in which we dined in Berlin (most nights we ate hearty old-fashioned German grub). Dóttir is fairly new and each day serves a single prix-fixe menu focused on seafood. The surroundings are mildly whimsical haute grunge, and the service is warm and capable (the woman who took care of us spoke such good English that I just had to ask her where she learned it: somewhat disappointingly, she was British).
When she brought a basket of good bread to the table, she also deposited a bowl of what I thought at first was the dreaded olive oil (dreaded only by me: I'm a bread-and-butter die-hard). But no: It was brown butter, complete with all the not-quite-burnt particles that many people would discard, and it was delicious. In northern Europe, bread is often served with fats other than whole butter, notably seasoned lard or liver spread, but this was the first time I'd run into liquid brown butter for dipping.
It could hardly be easier to make: Over medium-low heat, melt as much butter as you like - but at least a quarter pound (120 grams) - in a saucepan of a size commensurate with the amount you're using. As the water boils off (water accounts for 15 to 20 per cent of butter's weight), the butter will cease burbling and bubbling and sizzling. Once it has quieted down, skim the dense white scum with either a spoon or a fine-mesh skimmer. Above all, be vigilant: you want caramelization, not incineration. When the color has attained the hue of your morning toast, pour the content of the pan into a bowl to stop it from cooking any further, and use a spoon to remove any scum that remains.
This can be done in advance. If you refrigerate it, it will solidify, so melt it (perhaps in the microwave, but be careful that it doesn't burn) before bringing it to the table with a loaf of excellent crackly-crusted bread and a pile of coarse salt for sprinkling. In a cool dining room it will semi-solidify after 20 minutes or so, but it will remain viable as a dip/spread. You can also cook with it or spoon it over vegetables, potatoes, spaetzle or pan-fried fish. Over many things, in fact.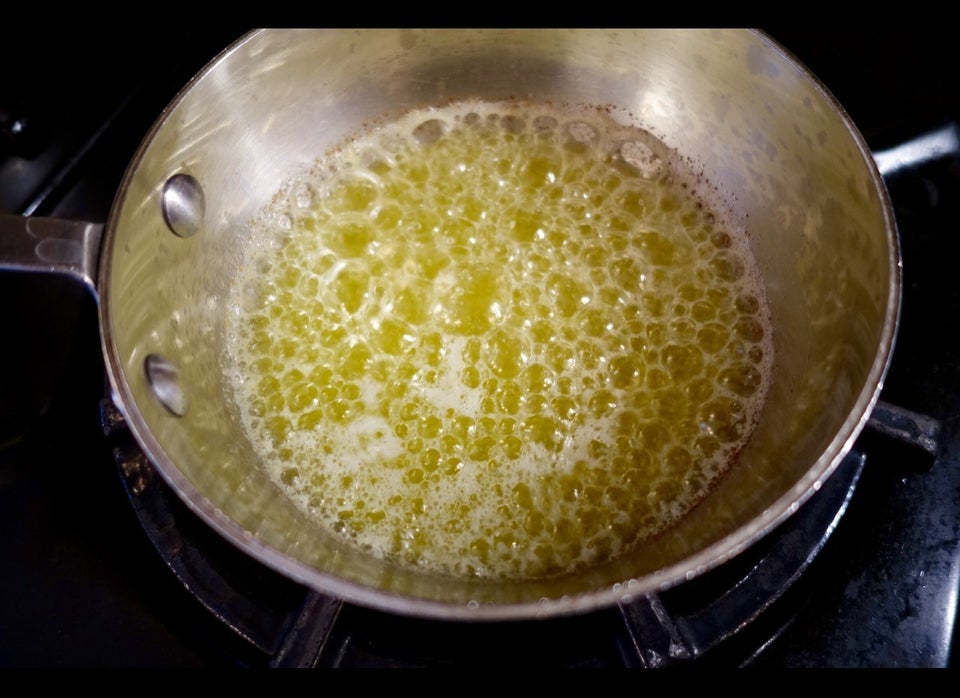 A Bread-Dipping Hint From Restaurant Dottir in Berlin