A Monday or two ago there was a new vendor at New York's Union Square Greenmarket: Holy Schmitt's Horseradish from Riverhead, Long Island. They mostly sell prepared horseradish made from their own produce, but they also had a pile of nice firm horseradish roots for four bucks apiece. This was a surprise, and I instantly bought one without really thinking what I might do with it. Then, at the Wednesday farmers' market near our house, I bought a piece of monkfish and a half-pint of crème fraîche, and everything fell into place. Jackie and I would have crisp-crusted monkfish with horseradish-cream sauce.
The sauce was the focal point of the meal, as it is the focal point of this installment of Cooking Off the Cuff; sure, I'll describe how I cooked the fish, but the sauce would be lovely with just about any white- or pink-fleshed fish (probably not with things like mackerel or bluefish, where creamy sauces seem to be overkill).
The sauce could hardly have been easier to make, and it begins with a pretty commonplace preparation: For two portions, I peeled about 2 ounces or a little more (say, 60 g) of fresh horseradish and grated it fine (I used a Microplane grater, which is just about ideal for this task). No, you don't need to wear a gas mask: especially in this small quantity the pungent horseradish fumes are not much of an irritant. I added a scant 2/3 cup (150 ml) crème fraîche and 1/4 cup (60 ml) heavy sweet cream, plus a little salt, to a small saucepan and brought it to the boil; then, in went the grated horseradish (when it hits the warm cream there could be a burst of fumes, so don't stick your nose into the pan yet). I brought it back to the simmer, then took the pan off the heat, covered it and let the horseradish steep for five minutes. Next, I strained it through a fine-mesh sieve, pressing the mass of horseradish pulp with a spoon to extract all possible flavor. Sample it at this point: It will taste markedly of horseradish but won't be harsh. (Note that in Austrian cooking some dishes are garnished with a freshly cut julienne of raw horseradish, and this is not scary at all.)
I returned the sauce to the pan and reserved it until dinner time. When it was time to eat and the fish was nearly done, I added the grated zest of half a small lemon, a squeeze of lemon juice, and a handful of finely chopped parsley. After I'd checked the seasoning, the sauce was done. I added half to each of our plates, then sat a chunk of crusty fish on top. It tasted far more complex than you'd think from its short list of ingredients; rather sweet (hence the use of slightly sour crème fraîche and lemon juice) and still redolent of horseradish - but quite tame.
Oh -- the fish: I salted chunky pieces of monkfish (perhaps 4 ounces -- 115 g -- each) and left them for 20 minutes in the fridge, then rinsed and dried them; especially with western Atlantic monkfish, this tightens the texture. I floured, egged and crumbed them (fresh breadcrumbs mixed with minced speck, thyme and salt and pepper, though plain breadcrumbs would be fine), and cooked them in butter starting on top of the stove, then moving to a 425 degree F (220 C) oven, turning from time to time. This took 12 minutes for pieces that were small but quite thick.
I served this with mashed potatoes -- a perfect match for the sauce.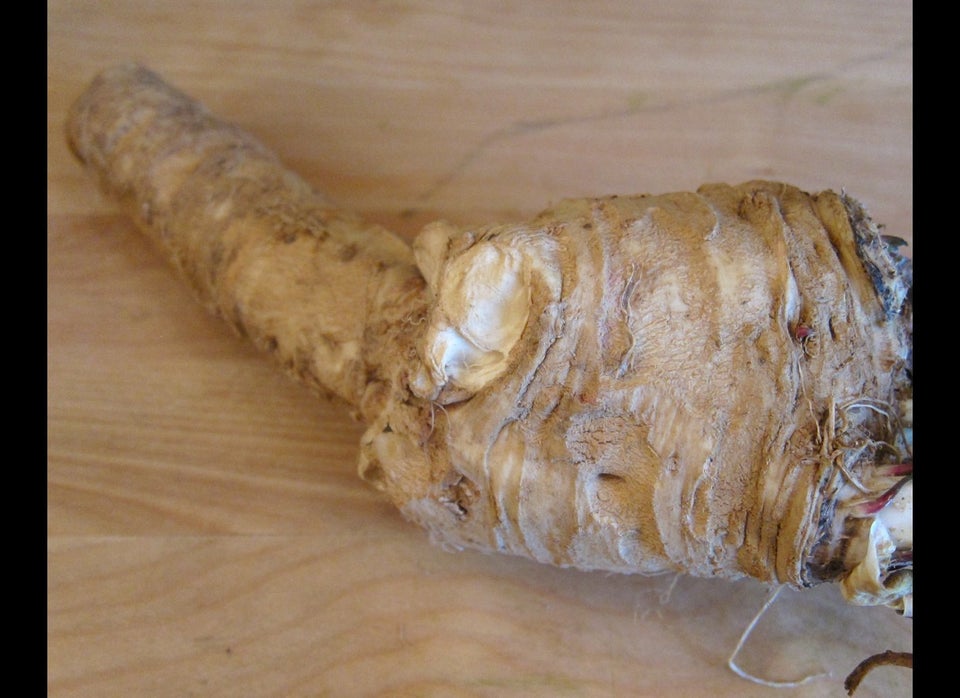 Horseradish Sauce That Won't Make Your Eyes Tear
Related