Pasta and chickpeas may seem unlikely bowl-mates, but the two are combined in recipes from several regions of Italy. If you love pasta e fagioli (beans), it isn't much of a leap to pasta e ceci, as chickpeas are called in Italian.
Pasta e fagioli is often a soup, though it can be dryer. That's true of pasta e ceci too; the version Jackie and I ate for dinner last week, while well lubricated, was not swimming in liquid. It had many virtues, principally flavor but also a variety of textures achieved by cooking method and choice of ingredients - including an unexpected handful of toasted walnut meats, which alone would have made the dish worth passing along.
A while ago I cooked a batch of chickpeas until just shy of being done. The remains had been in the freezer all this time, suffering no catastrophic damage, and on one of those recent too-cold-for-April days Jackie and I needed a warming dinner. Pasta e ceci seemed like just the ticket, but I was determined to add something to it without ruining its essential simplicity: something that would add a third texture to the tender pasta and the crumbly-soft chickpeas. Here, my default would be croutons of some kind, but I've been baking this white toasting bread, and it doesn't make the kind of super-crunchy craggy croutons that stand up in a dish of pasta.
So I toasted a good handful of walnut meats, using the microwave - stirring and checking doneness every thirty seconds; if the oven had been on, I'd have toasted them there. Toasting enhances everything about walnuts, so don't skip this step.
With the nuts set aside, I diced a medium onion and cut a small chunk of guanciale - the size of a squared-off golf ball, I suppose - into matchsticks. I rendered and lightly browned the guanciale over medium-low heat, spooned off (but reserved) some of the fat and added the onion, the merest scrap of garlic and a couple of sage leaves, slivered. When the onion was soft, I added enough pasta (short penne, though the ideal would have been the even smaller ditalini) for two portions - not the usual 200 grams, but 150, because of all the chickpeas to come - and stirred it over heat until it smelled slightly toasty, which took just a couple of minutes. Does this sound like a riceless risotto? Yep, that's more or less the technique (though without quite as much stirring).
I added half a cup (120 ml) of white wine and stirred intermittently until the wine was mostly absorbed/evaporated; then I began adding warm stock - a mixture of vegetable and chicken in this case - half a cup at a time and stirring every now and then. After five minutes, I added a generous cup (250 ml by volume) of nearly-cooked chickpeas along with some of their cooking broth. Note that diluted chickpea broth would work well in place of stock in the previous step.
I stirred and added liquid for another 12 or 15 minutes, until the pasta was soft. Not al dente: soft, in order to provide the base texture of the dish. At this point, you can hold this mixture for five or ten minutes while you're getting ready to sit down to dinner; if you do hold and reheat it, add enough additional liquid to keep the dish moist - or, if you prefer, slightly soupy. At the last minute, add the toasted nuts and another couple of slivered leaves of sage, and check for seasoning. If you like you can drizzle on some of the reserved guanciale fat or a teaspoonful of olive oil.
We tasted this with and without grated parmesan; it didn't need it, though it wasn't destructive.
This would work with beans, but not as well: The grand thing here is that progression of textures, and beans can get too creamy to provide sufficient contrast with the pasta. It'd taste good, though!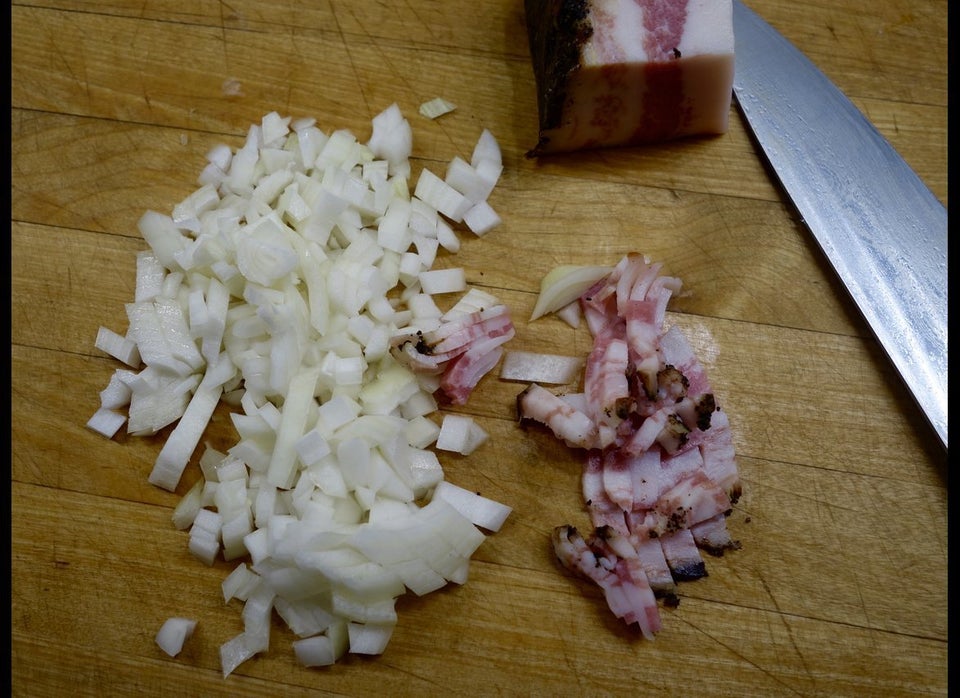 Pasta and Chickpeas ... With Crunch