I've been making this celeriac-mushroom-onion tart for a while, but it was only recently that Jackie and I realized what a versatile thing it is. Within a couple of days, we served it as a first course, a main course and a side dish to accompany braised lamb neck. In littler pieces, it also works as a snack with pre-dinner drinks. (How about as dessert? Maybe not...)
However delicious it may be (and delicious it is), it is unremittingly beige-brown in appearance and does not make an alluring snapshot. I take solace in Nigella Lawson's recent observation that unphotogenic brown food can taste best. Anyway, once cut into wedges to expose its interesting layered cross-section, it's perfectly nice looking.
You can and should make all the elements a day or two in advance. Start, if you like, with the pastry. Any buttery tart/pie dough will do (not puff pastry). For an 11-inch (28 cm) removable-bottom tart pan, I used 8 oz (225 g) flour, 6 oz (170 g) butter, a generous 1/2 teaspoon Diamond Crystal kosher salt (half that of fine salt), and just enough cold water to bring it together into a pliable dough. Wrap it in plastic and refrigerate for at least an hour or for a day or two. Roll it out, line the tart pan, place this in a plastic bag and freeze it if you have time. I like to bake empty tart shells from frozen, though I'm not really sure it makes much difference.
Finely chop (I recommend a food processor) a pound (450 g) of mushrooms and cook them down in, say, an ounce (30 g) of butter with some thyme and some salt. Use medium heat and stir from time to time; the water should cook out, though (mushrooms being very wet things) the mixture will remain moist. Set aside to cool. If you don't have fresh thyme, substitute sage or parsley. What mushrooms should you use? Regular white mushrooms are delicious, or you can add extra character by using, say, half white mushrooms and half wild or cultivated varieties such as hen-of-the-woods (maitake). If you have access to plentiful porcini (cèpes) or chanterelles, either by itself would be unimaginably good.
Also with butter and thyme, cook down three medium-large onions, sliced. When they are very soft and lightly golden, which could take as long as 40 minutes over low heat, food-process them to a rough puree and set aside. After you've done this dish a few times, you could substitute leeks for the onions; they make an elegant change.
The last cook-ahead element is the celery root (celeriac). Peel a moderate-sized one (say just shy of 4 inches – 10 cm in diameter) and cut it crosswise into three slabs. Cook it in a covered skillet with a tablespoon of butter in half an inch (15 mm) of simmering water. Turn the pieces after 15 minutes and check for doneness after 20. It should be easily pierced with a skewer or knife but not mushy. Almost always, I cook two or three and use the rest for gnocchi or for pureeing with boiled potatoes.
An few hours before serving, heat the oven to 375º F (190º C – lower in convection oven) and bake the tart shell blind, lined with foil weighted with beans or pie weights. Remove the foil and weights after 20 minutes and bake until completely brown and crisp, about another 15 or 20 minutes – but monitor it to ensure it doesn't burn.
Meanwhile, combine the mushrooms and onions in a food processor with 2 egg yolks and 1/3 cup (80 ml) heavy cream; on occasion I've also added a handful of grated parmesan cheese, which is good but unnecessary. Process until homogeneous, but not completely smooth – some texture must remain. Check for salt and pepper; if necessary, add more fresh thyme (or whatever herb you're using).
Cut each slab of cooked celery root in half crosswise, then slice each piece into 1/4 inch (6 or 7 mm) semicircles. Arrange these on the baked tart shell and season with salt, pepper and thyme, then use a flexible spatula to spread the mushroom-onion mixture over the celery root; try to use the mixture to fill any gaps between celery slices. Bake 30 or 40 minutes at 375º F (190º C), until the mixture is set: it shouldn't be exactly springy, but when you touch it your finger shouldn't come away wet. Note: It is best to let the mushroom-onion mixture and the celery root come to room temperature before assembling the tart; if they are fridge-cold, allow an extra 10 minutes of baking time.
Let the tart cool for at least 10 minutes (or, if you like, to warm room temperature) before serving. Just don't serve it really cold (you can warm it up in the oven).
It's earthy and savory and, though beautifully integrated, retains the flavors of its main components. It truly does work equally well as a snack, a first course, a main dish (with a salad or leafy vegetable) or an accompaniment, preferably to a dish that has some sauce to it.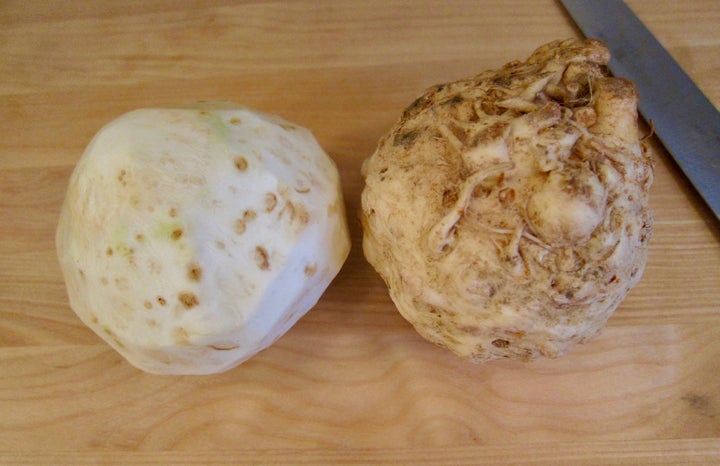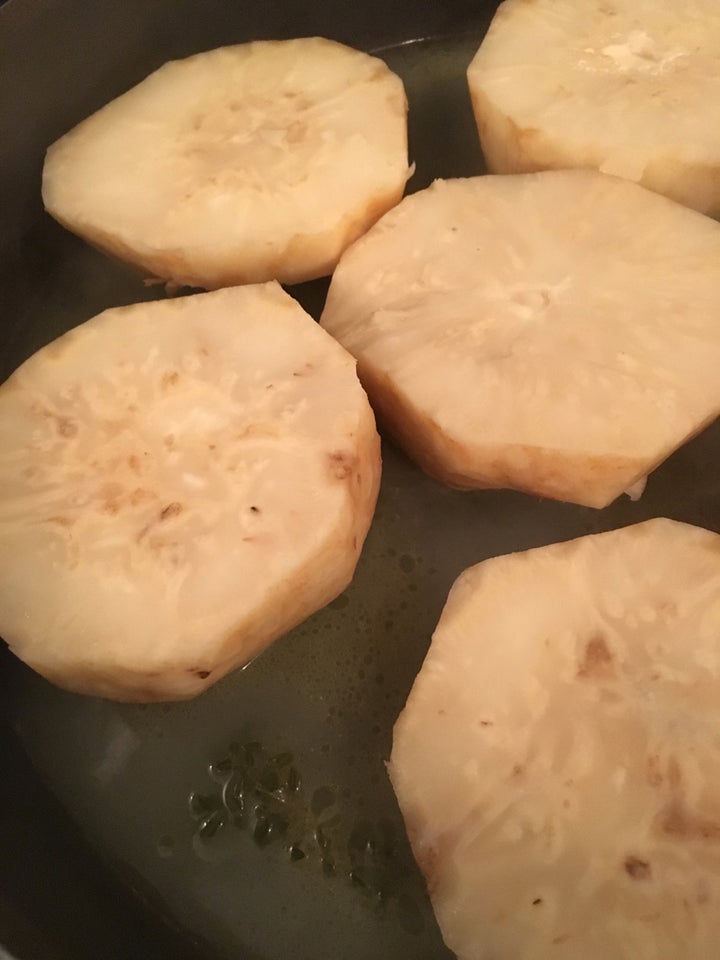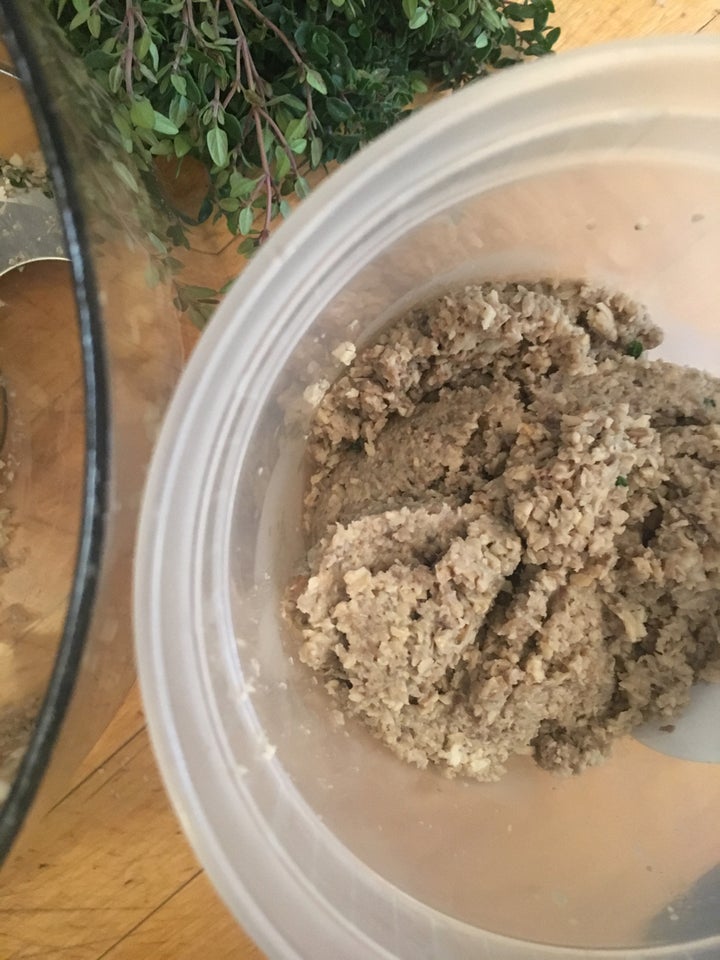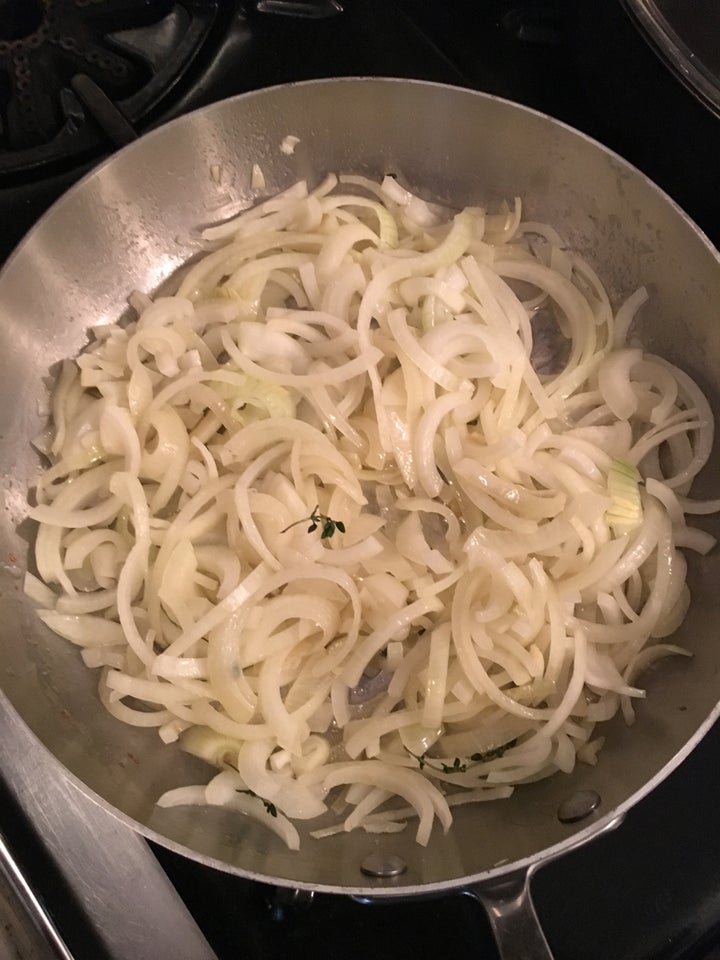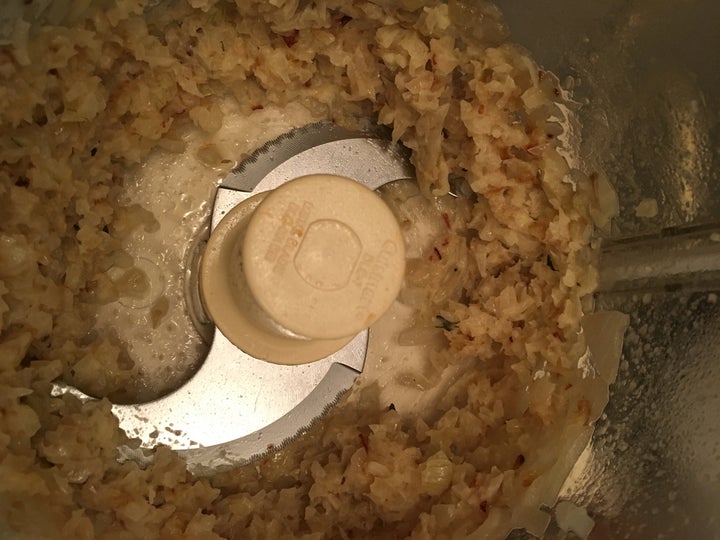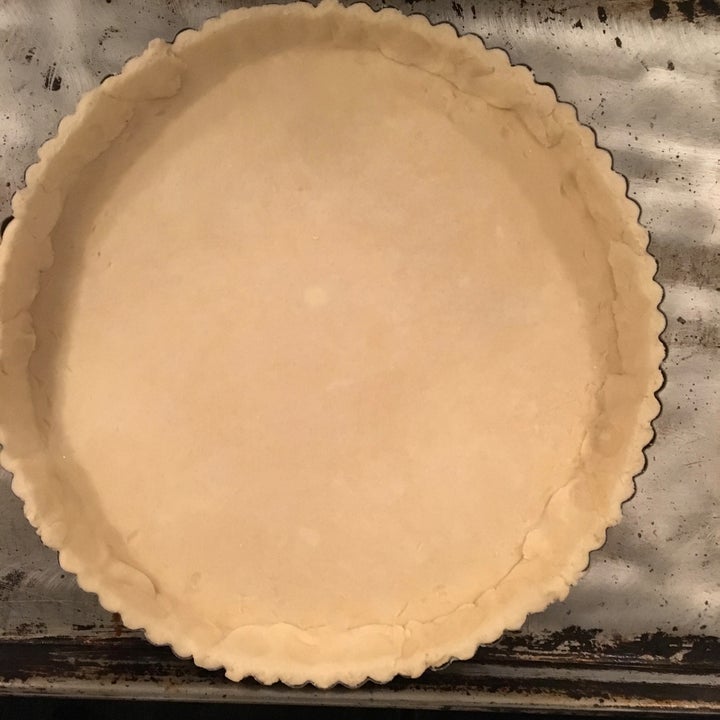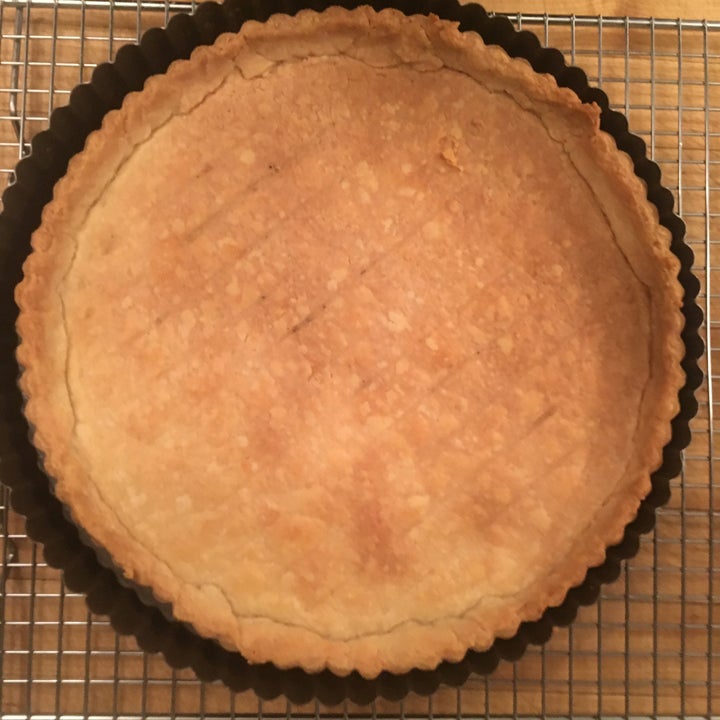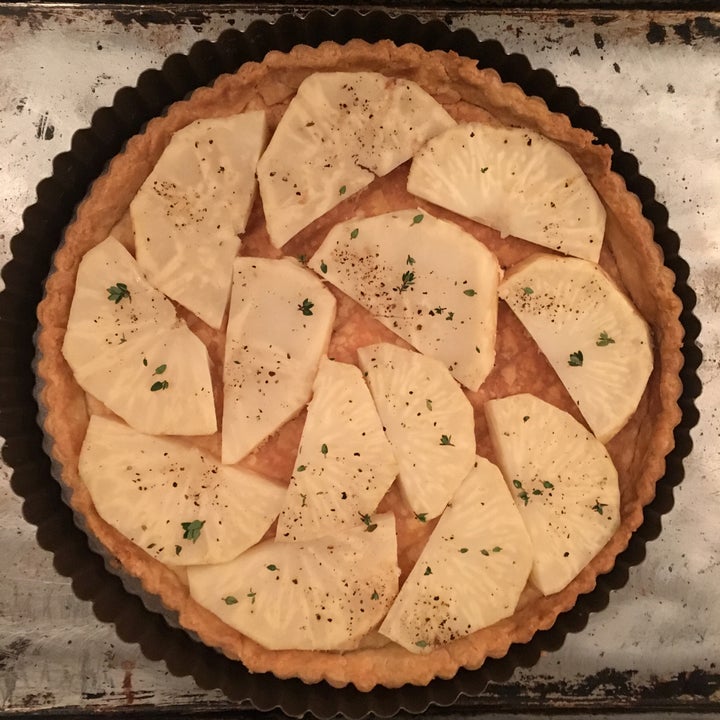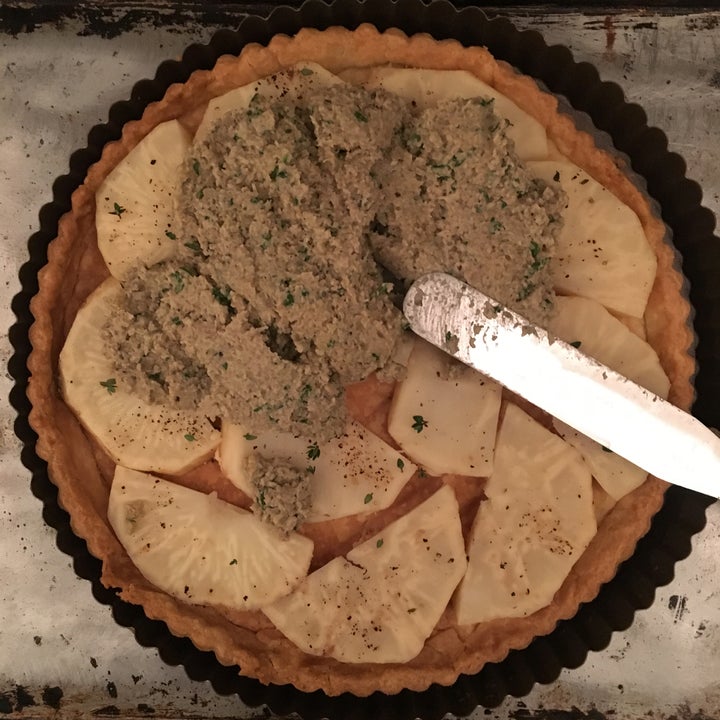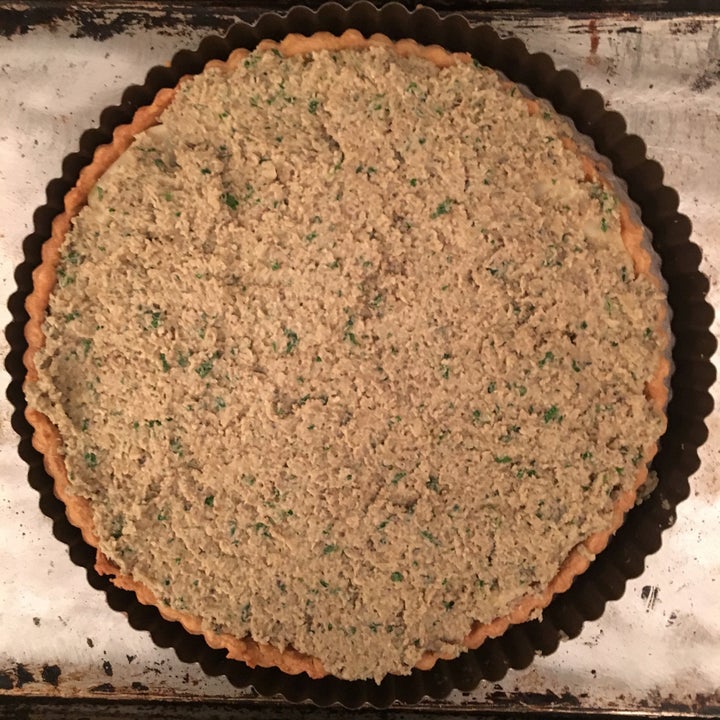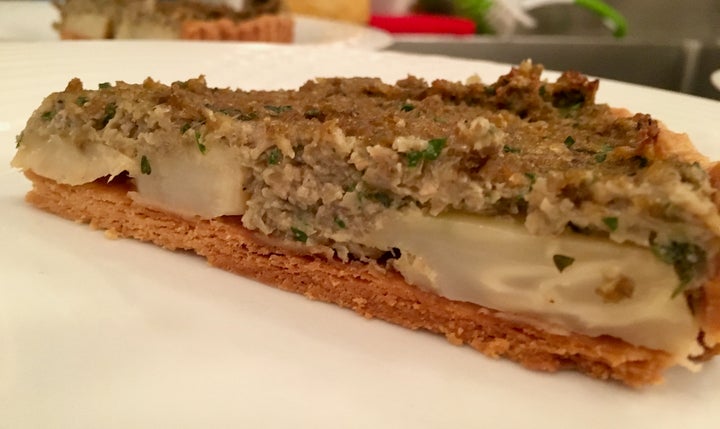 Related