One of the dishes on my to-cook list after our recent trip to Sicily was swordfish crusted in a flavored breadcrumb mixture. When I made it the other day, I was not surprised that the swordfish itself was delicious, but the simple little sauce/dressing that it shared the plate with was so successful that it almost overshadowed the fish.
I don't think of swordfish as something that gets breaded before cooking, but we had it prepared that way in the beautiful town of Noto. There, the flesh was fatty compared with our North Atlantic fish and a special treat for that reason, but there's nothing wrong with what comes to my local farmers' market from nearby waters.
This is almost as easy as just grilling or pan-frying an unadorned swordfish steak: I put some fresh rosemary (or use another dry-leaf herb such as thyme or sage) into the bowl of a food processor with the grated zest of a lemon, some grated orange zest (optional - it can be overshadowed by the lemon anyway), salt and pepper. I ran the food processor to chop the herbs, then added a couple of handfuls of breadcrumbs (preferably ones you've made from good bread) and pulsed the food processor a few times to combine. You can do this all by hand, but, since the food processor was right there....
I sprinkled the fish with salt, then with a little flour on the top and bottom surfaces. I coated those surfaces with beaten egg (no need to get any on the sides) and finally with a nice layer of citrus-herb breadcrumbs. For slices one inch (2.5 cm) thick, I cooked them four, five or six minutes per side in olive oil over medium-low heat: the crumbs should be golden or golden brown and the core of the fish cooked but still juicy (you can check for doneness with a cake tester or little metal skewer: it should enter the fish easily and feel warm - almost hot - when you immediately touch it to your lips). I let it rest for a minute on a wire rack before serving.
The sauce, made half an hour ahead of time, is a lovely thing that can be served with any fish at all, including canned tuna, with which it would be particularly good. Indeed, it would be grand with sliced roast or poached chicken breast too. I started with half a pint of cherry tomatoes (the only decent ones in the market at this pre-summer stage), which I slit at the end opposite the stem, blanched for a few seconds in boiling water, then skinned. I cut each into three or four slices, then across, halving each slice - it doesn't matter exactly how you cut them, but don't just hack them up or you'll end up with something more akin to mush. I scooped the chopped tomatoes and all their juice into a bowl and salted them. As they were getting juicier and more flavorful from the salt, I made a dressing of lemon juice, lime juice, salt and a not-too-peppery olive oil, then added this to the tomatoes. I tinkered with the acid and salt levels to attain a good balance and left the dressing at room temperature until it was time to eat.
Once the fish was cooked, I set it on a puddle of this tomato-citrus dressing/sauce and served it with a spoon and fork so that Jackie and I could get a good mouthful of sauce with each bite of fish. The accompaniment was a hash of potatoes and juicy spring onions.
This was a very sunny dish, though I probably say that because for us it evoked Sicily. But irrespective of travel memories, that tomato dressing was an enticing preview of summer, and I look forward to making similar sauces using really ripe full-sized tomatoes. Perhaps in August.
Citrus zest and rosemary in the food processor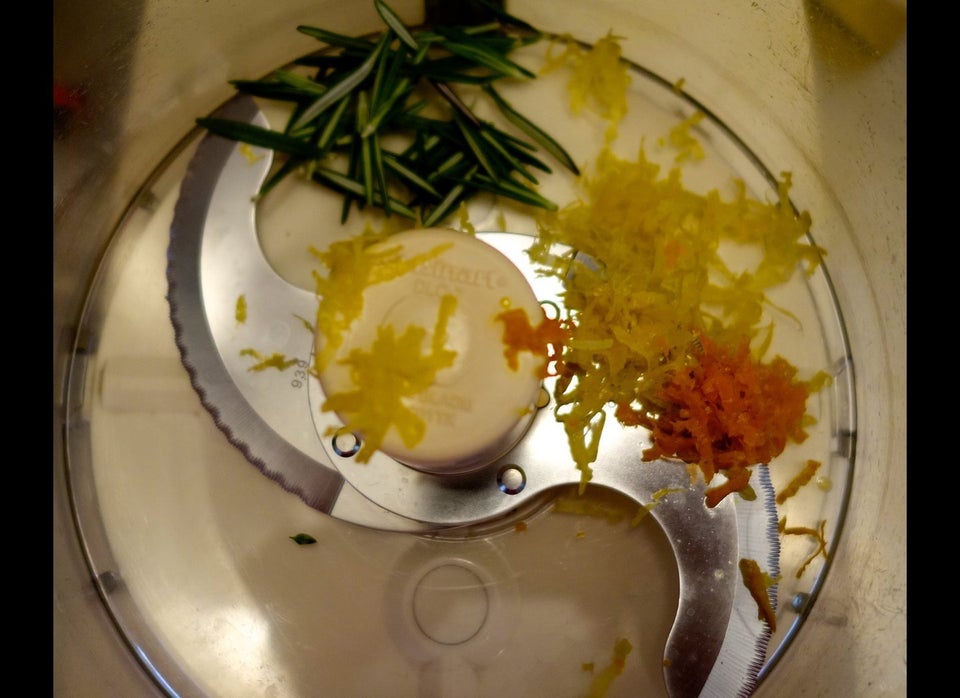 The herb-citrus breadcrumb mixture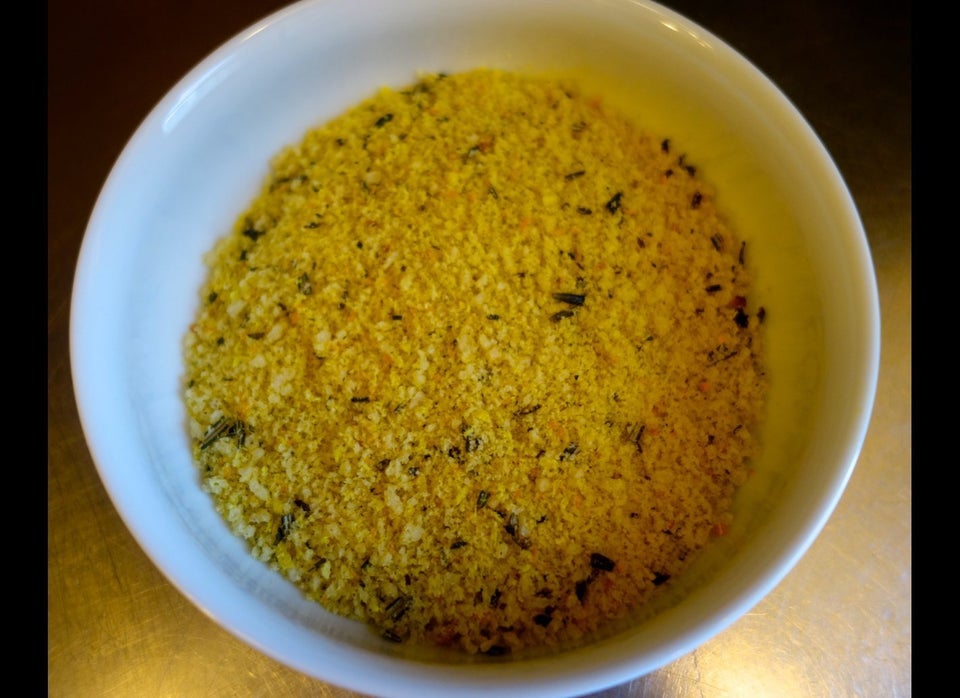 A 5-ounce (140-gram) portion of swordfish, breaded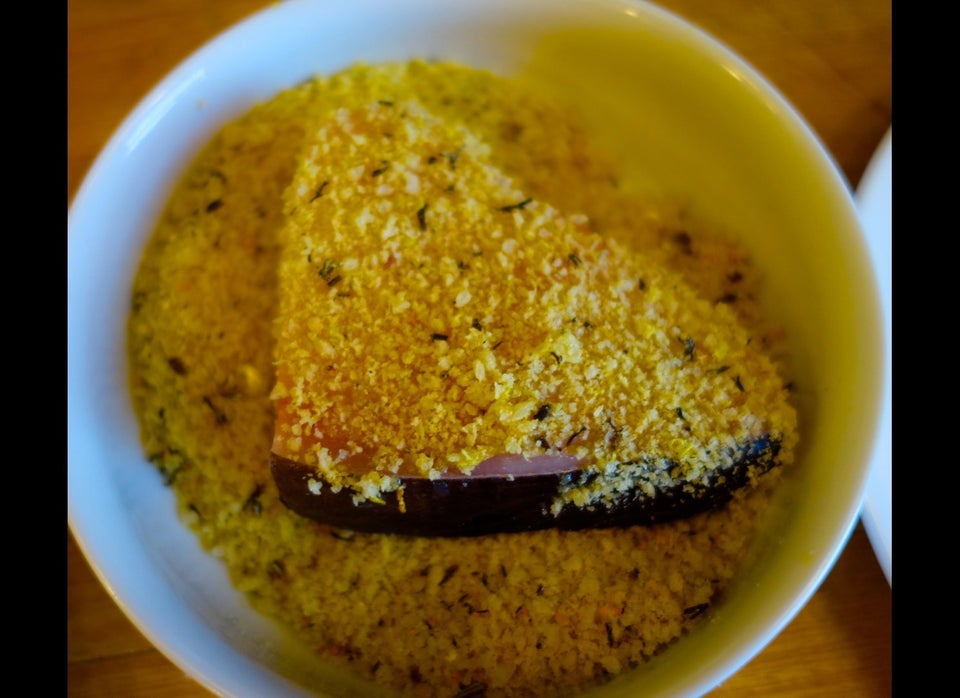 The same fish, cooked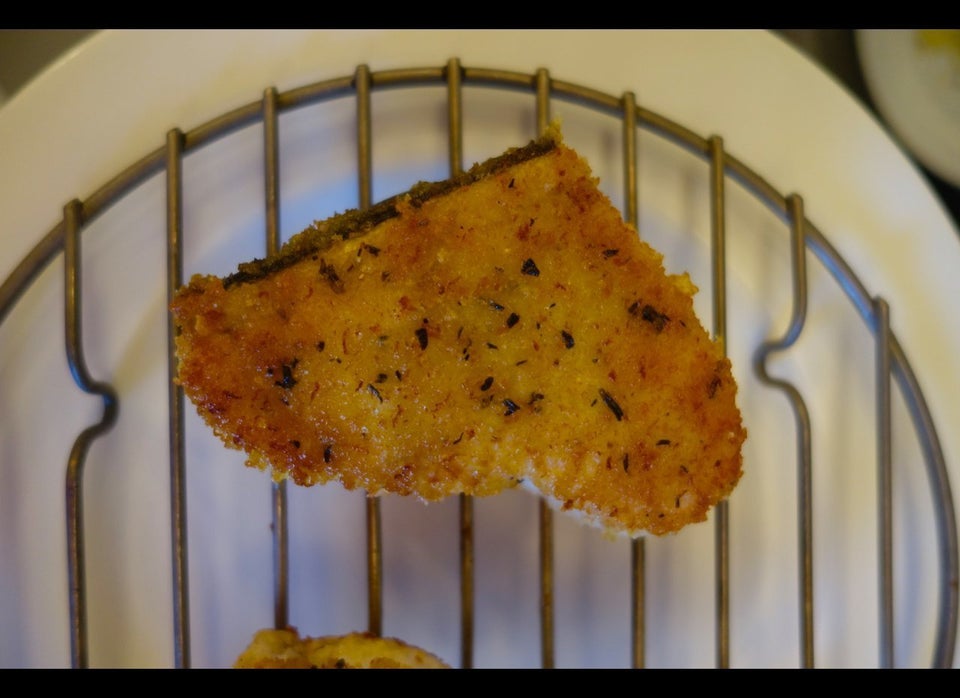 Tomato-citrus dressing on the plate, awaiting its fish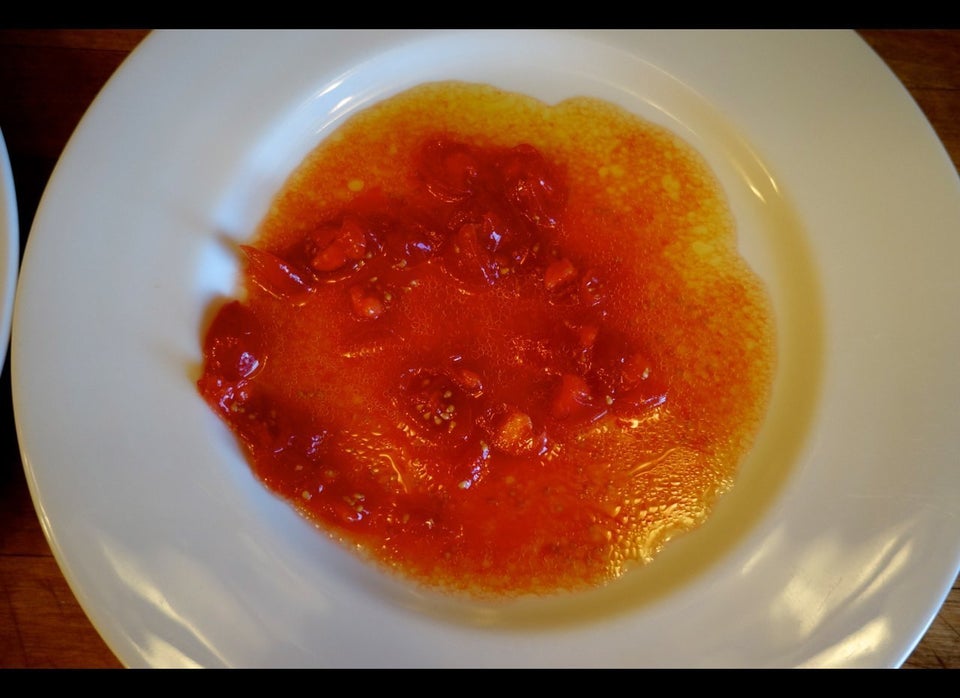 The finished dish