Having last week given a short list of dishes I was going to try from our recent trip to Belgium, when it came to cooking I turned first to one of the local classics: Beef and onions braised in beer. The variations on this dish in reference books and on line are many. There's no consensus even on the spelling; arbitrarily, I'll go with the shortest version, carbonade flamande, though I really ought to use the Flemish-Dutch Vlaamse Stoverij.
As to the recipes (not even counting Julia Child's, which I remember cooking, badly, at a friend's house when I was about 16), they all include beef and plenty of onions, along with flavorful Belgian beer to replace the wine you'd generally use in a similar French recipe. After that, every grandmother and her grandchild has a proprietary list of additional ingredients. These can include smoked or unsmoked bacon, juniper berries, mustard, beef stock, brown sugar, white sugar, flour for thickening, bread for thickening, pain d'épices (a sort of gingerbread but with a more colorful palette of spices), thyme, and, very occasionally, garlic. Some recipes use them all (some also advise marinating the meat overnight), and I was tempted to go the kitchen-sink route, because the complexity was appealing.
In the end, I did use quite a few of the optional extras, but eliminated the most intrusive ones, like bacon, so as not to interfere with the core flavors of beef, onions and beer.
I started with around four pounds (1800 grams) of braising beef - a mixture of shin and chuck (enough for eight or so servings), cut into biggish chunks, seasoned with salt and pepper and browned on all sides in lard (oil or duck fat would have been fine); I did this in two batches to avoid crowding the pan. When the meat was brown, I removed it to a plate and added a good pound and a quarter (more than 550 g) of sliced onions to the pan (a heavy 12-inch / 30 cm braising pan, though a big enameled iron casserole would do the job). Stirring frequently, I let these just begin to cook, then returned the meat to the pan and stirred in two tablespoons of Dijon-style mustard, a sprig of thyme, some salt and one tablespoon of dark brown sugar. Finally, I poured in (slowly - the beer will foam up) a 750 ml bottle of Belgian-style "abbey" ale from Ommegang brewery in New York State. (Sourer lambic ales are often used for this dish, but I couldn't find one in the neighborhood and wasn't about to go on a wild goose chase in the sub-freezing weather.) This should be enough to barely cover the meat and onions; adjust the quantity depending on the size of your pan, using water or stock to supplement the ale if necessary. As this came up to the simmer, I scraped the bottom of the pan with a wooden spatula to loosen the caramelized juices and incorporate them into the sauce, then crumbled a slice of pain d'épices into the stew. (Believe it not, I had some in the freezer, made from David Lebovitz's recipe. If I hadn't, I'd have used plain bread for thickening and a teaspoon or two of crushed juniper berries and extra black pepper for flavor.)
Once the stew was simmering nicely, the lid went on and the pan went into the oven heated to around 325 degrees F (say, 165 C), where it lay for just shy of three hours. I gave it another good stir (in part to verify that the pain d'épices was dispersed and was doing its job of thickening the sauce) and checked for tenderness after 90 minutes, then every half hour.
I let the carbonade cool in the casserole, then transferred it to a container and refrigerated it until the next day, when I reheated it (without removing much of the surface fat), checked it for seasoning (it needed more salt to balance the beer's flavors) and served it with ...
Ah, what does one serve carbonade with? Here again, everybody's an expert. Mashed potatoes are a popular choice - and a good one. So are buttered noodles. But we often saw it served with what we victims of cultural imperialism call French fries. (Fries with braised beef: not the combination that first comes to mind.) We ate a lot of root vegetables on our wintry trip, and I finally opted for a side dish of buttery mashed potatoes blended with pureed celery root; this worked perfectly.
The ale, with its bitterness and intensity, makes this a very flavorful and distinctive variation on beef stew. The onions and sugar do their part to develop roundness, and so do the spices in the pain d'épices. The outcome is a balanced dish with a lot of appeal. Maybe to accompany some of the leftovers I'll make a batch of fries. Flemish ones.
The beef: chuck and shin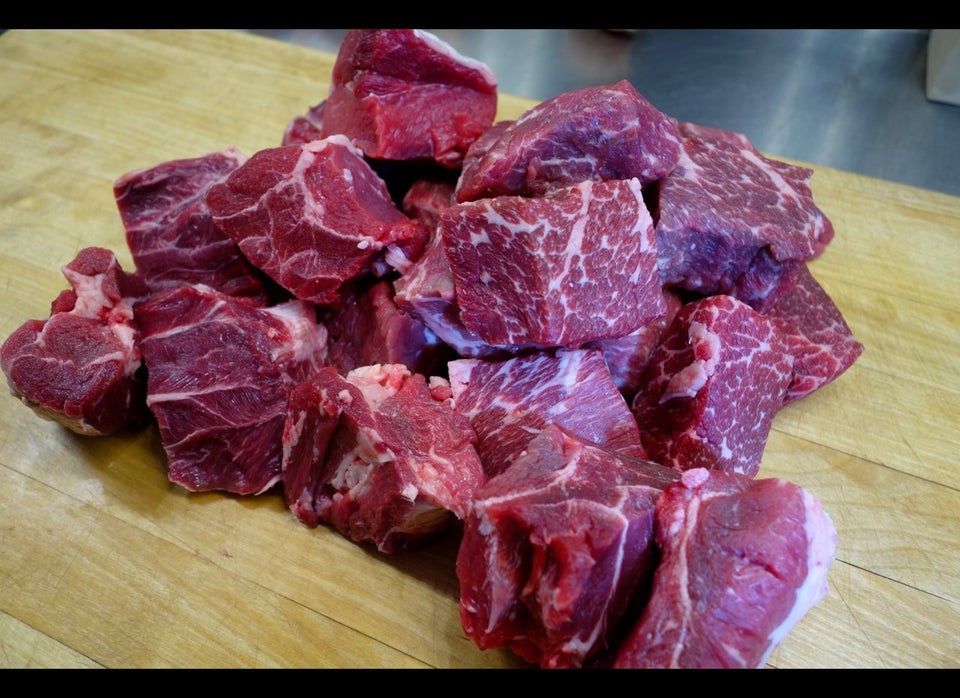 The onions: they'll melt away in the cooking but they're crucial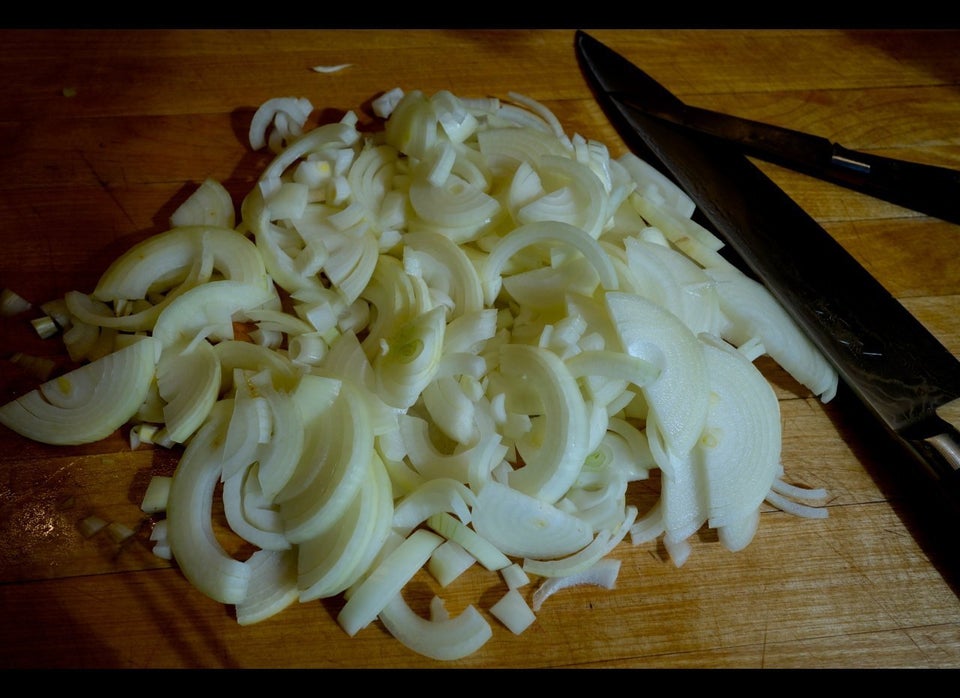 Beef and onions about to be united in the pan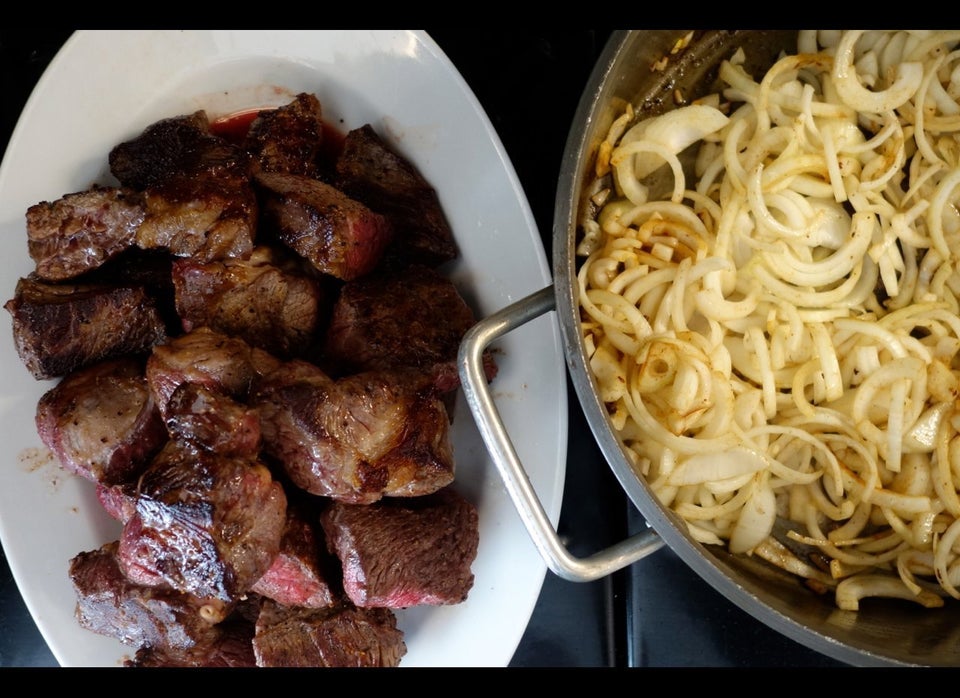 Pain d'épices (twice as much as needed) and Belgian-style ale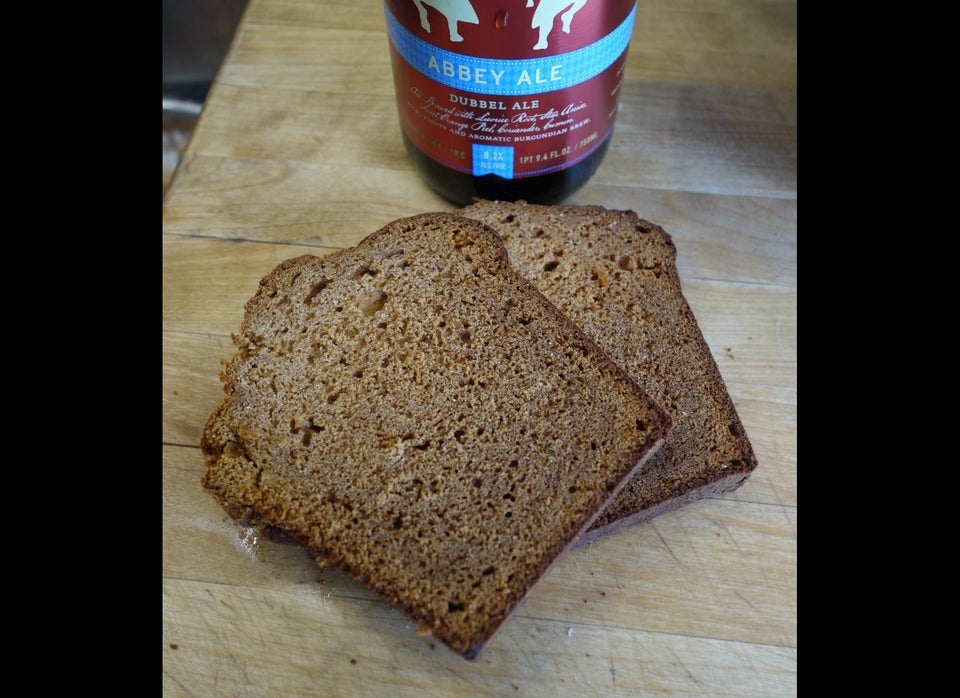 Beef and onions combined in the pan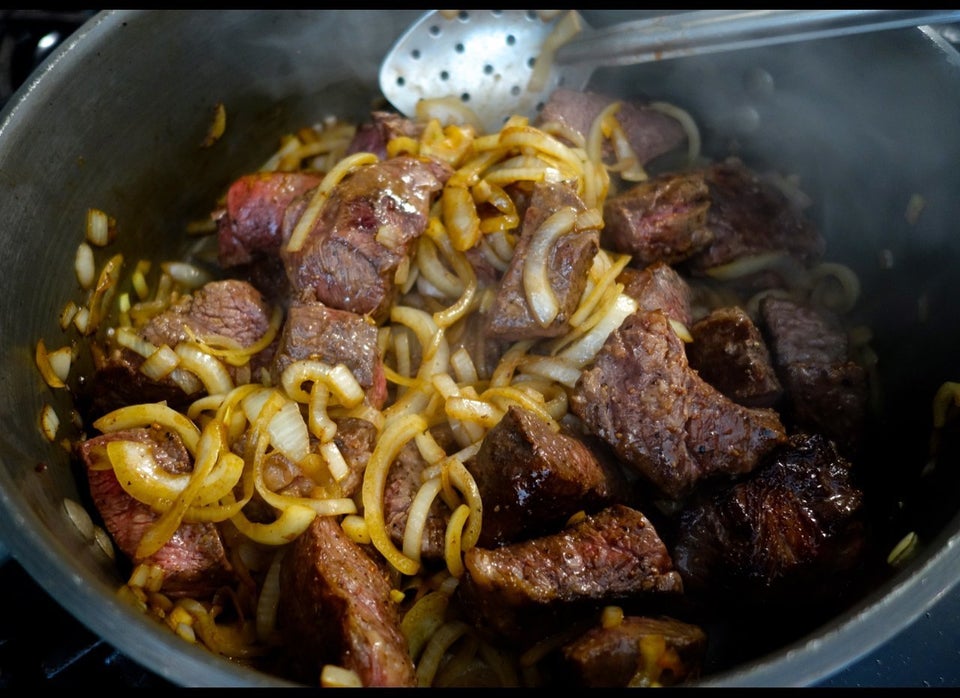 Ale added and crumbled pain d'épices about to be stirred in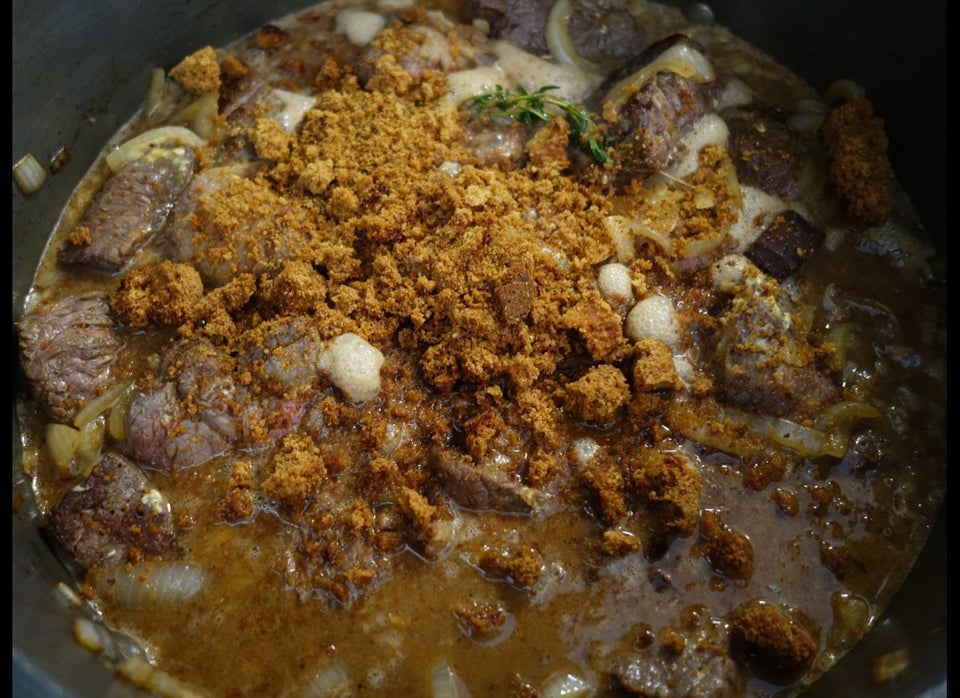 The finished dish