One night last week, Jackie and I really wanted cauliflower for dinner. When that happens, we usually have either crisp bread-crumb-and-parmesan-coated roasted cauliflower florets or cauliflower and cheese. This time, we were pointed in a new direction by the most delicious, ripe August tomatoes and a farmers' market cheese called Jersey Fresh (as in New Jersey, not the island in the English Channel). This young cheese from Valley Shepherd Creamery is pressed into a compact brick. It is slightly tangy and very milky and reminds me of the Sicilian cheese provola, which is used in many dishes where we in the US would use mozzarella, including things like eggplant/aubergine parmigiana.
And it was to that alluring word "parmigiana" that I was led. Cauliflower parmigiana. Yes, I know: it sounds like the kind of bland, watery thing that gave hippie-era vegetarian restaurants a bad name (45 years on, I still shake my head with regretful disbelief at one flavor-free meal I had in such a place). And it could have been a monstrosity. But, in part because of the way I cooked the cauliflower and in (large) part because of the good ingredients, it turned out to be more than decent and well worth the minimal effort - always given fabulous tomatoes and an appropriate cheese (good cauliflower is generally easy to find; the ones in that day's farmers' market weren't as tightly packed as they might have been, though they tasted great).
I began by heating the oven to 375 degrees F (190 C).
For this dish it is important to develop flavor by minimizing moisture: all the ingredients are mostly water. So, I did not steam or boil the cauliflower to get it started. Rather, I halved it top-to-bottom and cut a one-inch- (2.5-cm-) thick "steak" from the flat part of each half; if it had been a huge cauliflower, I'd have cut two from each side, but in this case the remainder naturally fell into large clumps of florets. In a thick-bottomed skillet over low to medium-low heat, I warmed some olive oil then laid in the cauliflower (both "steaks" and clumps) seasoned with salt and pepper. I browned it slowly enough that by the time the surface was prettily caramelized the core (the toughest part, potentially) was getting tender but wasn't soft or mushy. This took five or six minutes per side, but timing will depend on the pan and the heat.
Meanwhile, I peeled a few wonderful tomatoes by scoring them and plunging them into boiling water for 15 seconds, then sliced them thin - perhaps 1/8 inch or a little more (say, 3 or 4 mm). Here, I retained all the juice and seeds because of the flavor they hold. I also shredded a scant 2-ounce (50-g) chunk of that Jersey Fresh cheese and mixed it with a little handful of grated pecorino; if I'd used mozzarella, I'd have sliced it and held it aside for a while wrapped it in a cloth that would wick away excess water, as I do for what passes for pizza in a domestic environment.
When the cauliflower was nice and brown on both sides, I checked it for salt (by swabbing the surface with my finger) and topped it (in the same skillet it had browned in) with a layer of sliced tomatoes; to these I added salt, olive oil and fresh thyme - mint or basil would have been good too, or marjoram come to think of it. I then strewed the tomatoes with cheese and baked the dish for 25 minutes.
As with any "parmigiana," we ate this with grilled bread, buttered in this instance.
This dish had the lightness its ingredients would suggest. Because the cauliflower's flavor had been intensified by skillet-browning and the tomatoes were used without pre-cooking into a sauce, each retained its own identity while merging into coherence: there are lots of open spaces in a cauliflower, and tomato juice, oil and herbs found their way into them during the baking time. Was the cheese indispensable? If you wanted a vegan alternative, you could sprinkle the tomatoes with herbed breadcrumbs before baking, but for us it was a well integrated and delicious topping that we wouldn't have wanted to forgo.
And if we had, I couldn't have called it cauliflower parmigiana, could I?
Thick center-cut slabs of cauliflower about to be browned (along with the remaining florets)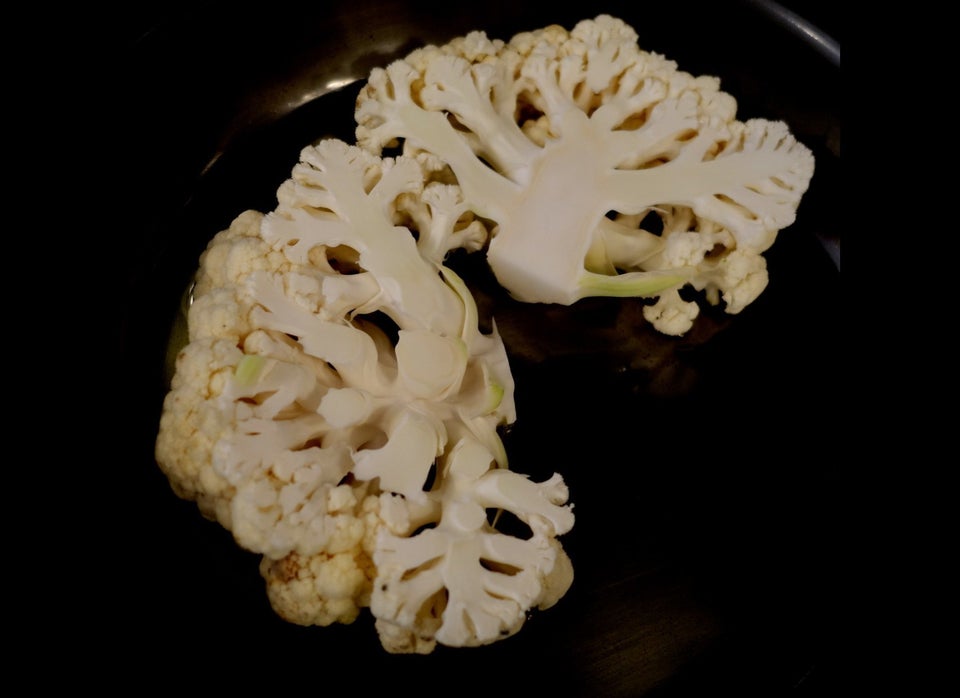 Slowly caramelized in olive oil, it is nearly tender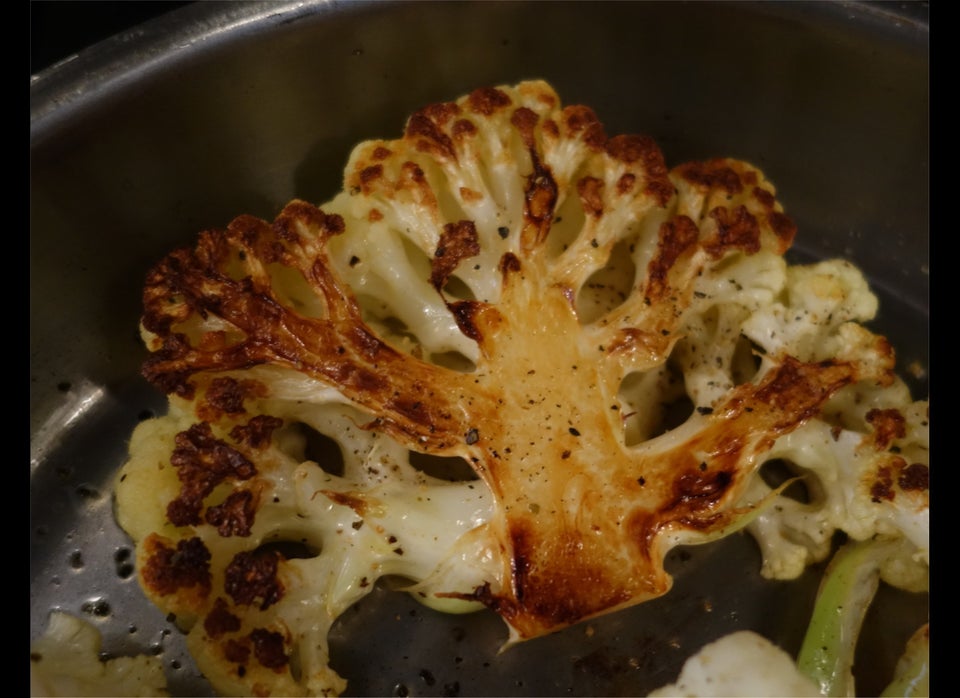 Without delicious, ripe tomatoes, don't bother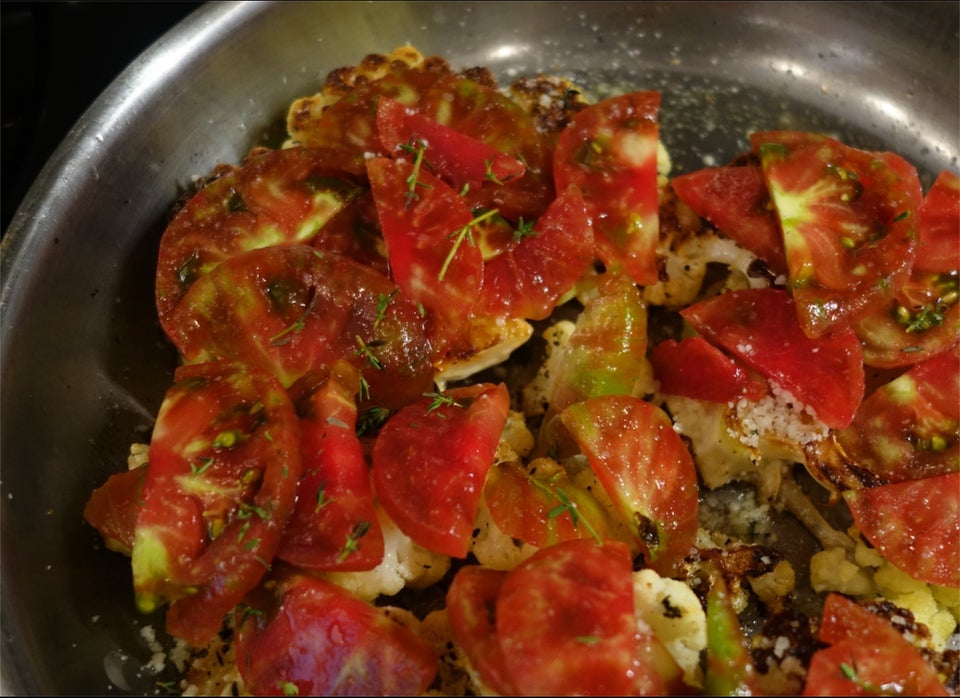 Jersey Fresh cheese mixed with pecorino - or use mozzarella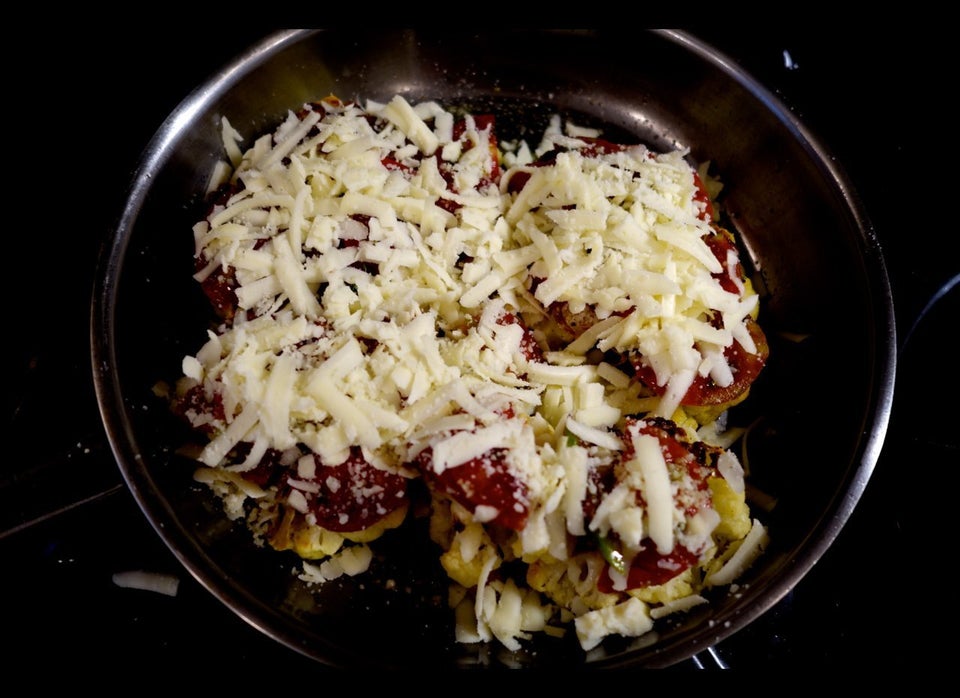 Light, flavorful and cauliflowery