Three weeks into August, the corn keeps getting better and better at our Manhattan farmers' markets, and Jackie and I seem to be eating it every day, one way or another. Here's how we ate it most recently to make up for a rather boring corn dish in a Mexican restaurant a few nights earlier. It uses some of the flavors and has much of the pep of a corn salsa, but it's served hot -- not that it wouldn't be good cold, come to think of it. If such things interest you, it would be very easy to make it fat-free and vegan without impinging on its goodness.
I started with around half a medium bunch of cilantro and washed it thoroughly in three changes of water until it was finally free of sand. I plucked off the leaves and finest stems and placed them on a folded paper towel to dry. The thicker stems and bruised leaves I put into a saucepan along with the zest of half a lime. Then, I cut the kernels from two plump ears of corn fresh enough to eat raw. In line with my recent practice, I cut the bare cobs into slices roughly half an inch thick and added these to the cilantro stems and lime zest, over which I poured water to cover. I brought this to the boil and simmered it for perhaps 20 minutes, after which I strained it, dashi-fashion, through two layers of paper towel to yield around two cups of light aromatic broth, which I left to cool. As you'll see, very little of it is used in this dish -- and there are alternatives at that -- but it will come in handy for all manner of applications, such as a poaching liquid for fish.
A few minutes before dinner, I used an immersion blender to make a loose pesto with the juice of one lime, a couple of tablespoons of corncob broth (any light vegetable broth or dashi would work) and most of the cilantro leaves, plus a very little salt. It was a lovely green, and it stayed that way.
When we were ready to eat, I melted a teaspoon of butter in a pan and added the corn kernels to cook -- all they needed was to be stirred over medium heat for a minute or less, but if your corn needs longer, cook it for a while, checking every minute or so. Here's where you could go fat-free and vegan: if it's as fresh and juicy as what I'd bought at the market, the corn will happily steam in its own moisture, possibly supplemented with one or two tablespoons of the corncob broth. Be sure to salt it nicely.
When the corn was just right, I turned the heat down to very low and stirred in 2/3 of the cilantro pesto, then a little more -- you may wind up using all of it. Since it is not an emulsion, it will separate into solid (tiny fragments of cilantro) and liquid (lime juice and broth) components: every kernel of corn will be dotted with minuscule flecks of cilantro and bathed in corn-sweet, lime-tart sauce, and every kernel will thereby be enhanced -- no mean feat when it approaches perfection on its own.
If you hate cilantro (and there appears to be a biological reason why you might), this would be very good with mint or basil, or with a mixture of parsley and tarragon (tarragon on its own might be too much). If you're tempted to thicken this into a more recognizable pesto by adding oil or other ingredients, save that for another day: the extra flavors and intrusive texture would be unnecessary distractions.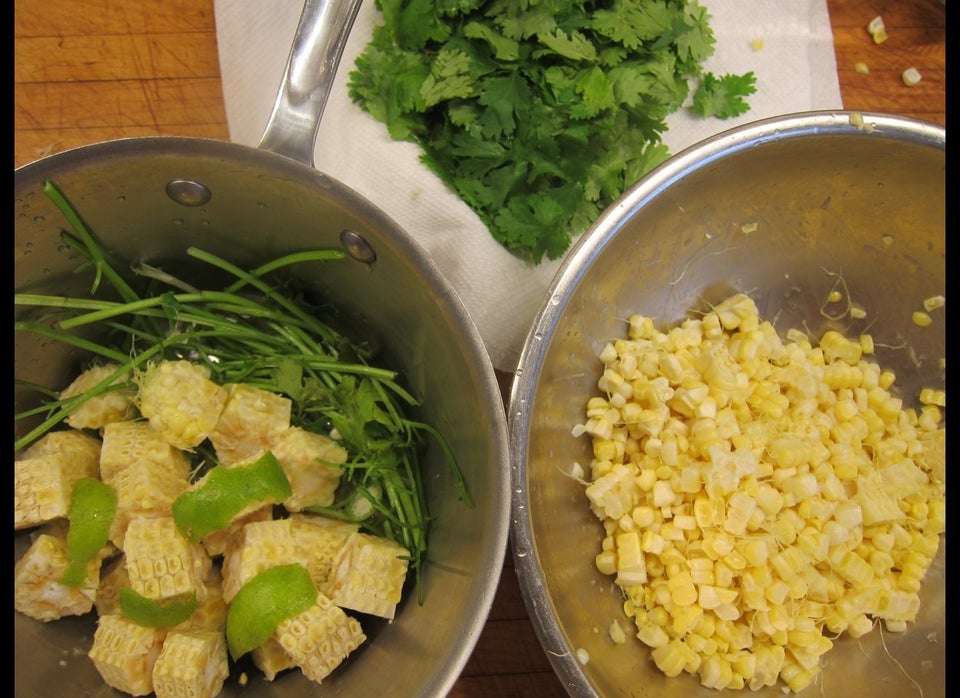 Corn, Cilantro And Lime - But Not Salsa