It doesn't always work out this way, but ideally I like to cook too many onions for whatever dish I'm preparing: Whether gently sweated, browned to golden or out-and-out caramelized, they're always useful. Same goes for mushrooms. I'm not sure whether it was good planning or happenstance, but there were some of each in the fridge the other week, and it struck me that they could be combined and minimally tinkered with to yield a flavorful condiment for pasta. In my imagination, this seemed a mushroomy variant of the "salsa" with which they dress bigoli pasta in Venice. It would be oily and intensely flavorful - and all the more savory for the mushrooms. (No tradition-minded Venetian would admit the possibility of using mushrooms and "salsa" in the same paragraph; I mention it just to indicate my train of thought.)
Assuming you have some sautéed onions and sautéed mushrooms (and you ought to make it a point to have them, at least sometimes), what you need to do is combine them in a pan, warm them over medium-low heat and add as many oil-packed anchovies as you like, stirring until they disintegrate (I used five for Jackie and me). Yes, you could use salt-packed anchovies, but that would entail rinsing, soaking and boning them, which defeats the purpose of already having everything on hand. Ideally, you'll want there to be more onions than mushrooms, but our mixture was heavier on the mushrooms. No harm in that, as we found. You could also make something like this with onions alone - or mushrooms alone, so long as you've sautéed them with a shallot or two. The real key is the anchovies.
That's it. Taste it for seasoning; since you're not bound to a recipe, you can add herbs - fresh thyme or sage would be good, and parsley is always your friend. You should add a healthy drizzle of good olive oil: even if you'd cooked the onions and/or mushrooms in butter, this dish needs that flavor.
Boil pasta - I used a thick spaghetti from Setaro; they call it spaghetti alla chitarra, but its square cross-section rounds out in the cooking - toss it with the onion-mushroom mixture and double check for seasoning. Save some of the pasta-boiling water, you will probably need it to loosen the mixture, which is low on liquid.
That's it. Don't tell your Venetian neighbors, but because of the thick pasta and the brown ingredients - and of course the onions and anchovies - it really is reminiscent of bigoli in salsa. And no less delicious. Plus, it didn't take any longer to make than it took to boil the spaghetti.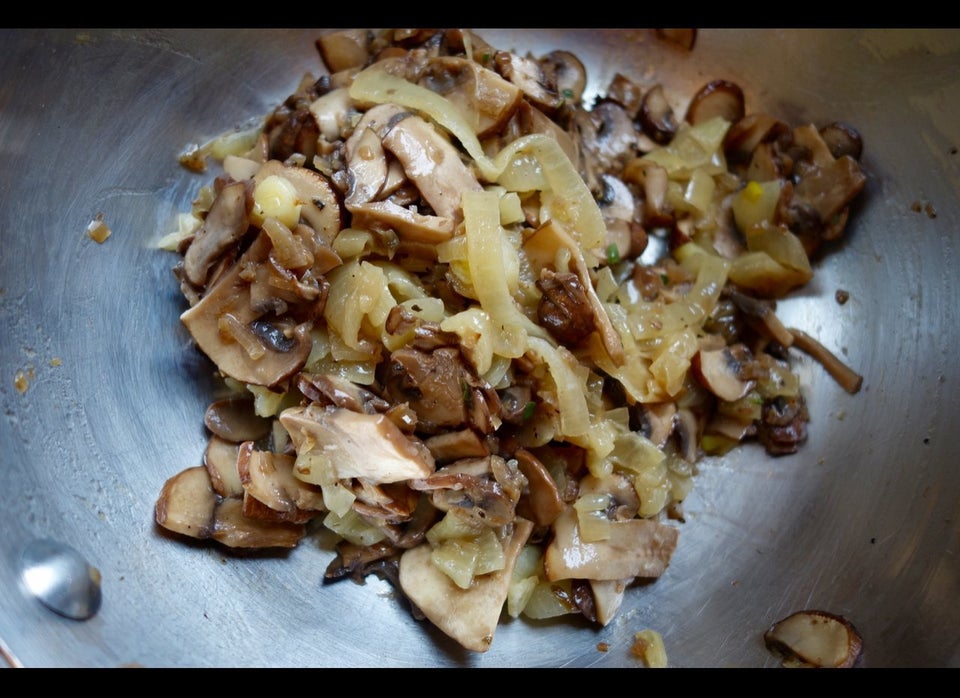 Too Many Cooked Onions or Mushrooms? You%u2019ve Got Dinner.