When contemplating the makings of a Chinese-style dinner, tomatoes are not the first thing you think of. Yet they are widely used, and from among the dishes we learned from a Chinese woman who was once a colleague of Jackie's, this dish of tomatoes and eggs is our enduring favorite. It's easy to make, and quick, and uses few ingredients: our friend always referred to it as a "bachelor's meal."
Using a mixture of big and little tomatoes from the farmers' market - even in mid-September they're still very good in our neck of the woods - I made enough for three people last week. I started by cooking a pot of plain rice; when it was just about ready, I peeled a generous pound (around 500 g) of those tomatoes (you don't really need to peel them), roughly diced the (very) big one and crushed the smaller ones with my fist. As usual, I salted them to start their juices flowing and set them aside. In a large (non-stick) skillet, I lightly scrambled three eggs seasoned with salt, white pepper and a few drops of toasted-sesame oil (it could be four or more eggs if you want this to be more about the eggs and less about the tomatoes, which will depend on how delicious your tomatoes are). In what fat? Lard: good, tasty lard. Lacking this, use a neutral oil or aromatic peanut oil if you can find such a thing.
Scramble the eggs like a short-order cook - quickly - and when they are barely set remove them to a bowl and use the same skillet and more of the same fat to fry two or three large cloves of garlic and an inch (2.5 cm) of peeled ginger, minced, over medium-low heat. When the ginger and garlic are soft but not browned, add all the tomatoes and all their juice, raise the heat and cook briskly until the juices have reduced in volume and increased in density and savoriness. Since you're using a broad skillet rather than a narrow saucepan, this shouldn't take but three or four minutes, especially as the outcome should be more like a chunky sauce than a drier stew.
Using a rubber spatula or a spoon, break up the scrambled eggs, then fold them into the tomatoes. Serve as soon as you've verified that there's enough salt. Eat with a spoon and lots and lots of rice (plain rice is classic, but at this time of year you can cook it with kernels cut from an ear of corn).
This will not be any good with lousy winter tomatoes, but it certainly can be made successfully with less-than-fabulous ones - or with canned.
If you like, you can de-Sinicize this dish, replacing the lard with olive oil and the ginger with a couple of anchovies and maybe a few olives, using black instead of white pepper, omitting the sesame oil from the scrambled eggs and finishing with parsley and/or thyme. In that case, you might want to eat it with grilled bread rather than rice, though rice would still be a good option.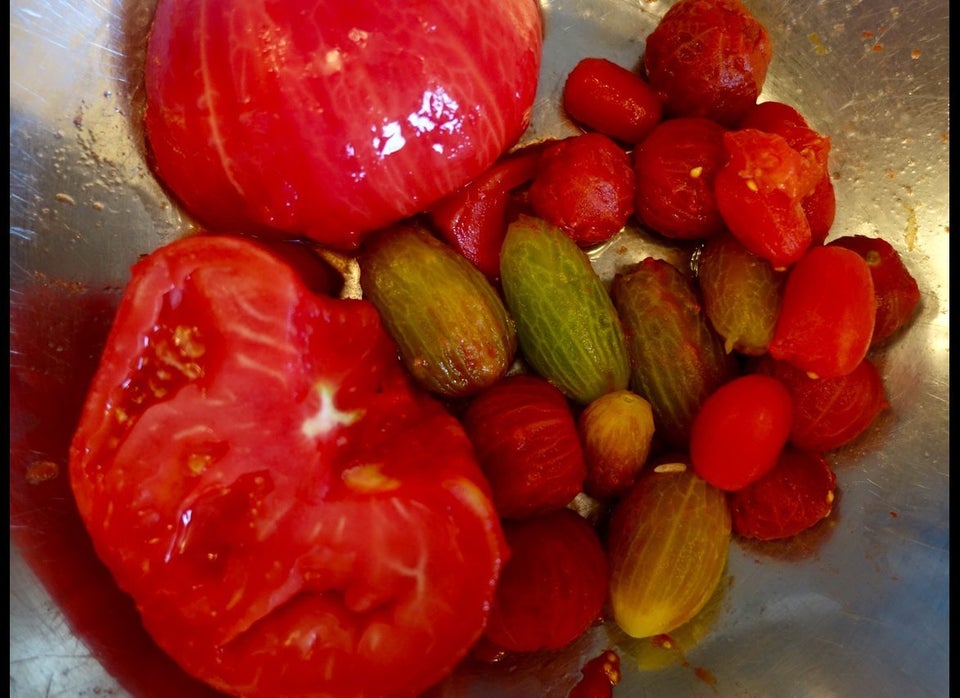 Eggs and Tomatoes Make an Unexpected Chinese Dinner
Support HuffPost
A No-B.S. Guide To Life
Related
Popular in the Community