As Jackie and I discovered years ago on a trip to Florence, a very good dinner can be made by melting gorgonzola cheese, perhaps with a splash of milk, coating ziti or penne with this sauce and stirring in a big handful of arugula (rocket) to wilt in the heat of the pasta.
I am fond of that ability of arugula (and some other greens) to shrivel and grow even more aromatic at the first hint of heat and to become easy to eat without actually cooking.
The gorgonzola and arugula pasta dish makes a rich and substantial main course; it certainly wouldn't work as a side dish. Indeed, not all that many pastas would. One of these is fregula (aka fregola), a spherical Sardinian semolina-flour-and-water pasta that looks rather like so-called Israeli couscous but is oven-toasted after being formed and dried. With practice, it is possible to make it from scratch, but I buy it in bags.
Fregula is a sturdy thing that retains a nice chewy consistency unless overcooked beyond overcooking, and that makes it useful for dinner parties or any meal when you need to budget your time: it can be par-cooked in advance, then finished in 90 seconds or so when it's time to serve.
The first time I made it, to accompany a six-portion dish of veal cheeks with spring vegetables (our first peas of 2016!), I took advantage of this quality - and of the virtues of arugula. Then, the other day, I cooked a smaller batch to support a piece of pan-fried swordfish dressed with savory cherry tomatoes, oil and (minimal) vinegar, and it's this two-side-dish quantity that's described here and depicted in the photographs. An hour or so in advance, I boiled something less than a quarter of a pound (100 g in fact) of fregula in plenty of salted water until it was almost done but still had a small hard core at the center of each sphere. That took around eight minutes, but depending on your fregula it could take a minute or two more. I drained it, transferred it to a bowl and stirred in a tablespoon of olive oil to help keep it from clumping. Note that like any pasta it will continue to hydrate and soften, which is why it is important not to cook it through at this stage. After it had cooled a while, I moved it around with a spoon to make sure it wasn't getting sticky. It wasn't.
When dinner was about to be served, I put the fregula into a saucepan along with about a quarter cup (60 ml) of vegetable stock and stirred it over medium heat. The stock was soon absorbed, and I added some more. I checked for seasoning and doneness - and to make sure the fregula was thoroughly heated - then stirred in a big handful of young arugula (rocket) and kept stirring until this had wilted. That whole sequence took a minute and a half or two minutes. To finish, an optional drizzle of delicious olive oil.
It was an excellent accompaniment for both the fish and the veal cheeks, for just the reasons that had drawn me to the idea in the first place: the toasty, wheaty pasta retained its particular texture; and the arugula was as aromatic and flavorful as it needed to be, while linking the season-neutral pasta to the springtime vegetables in the braised veal and to the bright tomato dressing that topped the swordfish. From the bigger batch there was a little left over, and it didn't even get too soft when we reheated it the next day.
Lacking arugula (or lacking arugula that is powerful in its perfume and flavor - weak arugula will not do here), you could put in a pile of coarsely chopped soft herbs. Parsley, tarragon and dill come to mind - or you could shift gears and finish the fregula with lemon zest and cilantro (coriander leaves).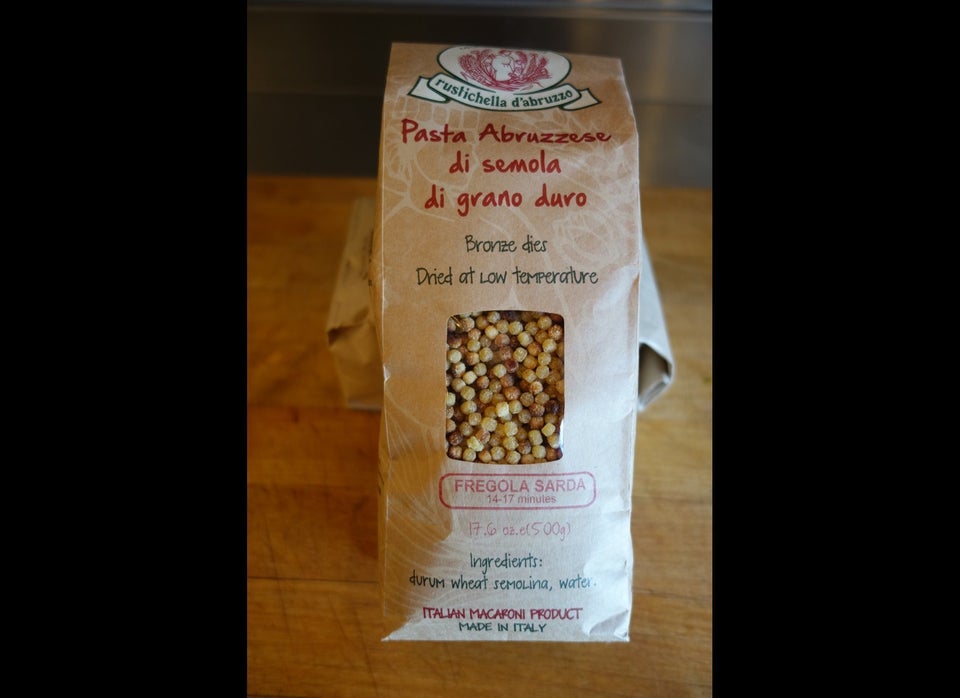 Fregula and Arugula, an Aromatic Match