I'd forgotten that frittatine were on my post-vacation to-cook list. What reminded me to try making this Neapolitan snack staple -- which amounts to fried macaroni and cheese -- was a post on Twitter that depicted a macaroni pie, something that is evidently highly prized in Scotland and is an object of good-humored derision in many other places. (To me it sounds as if it might be addictive; I'll try one some time.)
On our springtime trip to Naples, Jackie and I ate quite a few frittatine. Some were massive and greasy and tasted of mediocre ingredients and overworked frying fat; some (notably at the pizzeria 50 Kalò) were more compact and were cleanly fried and made with good products. Even the worst of them had a certain appeal, as you will understand when you hear exactly what they are: Cooked macaroni is bound with béchamel sauce (as for a croquette) and enhanced with cheese, a little ham and a few peas; this is chilled, shaped, battered and deep fried. As I said, they're fried mac-n-cheese.
The mixture was easy to figure out and to make, though frying the frittatine required some experimentation. For six or eight three-bite frittatine, I first made a thick béchamel sauce: a couple of tablespoons each of butter and flour whisked together in a saucepan and cooked for 45 seconds or a minute, then enough milk (and salt and pepper for seasoning) to form a thick but not rubbery-thick sauce -- the consistency, say, of pastry cream -- that will get thicker when it cools; when it was still hot, I was able to pour it from the pan into a bowl, with a little help from a rubber spatula. As this cooled, I boiled half a portion of macaroni until tender; in our house, that's 50 grams (less than 2 ounces). I didn't have any elbow macaroni, which would have been ideal, so I broke up some bucatini -- not spaghetti: hollow pasta contributes to the characteristic texture of this dish, but wide-open tubes such as ziti would yield a fritter that was mostly air.
I drained the pasta and placed it into another bowl to cool a bit -- just a couple of minutes -- then added most of the béchamel (reserving, say, a quarter of it if needed to adjust the mixture) and a raw egg yolk and vigorously stirred and squeezed with my hand, which combined the ingredients into a more homogeneous mess than a spoon would have. Then, in went a couple of tablespoons of slivered speck (Italian smoked prosciutto -- good smoked ham of any kind would be fine), two heaping tablespoons of grated parmesan and one of grated pecorino (you could use three spoonfuls of either one), also energetically mixed, this time with a rubber spatula (because I'd washed my hand), and salt and pepper. Finally, the more delicate ingredients were gently folded in: a skimpy handful of shreds torn from a fresh mozzarella and wrapped in a towel to dry; and a similar amount of peas blanched in boiling water and well drained. My peas were fresh (it's July!), but this is one of those times when frozen are a more than adequate substitute; if you use frozen peas, you can defrost them or not as you please, but don't blanch them.
Pack this into a plastic-wrap lined dish in a shallow layer (maybe an inch -- 2.5 cm -- deep), fold the plastic wrap over the top and chill it in the refrigerator for a few hours or overnight. When ready to fry, you have two options: you can cut the congealed mixture into little brick shapes, or you can spoon it out and form it into croquettes with your hands. I found the latter more comfortable.
The frying itself was where I needed to experiment. Most typically, frittatine are dipped in a simple flour-and-water batter before being cooked. I found that this made it too easy for the filling to seep out into the frying oil before the batter had browned. I could have made the béchamel even thicker, but I didn't want my snacks to be too solid. So, to combat oozing, I did two things: once I'd formed the frittatine, I froze them on a paper-lined tray; and rather than battering them I generously breaded them (in the usual way: flour, beaten egg, breadcrumbs), then returned them to the freezer. I also tried double-breading them; this had a certain appeal, but it did make for a thick coating. Still, there's no reason you shouldn't do it that way.
When you're frying something in a frozen state, you must not overheat the oil, lest the crust brown before the interior has thawed. I fried mine in enough neutral oil (with half a cup of olive oil for flavor) to come half way up the sides of the frittatine, heated to around 320 degrees F (160 C); when the cold croquettes were added to the pan, the temperature dropped, and by the time the crumbs were crisp and brown on both sides, the filling was hot, with the béchamel and cheese components slightly fluid. The frying took about six minutes, during which I turned the frittatine twice.
I removed excess fat with paper towels, then set the frittatine on a rack to cool to below volcano temperature before serving: as with so many Italian dishes, warm, not hot, is a good temperature at which to serve these with a glass of wine (any color) or a cocktail along the lines of a Negroni. They can be eaten with fingers or with a fork; uncharacteristically, I prefer the latter for the sake of neatness.
Unlike Spanish-type croquettes, these are not all about the béchamel: in flavor and texture, they're mainly about the pasta and the other ingredients. But, as in a good dish of macaroni and cheese, the béchamel is key to giving them their creaminess and as a unifying liaison. I suppose you could vary the mixture with added flavors (herbs?) and you could certainly fool around with other cheeses. You'd end up with a nice new dish, though I don't see how it could be much better than the basic model.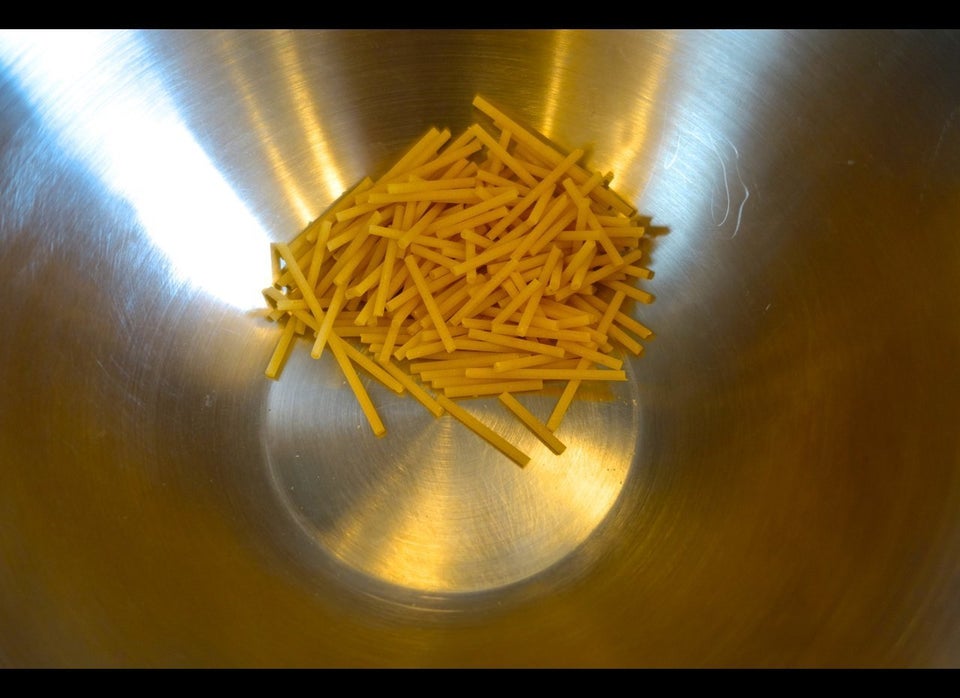 Neapolitan Frittatine a.k.a. Fried Mac-n-Cheese