The last time I wrote about pasta alla Norma - or norma, lower-case, depending on which origin myth you believe (see Giuliano Bugialli via Joseph Bastianich) - I described a spring-into-summer variant using zucchini/courgettes, devised while awaiting the eggplant/aubergine season. So, strictly speaking, it wasn't about pasta alla Norma at all.
Now, in August, the farmers' markets are aheap with excellent tomatoes and eggplants, so it is time to make the real thing. But when I started planning I found that the outcome, once again, was not going to be entirely classic and would be a dish worth passing along. The main divergences from the norm were two: I didn't deep-fry eggplant slices then cut them up for the sauce; and I didn't cook the tomatoes down to a dense consistency and used fresh rather than the more typical canned or bottled tomatoes. I also opted for mint rather than basil, but that's not such an unusual choice.
Slicing, salting and weighting the eggplant to draw out some of its moisture (for many recipes a fool's errand anyway, given that the thing is more than 90 per cent water), rinsing and drying, and frying in a deep bath of oil: For me, that's a deterrent to making this great dish. So, for three portions, I began by cutting two smallish (total weight 12 oz / 340 g) eggplants into 1/4-inch (say, 6-mm) sticks and sautéing them in olive oil in a large frying pan, initially for six minutes over medium heat to cook them through and attain that creamy texture we love, then for a minute or two over higher heat to lightly brown them - well seasoned with salt.
While the eggplant was frying, I blanched three medium tomatoes (each weighing around 6 oz / 170 g) in boiling water for ten seconds before peeling and coarsely dicing them, then reserving them in a bowl, juice, seeds and all. Looking ahead, I also shredded a scant 4 oz (125 g) ricotta salata on the coarsest side of a box grater and set this aside as well.
When the eggplant was done, I slid it onto a plate lined with paper towels to drain, and used the same skillet to make the quick tomato sauce: In olive oil over medium-low heat, I cooked a big clove of garlic, sliced thin, until it was just starting to smell toasty, at which point I added the diced tomatoes and their juices, along with salt and a small handful of mint leaves (on the stem so that they could be removed later to be replaced by fresh ones before serving). This simmered fairly vigorously for just three minutes. At this point, you can cover the skillet and leave everything alone for a while as you have a glass of wine and count down to dinner time.
Or you can proceed to boil the pasta right away. I generally like short pasta (such as penne) here, but lots of people prefer long, and on this occasion I fished a bag of thick spaghetti out of the pasta drawer. As it was cooking, I removed the mint leaves/stems from the tomatoes and added the reserved eggplant, then simmered the sauce for a couple of minutes and checked for salt (no pepper here, though nothing is stopping you from adding some). When the pasta was half a minute away from being done, I added it to the sauce and simmered briefly, then stirred in a handful of mint leaves, this time cut into thin strips, and 2/3 of the shredded ricotta salata. I transferred the pasta to a warmed serving bowl, drizzled it with olive oil and topped it with more of the ricotta. The rest of the cheese came to the table for optional individual sprinkling; so did a pitcher of the pasta-boiling water to loosen the dish as it cooled - I used it; Jackie and our friend didn't. You could beautify the pasta with a whole mint leaf or two.
Pasta alla Norma can be a dense dish. This one wasn't dense or heavy at all: The briefly-cooked tomatoes and the sautéed (not deep-fried) eggplant - and the mint - keep things tasting fresh and bright, but with the smoothness and slight bitterness of eggplant. You might even have room for a scoop or two of gelato afterwards.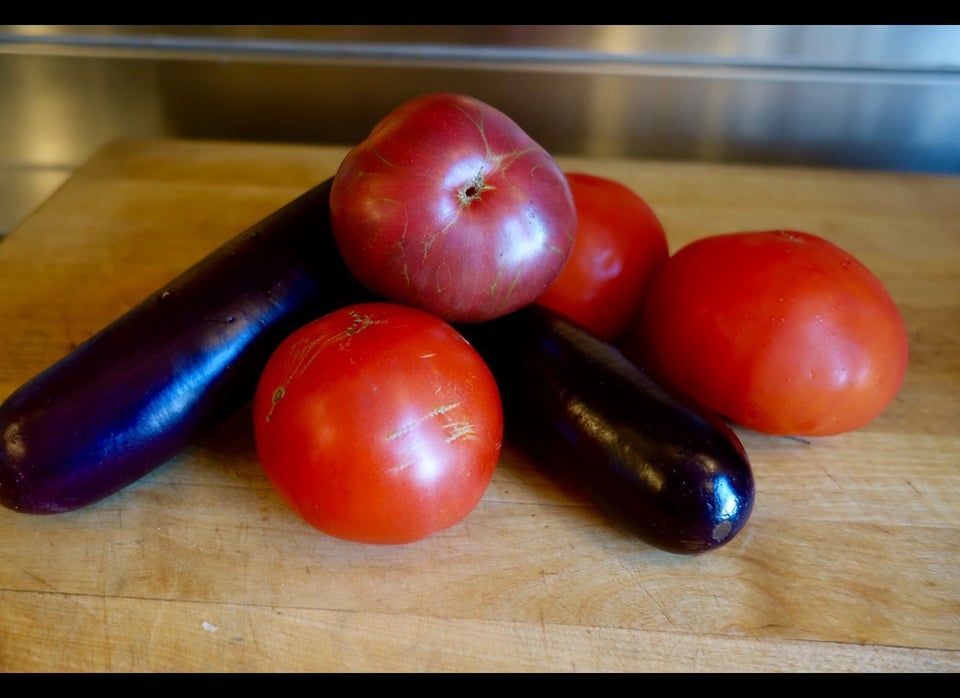 It's The Season for Pasta alla Norma